5050 for 2020

By Jeanne Lapoirie, AFC
I was proud to be one of the 82 women who ascended the steps at Cannes, organized by the 50/50 for 2020 Collective, which is promoting more parity and equality (especially in terms of salaries) in the 7th Art. 82 women to represent the 82 women selected in the Official Competition at Cannes since it began, versus 1,688 men. With only two Golden Palms awarded to women. A very beautiful, simple and moving text was read aloud by
Cate Blanchett
in English and reprised by
Agnès Varda
in French.
It is to be hoped that this very moving occasion was the beginning of an era that will be more favourable to women. It was followed by a round table discussion the next day organized by the collective, in partnership with the CNC and the French Ministry of Culture, inter alia. A charter for parity and diversity and for greater transparency at film festivals was signed by Thierry Frémaux, general delegate of the Festival, Édouard Waintrop, general delegate of the Directors' Fortnight, and Charles Tesson, general delegate of the Semaine de la Critique.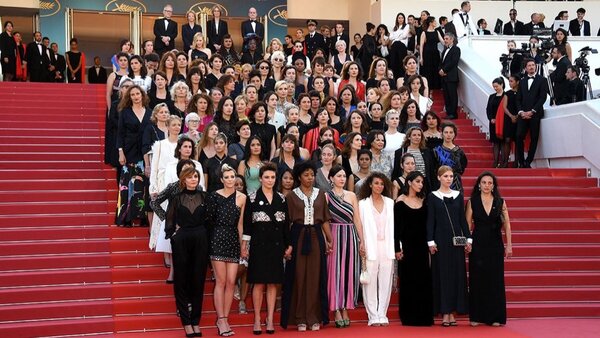 Below, the text read by Cate Blanchett and Agnès Varda
"On these steps today stand 82 women.
82 is the number of films directed by women who have been invited to compete in the Official Competition since the first edition of the Cannes Film Festival in 1946. During the same period, 1688 male directors have climbed these very same stairs.
In the 71 years of this world-renowned festival there have only been 12 female heads of its juries. The prestigious Palme d'Or has been bestowed upon 71 male directors — too numerous to mention by name — but only two women — Jane Campion, who is with us in spirit, and, yours truly, Agnès Varda. Jane's Palm was awarded as a tie, and mine was a honorary Palm... These numbers speak for themselves, they are irrefutable facts.
Women are not a minority in the world, yet our industry says they are. We want that to change. We are actors, producers, directors, scriptwriters, cinematographers, artistic agents, editors, distributors, exporters. We all work in the cinema industry. We stand in solidarity with women in all industries.
We challenge our institutions to actively promote parity and transparency in their decision-making bodies and everywhere selections are made.
We challenge our governments and our public authorities to apply legislation on equal pay.
We demand equity and true diversity in our professional environments. We want to work hand in hand with our male colleagues and take up our responsibilities both behind and in front of the camera in order to create images that we firmly believe will allow for a change of mindsets. It is time that steps of our industry be accessible to us, too.
Let's climb !"
I invite my readers to visit the website of the 50/50 for 2020 Collective, where you'll find details about the Collective's goals, actions, and a very clear study revealing inequalities in pay and parity within the cinema industry and within film festivals, the César award ceremony, and behind the camera (male/female directors).
Translated from French by Alexander Baron-Raiffe for the AFC