For these first 2016 news we would like to highlight our work for the documentary Seasons and to come back on two French feature films soon released.
About Seasons
ACS France is proud of having worked during almost two years in the shooting of Seasons, directed by Jacques Perrin. An extraordinary adventure to share with your family from the 27th on January 2016. For this project we demonstrated our know-how by adapting several of our systems so as to capture the shots imagined by the director.
Cablecam 2D:
A nearly 400 meters long tracking shot which enabled heart of the action images of running horses on a swampy ground (where no ground vehicle would have been possible). Rigged between two off-road forklifts, our system was able to perform two dimensional travelling (along an up and down) on a long distance and in a safe manner. The 'Skate' was equipped with the 3 axis gyrostabilised Flight Head which proved great ability to shoot perfectly stable images in a quite windy environment. We used the Sony F65 camera with the Angénieux 24-290mm lens.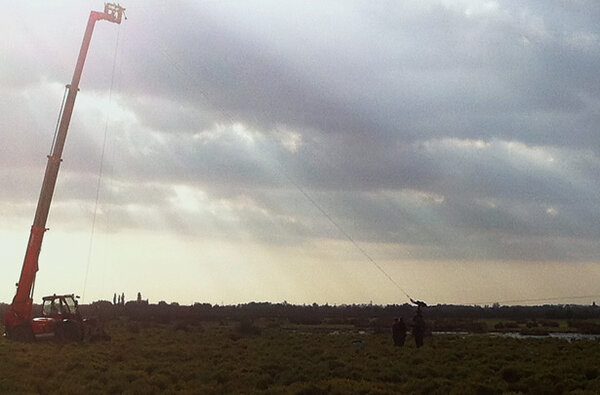 Tailor-made crane with the Super-G on a pick-up:
For another part of the project we had to shoot animals running in the forest. We set up with the production a crane system rigged in the back of a pick-up and at one end of which we rigged our gyro-head Nettmann Super-G (with also the Sony F65 and Angénieux 24-290mm lens). With this configuration we were able to capture stable, precise and controlled off-road images of the rapidly moving subjects.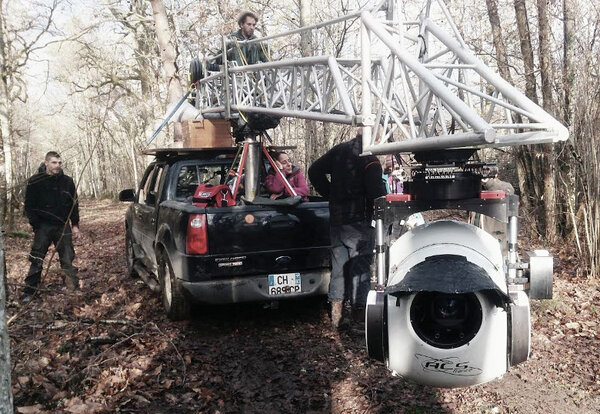 Helicopter +Nettmann Stab-C:
"Seasons" also required aerial shots, both in the countryside and around Paris. For this we used the classic Gyro-head, the Nettmann Stab-C, (still with the Sony F65 and Angénieux 24-290mm lens).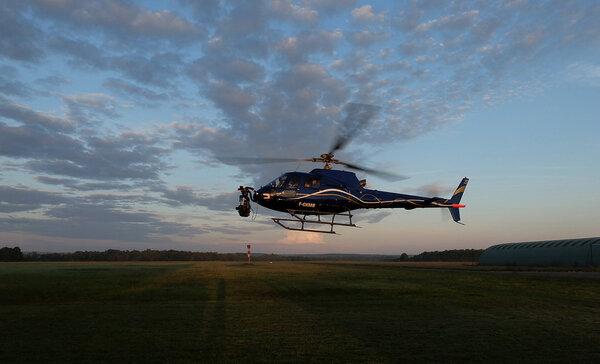 Released soon:
- Pension complète, directed by Florent Emilio Siri, shot by Giovanni Fiore Coltellacci, which will be released on the 30th of December 2015. For this project ACS France provided both helicopter and drone unit. We shot with the Shotover K1 equipped with the Red Dragon and Angénieux 24-290mm, having Luc Poullain as the 'film pilot' and Steve Desbrow as camera operator. We also equipped our drone with the Red Dragon and a 24mm lens. We did a lot of images near the Corsica coasts: extra-wide shot of a hotel, top-shot of a car, etc.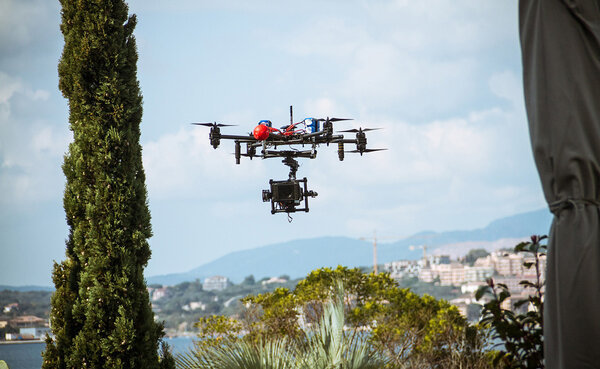 - Paris-Willouby directed by Quentin Reynaud and Arthur Delaire, shot by Yannick Ressigeac and released on the 20th of January 2016. For this feature film we shot by helicopter around Paris with the Shotover K1: following a MPV on the road, static shot of an arriving vehicle etc.
ACS France finalist of the Cesar & Technics for the 5th time:
For another time ACS France is rewarded for its technical prowess and know-how in aerial and in-motion filming. We are very proud of the confidence that directors and producers keep granting us, we are always looking for the best solutions for your images.