Adventures and inspiration at the Kodak/Vantage/Silverway Workshop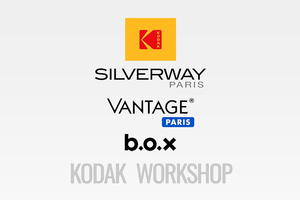 Who can resist temptation ? Especially when it's at your fingertips ? The chance to get hands-on a treasure trove of 16mm and 35mm filmmaking equipment, and to participate in the end-to-end making of
Rupture
– a passionate short film about a tryst with a twist – proved irresistible to a large and excited ensemble at the recent
Kodak
/
Vantage
/
Silverway
Workshop in Paris.
Film continues to be an infatuation in France, with La Verité (dir. Hirokazu Koreeda, DoP Eric Gautier, AFC), De Nos Frères Blessés (dir. Hélier Cisterne, DoP Hichame Alaoui), TechnoBoss (dir. Joao. Nicolau, DoP Mario Castanheira), Voir Le Jour (dir. Stanley Woodward, DoP Dominique Bouilleret, AFC), and Sous La Peau (dir. Julien Mignot, DoP Simon Roca), plus a plethora of music videos and commercials, all capturing on Kodak.
It is with this blossoming backdrop that Kodak, Vantage Paris camera rentals and film lab Silverway, joined forces to provide professionals, and the eagerly curious, with an exceptional experience. The workshop was also supported by Box Productions, which assisted with on-set sound recording, camera and electrical technicians, editorial services, and even a behind-the-scenes film of the proceedings, shot using a Bolex film camera. Lighting equipment was supplied by Cininter.
"Film delivers something fresh, seductive and uniquely appealing to filmmakers, and we wanted to clearly demonstrate just how easy it is to obtain, capture and post-produce on 16mm and 35mm today in France,"says Ileana Leyva of Kodak, who played a pivotal role in organising the two-day event, and who also directed Rupture, which she co-wrote with Luis Longo.
Well over 50 guests, including DPs, camera technicians, producers and students, attended in the Kodak - Vantage - Silverway Workshop, which took place at Vantage's Paris studio and at Silverway's lab. Kodak supplied the full range of its Daylight/Tungsten 16mm/35mm filmstocks. Vantage Paris provided an extensive array of 16mm/35mm Arri and Aaton cameras, along with Vantage One T1 spherical and Hawk Anamorphic V-Lite 2x Squeeze and 1.3x Squeeze lenses. Silverway opened the doors of its state-of-the-art photochemical facility for guests to see, at first hand, the development of the rushes that had been shot.
"It was a great pleasure to observe the filmmakers trying out different film formats, aspect ratios and Anamorphic squeeze factors. We created several lighting set-ups and the challenge was to integrate the different shooting styles and formats into one short film. A big challenge, both technically and time-wise," says Alexander Bscheidl, managing director of Vantage Paris.
The workshop itself was notable for the free-flowing cascade of expert knowledge and advice from professional cinematographers supervising the shoot – including Gordon Spooner, AFC, Alfredo Altamirano, AMC, Leo Schrepel and Thomas Rigade, who was also joined by his longtime collaborator, director Julien Pujol. The guests got up-close-and personal with celluloid, cameras and lenses, and even had the chance to get involved with shooting the short film Rupture themselves.
A small, intimate set, in the style of a theatre dressing-room, was built in Vantage's studio, where the ensemble trained 16mm and 35mm cameras, tape-measures, lights and light meters on the performing actors, Marie Mottet and Andy Gillet, shooting the action in both 3 and 4-perf 35mm and 16mm, anamorphic and spherical.
The set for Rupture was purpose-built to reveal the capabilities of celluloid in smoothly capturing the dynamics of highlights and shadow details in the same frame, the alluring rendition of colour and skin tones, and the overall textural qualities of film in low-light conditions.
DoP Pamela Albarran, who was an attendee at the event, said : "It is very encouraging to find so many people interested in filming and keeping analogue film alive. I realised that it's super simple to shoot on film and with amazing results".
DoP James Coote also commented : "It was a great opportunity to meet other DoP's, all fascinated by the revival of film, and see and how we all manage to convince the productions that still remains very profitable to shoot on film."
Participating DoP Gordon Spooner AFC, whose film credits include Darling and The Wooden Camera, commented, "The aesthetic qualities of film are hard to beat, and that's perfectly evident when you watch the final result of Rupture. What I love about film right now is how it has become a relevant alternative to digital, especially amongst the up-and-coming generation of directors and cinematographers who are serving up some incredibly stylish and visceral results."
DoP Leo Schrepel, who regularly shoots commercials and music videos for artists such as Moses and Franz Ferdinand on film, said, "It was rewarding to see so many people coming together and sharing a passion for film. If there's one message I would relay about this event, it's how incredibly easy it is to shoot on film and to achieve a captivating result. Often, when you shoot digital, you have to fight hard to get that result, but with film it's already there, right from the start." He recently shot the short film Judith Hotel on 16mm, presented at the Talents Adami section of the 2018 Cannes film festival.
Young Mexican DoP Alfredo Altamirano, AMC, the visual author of several festival-circuit features, plus the short films Il y a Une Guerre and Axel En Hiver, added, "I love shooting on film, and it was a great pleasure to be able to contribute and to interact with an audience who were clearly there to learn about different aspects of camera operating, exposure, frame rates and lighting for film. It's great that Kodak, Vantage and Silverway came together like this to inspire and enable more people to use film."
The day after the shoot, guests were invited to visit Silverway – which has invested significantly in its analogue film processing services and personnel – to see the rushes being processed. During their time at the facility, they were also given the opportunity to discover more the about company's comprehensive range of 2K/4K scanning and DI colour-grading workflows. They even saw the recently-installed Kodak Fridge, filled with 16mm and 35mm filmstock's that are available to purchase over the counter.
"There's an explosion of interest in film, especially amongst up-and-coming directors and cinematographers," said Jérome Giraud, managing director of Silverway. "Analogue production offers them something radical and refreshing compared to the binary alternative. This workshop event proved a perfect occasion to demonstrate how Silverway can support the analogue aesthetic with a range of fast and efficient 2K/4K workflows."
Scans of the Rupture rushes were delivered from Silverway to Box Productions, where the first cut of Rupture was assembled in under 24-hours by editor Florian Ronget, produced by Victor Holl, and coordinated by Marine Surblé and Jade de Brito. The final DI grade of the short film was conducted back at Silverway.
"We are always ready to give a helping hand to productions – commercials, music videos and features – shooting on film," said Marine Surblé at Box Productions. "On the one hand we love the sensual, visual difference of film compared to digital, but we also enjoy the discipline and preparation that comes with shooting on film. The results are always a revelation, and I hope the outcome of the workshop and Rupture will encourage more director and cinematographers to shoot on film."
The completed version of Rupture can now be viewed here :
Additionally, Box Production's "Making-of Rupture", featuring behind-the scenes footage from the shoot and the negative processing at Silverway, can be viewed here :
"I would like to thank everybody who helped to support the Kodak Vantage Silverway Workshop and the creation of Rupture. They did an amazing job during two inspirational days," remarked Ileana Leyva. "But I would also like to extend enormous appreciation to the many guests who attended. The workshop provoked a lot of enthusiasm and passion, and underlined the enduring love affair people have in France for the extraordinary qualities of film. If you love film like we all do, and want to use it on your next production, we are here to assist you."