Angénieux at IBC, September 15 to 18, 2023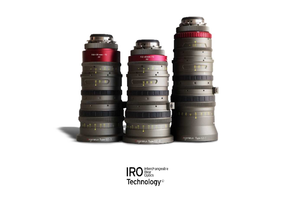 Angénieux is pleased to announce the introduction of the new EZ 3 multi-format zoom lens in collaboration with its long-time partners Band Pro Film & Digital, Inc and Jebsen Consumer Products Co Ltd.
Third of a series of successful multi-format lenses introduced at IBC 2016, the new EZ3 lens will increase the possibilities of cinematographers looking for the best value for money to treat their Full Frame or S35 camera, thanks to its longer range and specifications.
"Your dream lens is within reach" says Angénieux to present the new EZ3 lens to its EZ
fan community worldwide. After the so-called Standard 30-90 (S35)/45-135 (FF) EZ1 lens
and the Wide Angle 15-40 (S35)/22-60 (FF) EZ2 lens, which have literally flooded the
worldwide market over the past years, the new 45-165mm T2.3/T3 (S35) or 68-250 T3.5/T4.5
(FF) EZ3 is a Tele-lens addition to the versatile, future proof EZ series. Originally designed
for independent filmmakers and productions (short films, documentaries, music videos,
corporate) Angénieux EZ zooms have enjoyed success with cine rental houses and
professional cinematographers too.
Angénieux will attend 'IBC, booth #12F30.
Read and download the Press release down below.1 _