GDTF data files and lighting console fixture library files for LED portfolio available.
Arri has released a comprehensive library of GDTF files and fixture profiles for grandMA2 as well as ETC Eos for the Arri LED product portfolio incl. Orbiter, SkyPanel and L-Series C versions. The profiles are conveniently packed into single ZIP files and can be downloaded via the LED product pages on ARRI.com. Additionally, individual GDTF files can be obtained directly via the official GDTF share platform.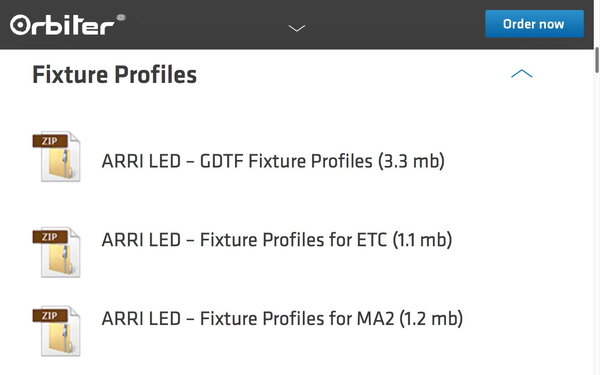 Orbiter : Photometric files updated
The photometric data availability for the Arri Orbiter has been enhanced by adding measurements for all currently available optical accessories. Photometric files are available in IES & LDT format, as well as a PDF data sheet.
Arri Photometrics App : Version 4.5 available
Alongside the availability of the comprehensive photometric data for the Orbiter including its accessories, the Arri Photometrics App for iOS and Android devices has been updated and Version 4.5 where this suite of photometric data has been implemented has been released.

Orbiter : Black Version of Skid available for order
The black version of the Skid for the Orbiter is available for order now. Shipping will start mid of April.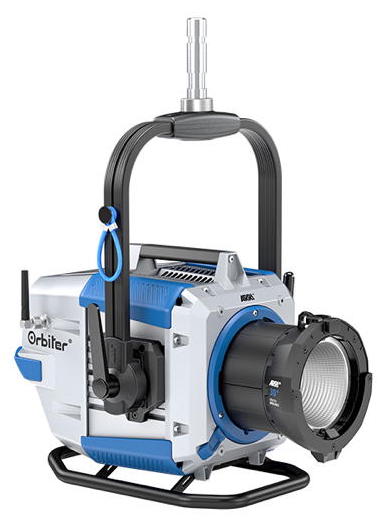 Orbiter : Rain Cover available for order
The rain cover accessory that protects the rear-end of the Orbiter from water ingress is available for order now and on stock.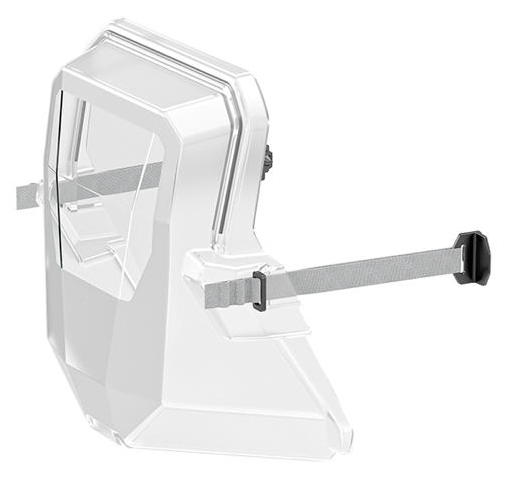 Orbiter : Rotation Stop for Chimera Lightbanks available
For easier mounting and unmounting of a Chimera Lightbank on the Quick Lighting Mount System of an Arri Orbiter, Chimera has recently modified their speed ring adapter to a new version that started shipping early March. In order to retrofit speed rings that are already in the market, Chimera has developed a rotational stop kit, which can easily be mounted onto these speed rings.
To request this optional kit directly from Chimera, customers need to fill out the online request form.
The kit is free of charge and the Chimera item number is 9795.

DoPchoice SnapGrid 40° available now
The SnapGrid 40° for use in DoPchoice SnapBags is available for order now in both small and medium version. These SnapGrids attach directly to the front of the SnapBags without any tools needed. In addition, the SnapGrid small can be used with the Chimera Lightbank for SkyPanel S30 and the Chimera POP Bank for SkyPanel S60.
Orbiter : New version of the Orbiter Configuration Guide online
The configuration guide has been updated on the Orbiter website. It now shows all currently available accessories for Orbiter more clearly.
Download the presentation PDF below including the references of each of these products.