Cinematographer Antoine Héberlé, AFC, discusses his work on Gaya Jiji's film "My Favourite Fabric"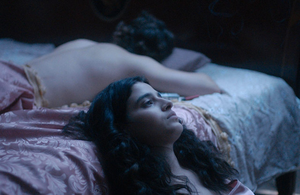 Some cinematographers work with French directors as much as they do with foreign ones.
Antoine Héberlé
, AFC, is one of them. Throughout his career, which he began in 1993 with Laurence Ferreira Barbosa on Normal People are Nothing Special, he has worked with
Laetitia Masson
,
Alain Guiraudie
, Stéphane Briée, and also with Moroccan director Faouzi Bensaïdi, Palestinian director Hany Abu Assad, and Israeli directors Edgar Keret and
Shira Geffen
. This year, he is at Cannes for his work on his first Syrian film, My Favourite Fabric by Gaya Jiji, in selection in Un Certain Regard.
(BB)
The beginning of the civil war in Damascus, in 2011. Nahla, a 25-year-old woman, is torn between her desire for freedom and her hope of leaving the country thanks to an arranged marriage with Samir, a Syrian expatriate in the United States. But Samir prefers her younger sister, Myriam, as she is more docile. Nahla then becomes close with her new neighbour, Madame Jiji, who has just arrived in the building to open a brothel.
Starring Manal Issa, Ula Tabari, Souraya Baghdadi, Mariah Tannoury, Nathalie Issa, Saad Lostan, Wissam Fares.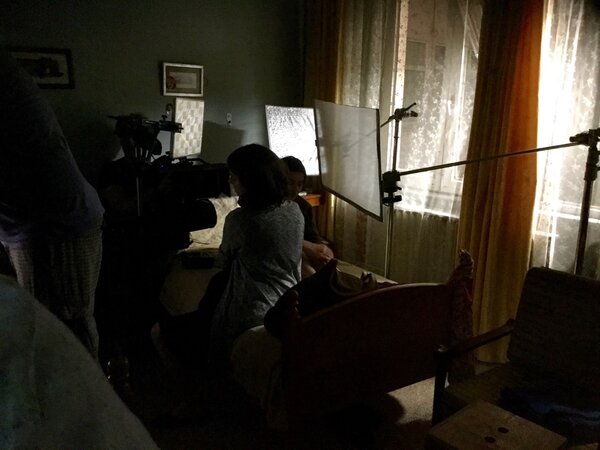 How did you come to work on this project?
Antoine Héberlé: I'd already worked with producer Laurent Lavolé, of Gloria Films, on Faouzi Ben Saidi's film A Thousand Months, shot in Morocco in 2002, and also presented at Un Certain Regard at Cannes. We'd wanted to work together once again, but years passed before that possibility became a reality once again with My Favourite Fabric.
The film takes place in Damascus, but you weren't able to shoot there…
A.H: It wasn't possible to shoot in Syria, so everything was filmed in Istanbul. Of course, everything was pretty complicated, because, with the budget we had to work with, we were more involved in "avoiding" Istanbul than reconstructing Damascus…, even if it was just avoiding signs written in the Latin alphabet. We didn't have the budget to erase everything incongruous in postproduction, so the few city shots in My Favourite Fabric are a mix of choice and constraint. This is an intimate film, mostly shot indoors, and Damascus and its context ended up existing via sound, the television, and amateur filmmakers' images. The war is present, because it affects the lives of these young women, but it isn't the main subject.
The context you are referring to is really striking in these images, which are at once ghostly and extremely realistic…
A.H: Yes, these are images that we found on the Internet and broadcast by the Syrian diaspora, which shares a lot of movies and images taken from the street with phones. The disruptions which were caused by the beginning of the war in Syria spill over into this family of women, in which there are no men. There is a real contrast between this intimacy and the brutal images of daily life, of the street, which are sliding into the most brutal violence possible and that might be experienced as surrealistic.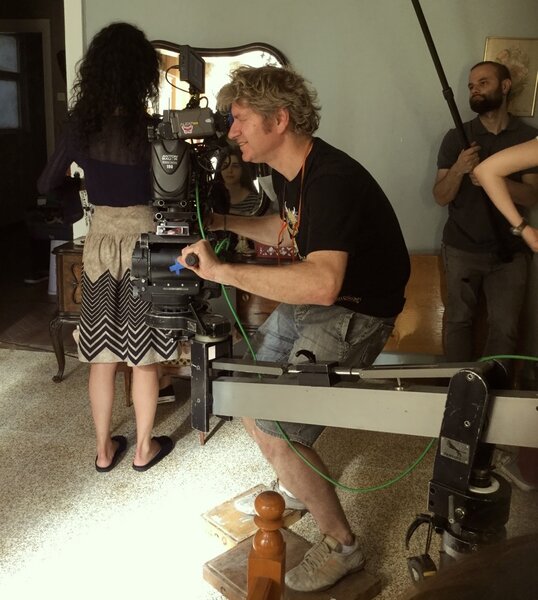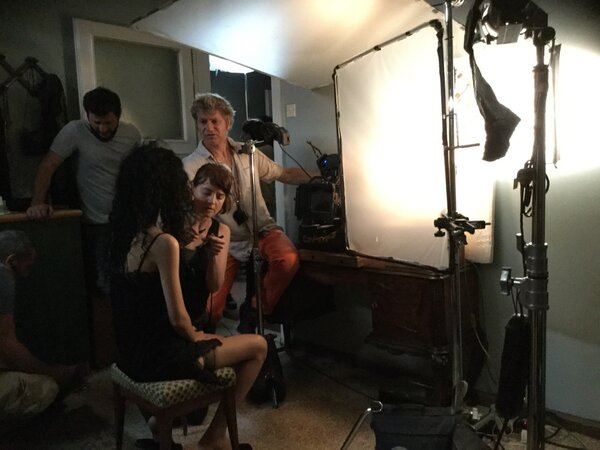 Both of the main sets were filmed and lit differently. Why is that?
A.H: We had to differentiate the two flats. The girls' flat is smaller and more functional and is focused on daily life with more naturalistic lighting. When Nahla's world changes, the ambience in her bedroom becomes more confined. In Madame Jiji's flat, the space remains deliberately vague. The layout of the flat and the ambiences give off a certain softness. It is a cocoon, but a mysterious one. There are no wide shots, the lighting is more colourful, with occasional mixes of yellows and violet. Practically speaking, it was a good thing both flats were in the same building, because we didn't have many days to shoot.
The intimacy inside of the flats is made stronger by the absence of windows letting in light from outdoors.
A.H: That is so, and in a certain sense, that went along with the story itself! There weren't many opportunities to light the flats from outdoors. For the few daytime sequences, we were able to put a powerful spot on a scissor lift in order to create the effect of sun entering the flat. But it was especially the lack of windows that reinforced the feeling of confinement.
The visuals of the sequences showing Nahla's idealized young man are very different…
A.H: Those were dream sequences, fantasies. We'd shot them inside of an upper-class home with rococo wallpaper and old-fashioned furnishings. The lighting there was more frontal, more enveloping, and softer. It was also coloured, such as when Nahla sees him on the bed in a mixture of blue and pink.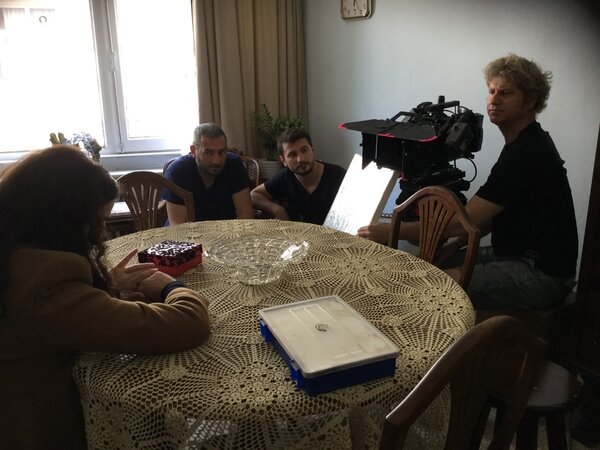 What tools did you use?
A.H: I chose an Alexa Mini, as I wanted a light camera that would adapt to any configuration. We had a lot of shots we had to film inside of the stairwell and also in a very tight minibus at night. I'd also decided to keep the grip equipment to a minimum, with just a few metres of track and a Mini Jib to make it easier to go from one flat to the other.
I wanted to work with an old Zeiss Standard series, but the only one available wasn't in good condition, and I fell back on Ultra Primes that I filtered. For the dream sequences, I used heavily-filtered Zeiss GO T:1.3, and I really like the result. For the rest, we shot in 1.66 format to keep a bit of height in the frame and to be able to "reach" for the ceilings sometimes.
When you shoot abroad, you often travel unaccompanied. Was that the case for My Favourite Fabric as well?
A.H: I was able to bring my gaffer, Stéphane Assié, with me, for this project. When I am able to take someone with me, I usually choose my gaffer. We've been working together for ages, and I trust him to set up the lighting as I described it and give him full latitude to adjust it. That leaves me time for perfecting the setup and the blocking with the director, especially a first-time director like Gaya. It's important to be available for the director like that when you're working on a first movie.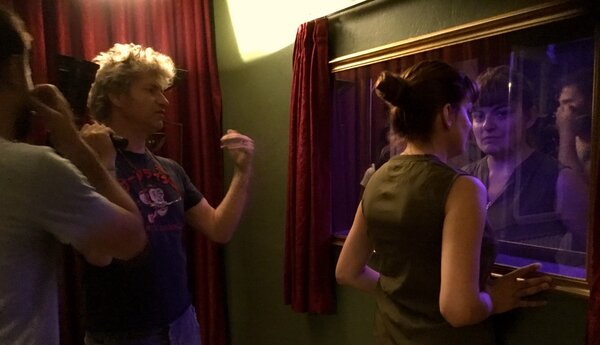 Your career has been studded with foreign films, often shot in the Middle East. Was that a choice of yours and what would you say about it in retrospect?
A.H: In fact, the first feature-length project I ever worked on was a made-for-TV movie for Arte shot in Lisbon, O fim do Mundo, by João Mario Grilo, which was also selected in Un Certain Regard at Cannes. Then, there was A Thousand Months, with Gloria Films, but it was especially Hani Abou Assad's film, Paradise Now, shot in the occupied Palestinian Territories, that opened those doors to me. The film was very successful abroad. Amir Harel, the Israeli co-producer, called me back to work on Etgar Keret and Shira Geffen's film Jellyfish. There was also Bruno Barreto's film Last Stop 174: he'd seen Paradise Now.
Then, I found myself occupying the niche of independent international co-productions with the reputation of being a cinematographer who could travel alone, sometimes to tense regions of the world, and who would be able to get by. It is culturally very enriching and obliges me to constantly question my approach with different people and different tools. All of these films have been wonderful human adventures and have always afforded me a great deal of freedom, in spite of the often very limited financial means. I recently shot a film in Chili, Oblivion Verses, by Alireza Khatami, an Iranian director living in exile in the United States… While shooting, I often thought about how wonderful it is to be able to participate in these unique films, born from the imagination and the story of a single person. That person becomes the only one capable of telling that story cinematographically.
(Interview conducted by Brigitte Barbier on behalf of the AFC, and translated from French by Alexander Baron-Raiffe)
The photos illustrating this article were taken by Sandrine Cayron, script supervisor.