Cinematographer Darius Khondji, AFC, ASC, discusses his work on "Love" by Michael Haneke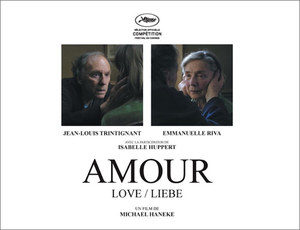 Since his beginnings as a director of photography in the early 1990's alongside
Jean-Pierre Jeunet
and FJ Hossang,
Darius Khondji
, AFC, ASC, has developed an international reputation through his work on films by some of the greatest directors on both sides of the Atlantic. His impressive filmography includes
David Fincher
's
Seven,
Roman Polanski
's
The Ninth Gate,
Wong Kar-wai
's
My Blueberry Nights,
or
Midnight in Paris
by
Woody Allen
. Today, he is competing in the 65th Cannes Film Festival with his film
Love,
directed by
Michael Haneke
.
This is his second film with this great director, following
Funny Games
in 2007.
How did you make the important decisions regarding the photography of this film behind closed doors ?
Darius Khondji : Love is a film that was carefully prepared and a lot of the shots were planned in advance. Michael Haneke planned everything down to the framing of each shot to the camera movements. He is an extremely meticulous director in terms of image and light. He chose to film in studio in order to put his actors "at ease". He wanted the conditions on set to facilitate the most natural acting possible.
As far as I am concerned, even though filming in studio is often associated with highly stylized—even impressionistic—images, in this case, we were aiming for exactly the opposite. We wanted to make the set a sort of "abode" for our actors and never give the impression that we were filming in a studio. In order to reinforce the illusion, all of the shots included a view on the city of Paris that was edited in by the team at Mikros. To do this, we placed green backgrounds over every window visible in a shot.
What determined your choices for lighting on set ?
DK : We did a detailed study of the "potential" location of the flat, as it might really have been located in the city of Paris. In particular, we chose a north-westerly exposition for the main rooms with a view on the city (the living room and the bedroom). This way, daylight always entered these rooms indirectly via refraction off of the neighbouring buildings. In order to realistically reproduce the light at the different times of day and seasons that scenes of the film take place, Thierry Baucheron, the gaffer, and Cyril Kunholtz, the key grip, built a lighting installation where all the spotlights were on a dimmer in order to quickly go from the light of a winter morning to the light of a summer afternoon or vice-versa according to the needs of the film, which takes place over the span of a year. This configuration enabled us not to have to deal with the variations of sunlight and was developed entirely with the actors in mind.
There is one exception in the scene with the nightmare...
DK : Yes, that dream scene was the only time we strayed from the rule of absolute reality. It was perhaps the only time where the viewer might guess that we shot in a studio, but this was viscerally required by the way the scene was written.
What about your choice of the Alexa ?
DK : It was I who suggested to Michael Haneke that we film digitally, a choice that he literally embraced, once again for the comfort of the actors. But beyond that evident advantage, I felt that the precision of digital would help us literally "record" time. A sort of raw capturing of reality without any of the stylization that traditional film can bring. As far as I am concerned, it was the first feature film I shot digitally, even though Michael had already filmed Caché using HD cameras. It is because the Alexa was introduced that I launched myself into a feature-length film like this. Of course, I had already tested this camera on adverts or short films that I do for friends who are contemporary artists.
We have heard rumours of tension between you and Michael Haneke during filming. Was this true ?
DK : First of all, I must tell you that because of Michael Haneke's talent and high standards, there is always a bit of tension on all of his films. This was the case when we worked together on Funny Games, and I think that this has been the case with all of the directors of photography with whom he has worked in the past. This time, on the set of Love, there wasn't really any tension. Everything went well and I believe that the entire image team got along well with him. The problems occurred during postproduction.
Because we were one of the first movies filmed in Raw, the first attempts at debayerizing the images produced dailies whose loss of sharpness on some elements of each shot seriously worried Michael Haneke. After a few weeks of stress, Arri was able to provide us with a software solution that gave us perfect results. When I arrived back in Paris after working on two other films, I finally discovered the film treated with this new software during a screening in 4K at Studio Lincoln, and I was immediately reassured as to the sharpness of the images.
Is sharpness something that he is particularly concerned about ?
DK : He is really very demanding regarding image definition. I think that if he could film in 70 mm or with an 8K camera, he would ! His demands in terms of focus and depth of field are very precise on set, and this is why I filmed almost the entire film at an aperture of 4. Visually, this is the equivalent of 2.8 with traditional film. The lenses were Cooke series S4 and S5, which are last-generation lenses that are very precise, but with a less surgical focus than the Master Primes that we had used together on the remake of Funny Games.
Isn't a challenge to make a film without any concessions to old age, with legendary faces, and such demands regarding definition ?
DK : Indeed, we wanted to film all of the characters like that. Now that the film is finished, I completely accept the photographic result but recognize that it was really what Michael Haneke wanted. Perhaps there were one or two shots of Isabelle Huppert that I wouldn't have done in the same way, but at the end, I admit that he was right ! In any case, when you work with such a demanding director, you literally transpose his vision onto the screen.
Perhaps it is nothing but happenstance, but in these scenes, Isabelle Huppert was often filmed with her back to the windows.
DK : We asked ourselves this question, but especially in the scene where she comes back to visit her parents unannounced, we thought that it was better for Jean-Louis to face the light, so that in a sense it was he who was facing the truth. Contrary to our expectations, putting Isabelle in the shadow, against the light, it was easy enough to keep a soft light on her face.
This year at Cannes, a lot of directors of photography have converted to filming digitally. Do you agree with those who see this decision as irreversible ?
DK : Since my work on Love, I have filmed two other feature-length films, both in traditional film (To Rome With Love by Woody Allen, and James Gray's next film). Personally, I would like to be able to continue to choose between both solutions for as long as possible, in function of the project I'm working on. I find it a shame that the generalization of digital grading and screening no longer leaves us much of a choice, especially when you mostly shoot in anamorphic, as I do. The end result of a scanned 35 Scope shot — even in 4K — is only very rarely capable of reproducing the image that I have in my mind after photochemical development. Whatever the case may be, I remain persuaded that film negatives are the surest and simplest method of ensuring that a film project takes the direction that I felt when I read the screenplay. It gives you a feeling of artistic control that simply seems less tangible to me when you film in digital.
In conclusion ?
DK : I would like to warmly thank every member of the image team with whom I worked on this film. The technicians had a level of qualification and implication that really left nothing to desire compared with the American teams that I am more used to working with. Besides my gaffer and key grip, who I already mentioned above, I would like to congratulate Joerg Widmer, our camera operator, Julien Andreeti, our focus puller, and Christomhe Hustache Marmon, who was our digital imaging technician.
(Interview conducted by François Reumont for the AFC and translated from French by Alex Raiffe)