Claire Mathon, the quest for the unknown

By Ariane Damain Vergallo for Ernst Leitz Wetzlar
Claire Mathon
's graduation dissertation at the Louis-Lumière Film School focused on a theme that would, over the years, become both her obsession as a cinematographer and her trademark, her specialty: natural light.
In her paper, she extensively quoted legendary cinematographer Nestor Almendros who could equally excel at filming the beaches of Cuba in the 1950s - where children splashed each other with bursts of white-golden light - and the Texas plains at sunset, with that russet light that bathes Terrence Malick's mythic film, Days of Heaven which got Almendros an Oscar for Best Cinematography.
That globe-trotter had established his career(s) on two continents. With tremendous agility, flexibility - and talent - he could slip into worlds as different (if not downright opposed) as Eric Rohmer's in France and Robert Benton's in the USA.
For Claire Mathon, that career path had something fascinating, actually unique. As she discovered, she and Almendros had at least one thing in common: their respective parents had both been teachers. Could there be more, she hoped?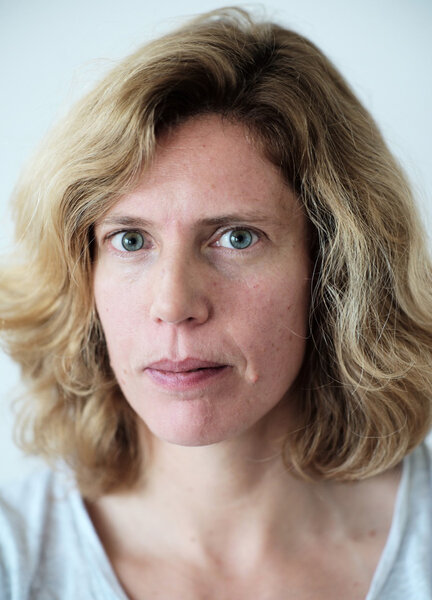 In the 1990s, at her high school in Dijon, Claire Mathon is just a good student among others, whose drive for competitive sports, figure skating then swimming, channels an energy that seems boundless.
Her parents, who teach maths and Russian, give her the appetite for always doing her best, the hunger for success and the craving for relentless hard work. Those lead her to pass, with flying colors, the entrance competition at the Louis Lumière Institute, a unique door opener and the promise of a future for her family.
Upon graduation from the Louis Lumière Institute, almost 20 years ago, she decides to follow two somewhat contradictory intuitions. She wants to be financially autonomous and she wants to be a cinematographer right away, which is rather uncommon. At the Louis-Lumière Film School, the students are generally advised to integrate a team, observe and learn from their elders. At The Fémis, on the other hand, the approach is radically opposite: students in cinematography are exhorted to immediately stand on their own two feet (while calling on fellow students to help as camera assistants, best boys and grips.)
Just to feel on the safe side, Claire Mathon casts a bottle into the sea. She writes to the great cinematographer Eric Gautier, AFC, and gets an answer that comforts her in her choices. Twenty years later, she can quote from memory, down to the comma, the key sentences he generously addressed to the novice she was: "Create images and do so right away. Indulge in your tastes by letting yourself be guided by your intuition. Make yourself known for what you do."
With that mantra in mind, she launches head on.
She lives frugally, shoots a string of short films for young directors, only later to realize she rarely moves on to their feature films but is mostly called upon by other directors.
She becomes an assistant camera on various video-clips and even on the first features directed by her friend Céline Bozon whom she met at the Nantes Ciné Sup Prep and who precedes her as cinematographer.
When time comes to choose a profession, Claire Mathon is fully aware that filmmaking offers cinematographers an infinite field of possibilities.
"You have to be at once an ingenious technician, an enduring sportsperson and a sensitive artist. Be able to confront moments of inactivity and loneliness as well as blending into a group for weeks on end.
"All of which constitutes an exhilarating prospect."
She later perceives the human commitment such a prospect implies and the fact that every choice a cinematographer makes actually reveals his or her innermost personality.
In rapid succession, two directors - one male, one female, as opposed in their approach to cinema as the two poles of a magnet - call on her to light their films. For Claire Mathon, they embody the contradictory tendencies most of us carry within ourselves.
First (chronologically) comes director Maïwenn's film, which in a way represents the positive pole of the magnet. Very early on, Maïwenn became the talk of the town, albeit for such peripheral reasons as marrying director Luc Besson at the age of 15 or dragging the weight of a toxic family. Her talent as a director bursts out in her debut film, Pardonnez-moi, (Forgive Me, 2006), and she drags Claire Mathon onto Le Bal des actrices (All About Actresses, 2009), Polisse (2011) as well as, more recently, Mon roi (My King, 2015).
Shooting with Maïwenn is working with stars and comfortable budgets then accompanying the film's success and obtaining the recognition of the entire profession. Collective films that give pleasure simply.
Shooting with Alain Guiraudie (the de facto negative pole of the magnet) is exactly the reverse. One shoots in the middle of nowhere, with perfect unknowns, no electricity and no equipment. "Shooting with nothing."
However, for Claire Mathon, "if my filmography were to mention only one film, that would be L'Inconnu du lac (Stranger by the Lake, 2013). It is, strangely, the film that resembles me the most."
In shaping up his filming process, Alain Guiraudie is eager to enroll a female cinematographer, a woman who will watch and film this men-only story, who will tell and show, as crudely as it happens, the sexuality of men among themselves - what Sigmund Freud used to call "that black continent" (although he applied the phrase exclusively to women.)
Claire Mathon more than rises to the occasion/challenge, stripping it all down to the barest essentials, as the film needs to be precise, stylish and tightly controlled.
For L'Inconnu du lac, she adjusts the horizon as if the screen was a canvas for a painting-to-be, hanging branches within the frame so that the distantly setting sun merely oozes tiny puddles of golden light, and waits for that specific moment, at the end of dusk, when the light almost turns blue, to bring the surreal and the phantasmagorical into the picture.
She brings in lightness and beauty by working, as usual, in silence, staying in the background, observing, absorbing the most minute details. A fly on the wall - except there are no walls.
Swinging back to the other extreme, Claire Mathon has just completed principal photography on Pierre Godeau's Raoul Taburin, a comedy with Benoît Poelvoorde and Edouard Baer based on Jean-Jacques Sempé's comic strip.
A summer film, brilliant and joyful, set in the sunny South of France.
A few years ago, on Louis Garrel's Les Deux amis, (Two Friends, 2015), she discovered the Leica Summilux-C lenses "which keep the 35mm paradigm and standard while adding precision and sharpness."
On Raoul Taburin, shot predominantly outdoors and focusing on faces that are constantly exposed to the strong contrast of summer's shade and sun, "I wanted to achieve a combination of a velvety feeling with something as pure as a drawing, precise and modern. Going for the Leica Summilux-C lenses was a no-brainer."
Claire Mathon is eagerly looking forward to the next film that will take her far, far away.
Once again, she wants to renew with her desire to "capture reality" with nothing but her sharp gaze.
That film is to be the first feature by Mati Diop, a young actress and director of Senegalese origin. It is a ghost story with a touch of the fantastic. In a few months, Mathon will shoot in Dakar with strangers, mostly at night or at the end of the day, when the sun dives head on into the Atlantic Ocean.
A typical challenge for that cinematographer, apt to keep her excitement and enthusiasm intact.
"I make films to tackle the unknown, to discover continents I know nothing about".
(Translated from French by Henri Béhar)