First things first. When you are the eldest son of a merchant navy captain whose ancestors, fishermen and sons of fishermen, came all the way from Ukraine..., when you were born and grew up in Marseilles as a certified "Corniche Kid" (the local equivalent to a Bow-bell Cockney)..., when you'd always dash wherever the fancy takes you - preferably beyond the horizon..., somehow, "moving up" to Paris to make movies in the 1980's is not exactly the "normal" thing to do.
It is like going from a Technicolor movie where everyone is beautiful and tanned to an inevitably sadder sepia film. But who cares ? In Paris, Denis Rouden quickly proclaims himself "self-taught" — and instantly pulls it off, thanks to the good communication skills and penchant for happiness that Marseilles, perhaps, instills in you.
Luck strikes just as fast. Almost overnight, he replaces a camera operator who fell ill and gets the director's attention for his amazingly stable framing. A balance he never thought would come in handy, which he had acquired from a long practice of... windsurfing. Marseilles, always Marseilles.
Thus, his career is launched. Bypassing the usual "Assistant" step, he goes straight to "Camera Operator" on institutional films, 'faux' commercials (by Les Nuls and Les Guignols, two Canal Plus old comedy shows à la Saturday Night Live and Spitting Image), video-clips...and, finally, A FIRST, 35mm FEATURE FILM.
Generally, that is the one that makes you a "true cinematographer", knighted, as it were, by your peers. In this instance, however, the film, Emmanuelle 7, was helmed by Francis Leroi. Not the most glamorous director, but probably the most sulfurous.
At the time, Rouden is barely 30 and other films will soon follow. Not exactly the kind you boast about, yet works that give you the technique and, above all, the speed of execution that delight most directors.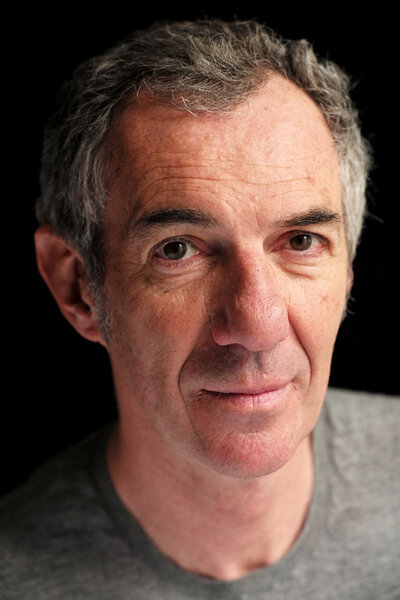 Today, after a twenty-five year-long career, Denis Rouden could be termed "an old hand" : he has the self-confidence of a "vet' ", but also the hindsight : when it comes to choosing a project and a director, he relies on his instinct, his quest for pleasure shared.
"You have to feel good. There has to be desire, and trust. That's all that matters."
In the same breath, he will mention
- His friend Olivier Marchal whose superb 36 quai des Orfèvres
(36th Precinct, 2004) not only became a cult movie, but also revived
the "film noir" in France.
- His friend Jérôme Salle, whose film, Zulu, he shot in South Africa,
and for which he came up with a lighting design he is eminently proud of.
- His friend Laurent Tirard, a subtle and discreet director, with whom
he just finished Season 2 of TV series "10%".
All of them friends, brothers, family. Male-bonding par excellence.
He readily admits he is madly in love with principal photography, which satisfies his penchant for both "framing" and "framework" (something his captain-father would approve of) while, potentially, "transporting" him "elsewhere".
The fruitful - and friendly - meeting with actor-director Dany Boon, whose last film Raid Dingue he just shot and whose next one he is about to start, marks the acme of a busy career.
[Raid Dingue is a pun combining raide dingue ("plumb crazy", "downright mad") and the RAID, the French equivalent of the SWAT Team. The closest to it could be, er, "Swatily Nuts"]
That penchant for "framing" and "framework", he definitely shares it with Dany Boon, whose "mad" success, however "easy" it may appear, comes from a lot of hard work.
Pre-production always begins with coming up with a shooting script for all the scenes of the film, on the chosen location, and in the presence of the cinematographer, the first A.D. and the script supervisor - who, luckily, also happens to be that of comedy-meister Francis Weber. The action scenes are entirely story-boarded, an innate gift for drawing that Dany Boon kept from his debuts as a stand-up comic, when he made ends meet as...a story-board artist.
Initially, Raid Dingue being their first collaboration, Denis Rouden assumed the film would be shot in scope and, therefore, require him to use the Hawk anamorphic lenses. Still, he also tested a Cooke series, the Zeiss Masterprimes series and, "just in case", a Spanish-made Scorpio series... until Next Shot's Didier Grezes suggested that he try a spherical series, the Leica Summilux-C, and shoot in Super 35 — an idea that had never occurred to Rouden.
The final choice became obvious : an Alexa mini and Leica's Summilux-C series. A "winning ticket" he also used on the 10% series, which he shot right after Raid Dingue.
"The Summilux-C lenses offer both contrast and definition, while still giving the skins a velvety texture. (...) Brilliance, evenly distributed, which is unique. And purity".
A purity akin to the specific Marseilles light - that of his childhood's "paradise lost", a uniquely crystalline downpour from a sky washed clean by the Mistral wind. He readily admits he never got used to our regions — "Walking in those autumn-damped woods remains a torture !" — and feels fulfilled only in the desert, when he embraces the horizon and the sun, the sun...
(Translated from French by Henri Béhar)