Editorial — June 2018 Newsletter

By Gilles Porte, AFC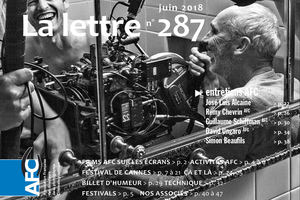 Dear Thierry Frémeaux, Dear Pierre Lescure, I wish to personally thank you for having made a little bit of room for me on the steps of your immense red carpet during a time of the year when Cannes becomes many peoples' centre of gravity. Thierry, I hope that I didn't ruffle your feathers when you mentioned Lyon's football team to me at the top of the steps. Although I hail from Lyon, I have been a supporter of Saint-Etienne for years now and began supporting them even before I'd noticed that the colour of their jerseys was the same colour regularly used in the Seventh Art for chroma keying.
Admittedly, using my status as the President of the AFC to send you a letter signed in my name is a bit touchy, especially since I believe it is absolutely necessary for any president of any association to put the collective interest before his personal interests. Nonetheless, if I feel compelled to slip this message into a bottle, it's because I want to bring up a strange feeling I had for the entire length of my stay by the Mediterranean.
Thanks to you, I had access to the most exclusive locations and the most sought-after creatures of the moment. But to be frank, I often felt I was in the skin of a Trojan horse. Despite my fondness for equines, I am a bit less fond of wooden horses, especially of the rocking variety, or the ones that one finds inside a carousel, for there I sometimes lose sense of the direction in which it's turning...
Let me get straight to the point, as I know that the number of characters I'm allowed is limited. Why didn't I meet any technicians sitting around the (nonetheless) round tables at which I was a guest? Would you really consider it unreasonable to imagine an editor, a sound engineer, a set designer, a cinematographer, or another technician serving as a member of the jury on the various commissions? Was it a mere oversight on your behalf or was it a deliberate attempt at erasing the men and women who make cinema out of the photograph? Why, during a special evening, did only two female technicians ascend the steps alongside 78 other women, being that I regularly work with women on sets, behind a camera, or in postproduction?
Let's be honest... Technicians are having an increasingly hard time attending Cannes. Wouldn't inviting a few have been meaningful for the directors, too? Might not Ingmar Bergman, were he to learn about this, turn over in his grave on his beloved Island of Farö - he who constantly talked about his close artistic partnership with Swen Nykvist, his cinematographer? Would Martin Scorcese have dropped his Golden Coach if he'd learnt about this, knowing as we do how grateful he is to his editor Thelma Schoonmaker, who has worked with him since 1967?
In many places, I sometimes felt that I was being left out of the credits, even though makeup artists weren't amongst those left out. I hope that is not only because of the presence of a number of big cosmetic brands on the Croisette, or the desire of some to cover over the men and women who are also part of today's cinema.
Amidst a series of sleepless nights, I'd like to congratulate the winner of the Vulcain Prize, Shi Joom-Hee, set designer of the wonderful film Burning and also to salute the emotion of cinematographer Edward Lachman, ASC [1] when he was awarded the Angénieux prize... alongside his gaffer, his assistant, and his key grip.
Gilles Porte, President of the AFC
Co-Director, with Nicolas Champeaux, of the film The State Against Mandela and The Others, in Official Selection (Out of Competition) at the 71st-annual Cannes Film Festival.
Translated from French by Alexander Baron-Raiffe for the AFC
[1] Cinematographer of Werner Herzog, Wim Wenders, Paul Schrader, Robert Altman, Larry Clark, Todd Haynes, etc.