Exalux presents two new products
In the latest news from
Exalux
, two new products : the
LEDZEP
™ Punch, a panel with new LED emitters combined with high-performance electronics, and the RX200N, new CRMX By Lumen Radio receiver developed by Exalux.
LEDZEP Punch
Exalux offers to fill up with light with its new range of LED panels LEDZEP™ Punch!
The Nantes-based company is introducing a long-awaited new concept of lightweight and powerful light by combining new LED emitters, whose emission is directed at 60 °, with light and very robust materials.
These new LEDs combined with high-performance electronics allow LEDZEP™ Punch to produce two to four times more illumination than a standard "light" panel at the same power.
For comparison, the LEDZEP™ Punch 1X2 produces an illumination of 5,000lux at 1m for a power of 65W while the high-performance LED ROCK WIDE panel produces an illumination of 3,250lux @1m for a power of 118W and the same emission surface.
The light from the LEDZEPs can of course be diffused through DOP Choice accessories or the Exalux ZEPELIN™ inflatable diffuser.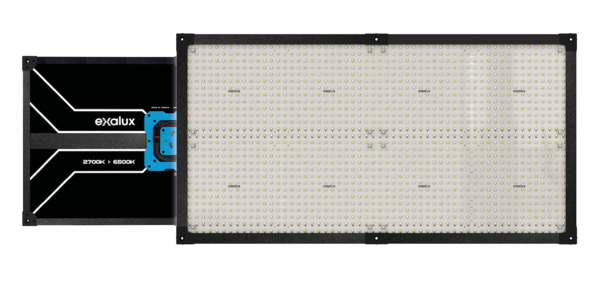 The Ledzep™ Punch range is available in 4 versions:
- 1X1 (292x292mm, 1.08kg)
- 1X2 (530x292mm, 1.5kg)
- 1X4 (1,006x292mm, 2.2kg)
- 2X4 (1,006x530mm, 3.8kg)


A series of accessories will soon be available, in particular to create modular light surfaces with the panels of the range.
In addition, a battery-powered generator will be available by the end of the year. It will allow the Punch 2X4 (24VDC/350W max) to be powered from two 15A batteries.
The Ledzep™ Punch therefore meets the need for a lighting projector that combines lightness, practicality, robustness, powerful light and low power consumption.
RX200N
RX200N is the new CRMX by Lumen Radio receiver developed by Exalux.
The RX200N is DMX and RDM compatible and adapts to all DMX devices. A specific and optimized version for SkyPanel is also available.
The RX200N is designed to withstand field conditions: the housing is made of a machined aluminum part and the membrane keyboard is designed to resist wear.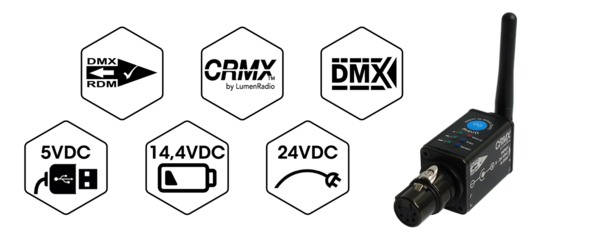 The RX200N mini receiver offers the following advantages:
- Possibility to power the receiver on PowerBank (5VDC), Vlock (14.4VDC) or other source between +5VDC and +24VDC,
High range (up to 500m depending on transmitter and environment),