"I Am Not Your Negro", de Raoul Peck, projeté au Ciné-club des Monteurs associés
Pour la 13e séance du ciné-club "Les Monteurs dé-montent", organisé par Les Monteurs associés (LMA),
Alexandra Strauss
, cheffe monteuse, présentera
I Am Not Your Negro
, de
Raoul Peck
(2016, 94 mn — César 2017 du meilleur film docu­men­taire, nommé aux Oscars du meilleur film docu­men­taire).
En juin 1979, James Baldwin, écrivain et militant de renom, se fixe une tâche complexe : raconter son histoire de l'Amérique à travers la vie de trois de ses amis assassinés : Medger Evers, Martin Luther King Jr, Malcolm X. Avec I Am Not Your Negro, Raoul Peck réinvestit cette pensée et la réactualise au travers d'archives d'hier et d'aujourd'hui.
Comment le film réussit-​il à sublimer un texte dense et complexe, au moyen d'images, de sons, de discours et de musiques d'une grande diversité esthétique ? Un pari artistique que nous proposons à Alexandra Strauss de nous raconter.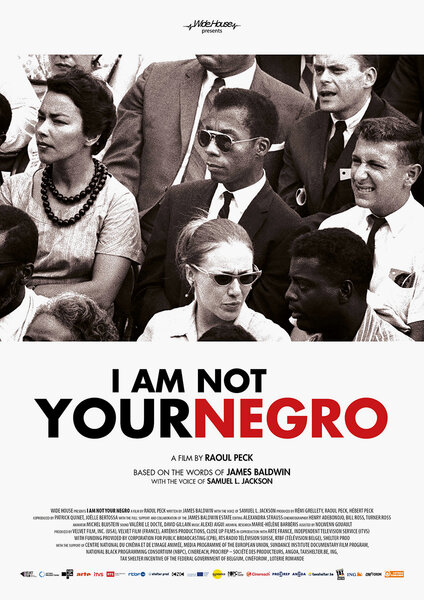 Alexandra Strauss travaille tant en docu­men­taire qu'en fiction. I Am Not Your Negro est le troisième film qu'elle monte avec le réalisateur Raoul Peck. Elle a collaboré également avec Roy Andersson, Un pigeon perché sur une branche phi­lo­so­phait sur l'existence, Serge Avédikian, Celui qu'on attendait, Shahrbanoo Sadat, Wolf and Sheep et Marcus Linden, The Raft. Elle est également l'autrice de deux ouvrages sur les peintres Jérôme Bosch et Odilon Redon.
Jeudi 28 novembre 2019 à 20h30
Cinéma Nouvel Odéon • 6 rue de l'École-de-Médecine • Paris 6e
Tarif unique : 6 €, cartes UGC et LePass acceptées
Consulter le site Internet des Monteurs associés.