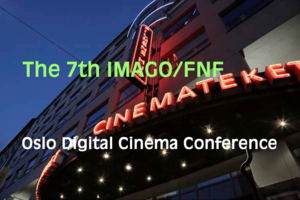 Organized by the Norwegian cinematographers of the FNF and the European Federation "
Imago
" in partnership with the Norwegian Film Institute and Nordisk Film & TV Fond, the 7th Oslo Digital Cinema Conference was held from 18-20 October 2019.
Three intense days in Oslo, masterfully organized by Paul René Roestad and the FNF (the Norwegian cinematographers' association). Experiencing this event, created by Imago, in person, caused me to conclude that the AFC ought to begin taking part in it again.
It isn't always easy, financially or personally, to travel to different locations abroad to meet cinematographers from all across the globe. One might not be one of those cinematographers who is honored, invited, awarded, but it doesn't mean that one isn't just as passionate about cinema, and that one doesn't have as much of a need to share our profession with our peers.
This short stay in Oslo gave me nourishment for a while, both from a human and a cinematographic perspective.
Becoming a part of Imago could help us take part in these exchanges, which are of such great value.
I realized that, given the competition that producers and directors subject us to within our own country, it's getting harder for us, as French cinematographers, to sincerely share professional experiences together. It's easier to do this with foreign colleagues. We've got to go beyond the AFC and outside of France to make the effort of meeting cinematographers from across the globe.
During the three days in Oslo, I felt a great sense of conviviality.
Our days were punctuated by technical presentations, interesting debates, brilliant Master Classes, and Imago working groups.
- Their project on cinematographer's copyright was of particular interest to me. It was presented by Bjorn Brem, a lawyer specialized in audiovisual copyright working for the Norwegian Film Union.
www.filmforbundet.no
He defends copyright for the Director's Guild and Norwegian cinematographers. He also addresses the way in which royalties can be paid. He works with the European Union directives on this subject to ensure that all creators in the audiovisual sphere receive appropriate and proportional royalties. He works to create good relations between producers, distributors, and streaming platforms (Netflix, HBO, etc.) so that in the future, they respect the talents that create films.
In 2020, the results of a study that Imago has commissioned on copyright laws around the world will be published.
- Imago also wants to conduct serious research into the way cinema is taught.
Kim Hogh introduced her school in Denmark.
I met Petru Maier of the European Film College, for a coffee.
It was fascinating to discuss the origins and the present development of the school with him. The school offers an eight-and-a-half month long intensive training program, which, according to Fabian Wagner, BSC, ASC, is a wonderful immersion and was the best springboard for being able to become a professional cinematographer. Petru is preparing a Summer Camp this summer for students studying cinema. The camp will be held from 14 June to 4 July in Ebeltoft, in Denmark, on the European Film College's campus.
3 weeks ; 14 students ; 3 teachers ; 4 assistants ; 7 cameras ; 1,200 meters of black-and-white and color film ; artisanal development of reversible film ; 2 16mm film projectors. The working language will be English. Petru is organizing this summer camp with Jean-Paul Jarry, who is a member of Imago's Education Committee.
petru.maier chez europeanfilmcollege.com
jean-paul.jarry chez laposte.net
- The three Master Classes – by Jakob Ihre, FSF, moderated by Rolf Hann, FNF, by Fabian Wagner, BSC, ASC, moderated by Nigel Walters, BSC, and by Philip Øgaard, FNF, moderated by Trond Tønder, FNF, were really wonderful… The images screened were only those from series they had worked on, respectively "Chernobyl," "Games of Thrones," and "Beforeigners." Hearing them speak about their profession with so much generosity, humility, and passion, was delightful. I felt their solitude, their worries, their doubts, the very different backgrounds they come from, and of course, their love of cinema. Being able to meet them, speak with them, discuss with them, was a really enriching experience !
So many different cultures under the same roof was really a delight.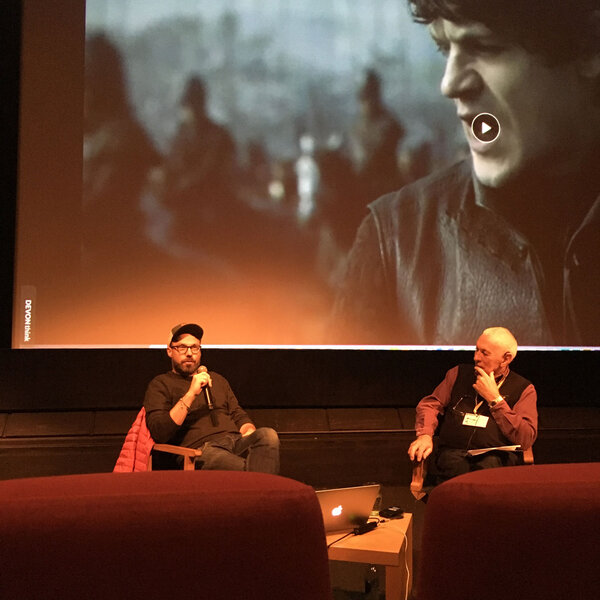 I also discussed a lot with Nigel Walters, BSC, Christine Williams, RED UK, and Barry Grubb, Rosco UK. I realized what an enormous amount of work Paul René Roestad, current president of Imago, put in to make this event a success. He was extremely present at each talk. He is caring and happy to introduce all of his guests and their work. There is a true love for the cinema and the men and women who create it in his eyes.
It really made me eager to participate and help him grow Imago via the contribution of the AFC's immense experience.
(Translated from French by A. Baron-Raiffe)