Laurent Dailland, AFC, speaks about working alongside Maïwenn for "Jeanne du Barry"

By Brigitte Barbier, for the AFC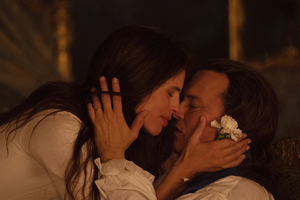 The 76th Cannes Film Festival's opening film, Jeanne du Barry, is American actor
Johnny Depp
's first French-language role, alongside
Maïwenn
, who directs and stars as the lead character in her sixth feature film. She entrusted
Laurent Dailland
, AFC (French Society of Cinematographers), with the cinematographic direction of this film of an unexpected genre in her filmography. Experienced in period films, – but not only – , Laurent Dailland talks about his work using 35mm film, and the choices he made to create a sober yet modern world to accompany the story of King Louis XV's favourite.
(BB)
Jeanne Vaubernier, a common girl eager to climb the social ladder, uses her charms to get out of her condition. Her lover, Count Du Barry, who is becoming increasingly richer thanks to Jeanne's lucrative gallantry, hopes to introduce her to the King. A meeting is arranged through the intermediary of the influential Duke of Richelieu. The meeting exceeds his expectations : it's love at first sight between Louis XV and Jeanne. With the courtesan, the King rediscovers his taste for life - so much so that he can no longer live without her, and decides to make her his official favourite. But, scandal : no one wants a street girl at the Court.
With Maïwenn, Johnny Depp, Benjamin Lavernhe.
How were your exchanges with Maïwenn for this first collaboration ?
Laurent Dailland : Jeanne du Barry is of a radically different style compared to her previous films. When she suggested I work with her, I think it was a way for her to reassure herself about this change in style. She must have seen me as a certain academic stature... who had experience with film cameras. With her film direction, she wanted a calm and relatively aesthetic visual universe. Although she was the one to push me into proposing different visuals.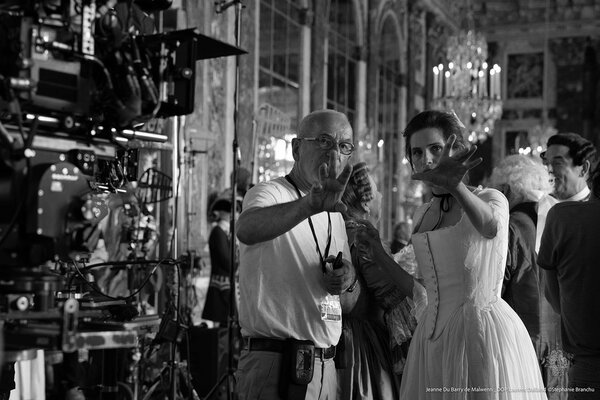 More concretely, what was your working method during the film preparation ?
LD : The preparation essentially took place in an 'open-space' and I always had panels in front of me on which Maïwenn placed photos of the sets, photos of the actors, photos of objects. She would also hang up bits of costume or fabric. This mosaic of objets gave us all inspiration and ideas for the atmosphere each sequence should have and the colour tones of the shots. Seeing this every day during the preparations made us definitely feel inspired ! She has very good taste, and this curious method was very efficient in creating connections between the leads of each division : costume designer, set designer, make-up artist, hairdresser, and of course director of photography.
What visuals inspired you to represent the 18th century ?
LD : The paintings from that period, of course ! Fragonard - and his assistant Marguerite Gérard -, Gainsborough, Boucher, Vernet, Reynolds, and of course Élisabeth Vigée Lebrun, who became Marie-Antoinette's official painter. For the anecdote, we went to the Bagatelle Park to scout a night scene. I thought for a moment that I was going to be able to shoot in a style inspired by Gainsborough, but because of the noise pollution, we couldn't shoot there. Instead, I got Turner at the Château de Versailles [Laughs].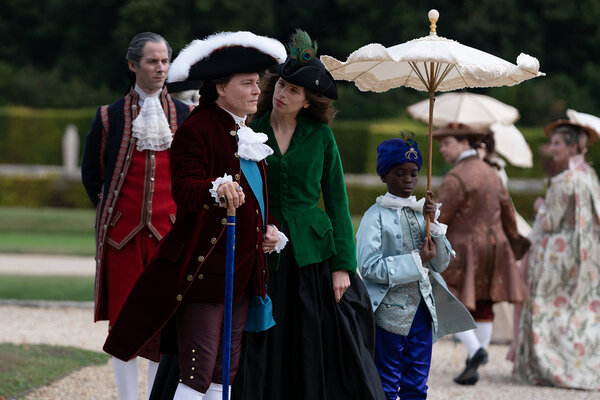 Stanley Kubrick's Barry Lyndon, – photographed by John Alcott –, was the film's main reference. Tous les matins du monde, – by Alain Corneau, with cinematographer Yves Angelo – , was also an inspiration, though the film is more related to the 17th century. Maïwenn liked the slow pace and the wide shots in which you see all the action unfold. But these were only references, not to copy exactly, but as sources of inspiration to 'go towards', or perhaps, to turn away from.
From the beginning it was clear that you were going to be shooting in 35mm. What equipment did you choose for this ?
LD : It is true that Maïwenn always imagined her film in 35mm and was supported by her producer, Pascal Caucheteux. I had to find a rental company that I liked and that the production would be satisfied with. First, I had to choose a rental company with good experience with 35mm. I looked at what films had been shot in 35mm in Paris recently... and I was very happy to get the two cameras used by Wes Anderson in his latest film shot in France. So we went to RVZ and got two Arricam LTs.
I tried a lot of things in terms of lenses : Cooke Panchro lenses, – the same as on Barry Lyndon –, but they were a bit much. I tried a lot of modern lenses that are not made for 35mm. The results of the Zeiss Supreme and Supreme Radiance were amazing, but they created colour imbalances and brought a precision that did not fit the film. The more traditional lenses that I really liked were the Cooke S4s. But they were limiting, as their maximum aperture is T2.2, whereas I needed to open to 1.3 for the candlelight sequences, and on top of that I was only allowed one series ! I had to compromise, so I chose the Zeiss Master Primes which I was very happy with. I was careful not to go beyond T4, sometimes 5.6, even outdoors.
One of the sequences, which is quite grandiose, was shot in the Hall of Mirrors at the Château de Versailles. Tell us about this experience.
LD : Shooting in the Hall of Mirrors was a technical challenge, as there were many constraints. And more so since the fire at Notre-Dame happened. There was no way we were allowed to have a real candle or even a little smoke. That's understandable for candles, which could ignite a curtain, but I didn't understand why smoke was forbidden. Apparently, it's because film smoke could mask real fire smoke.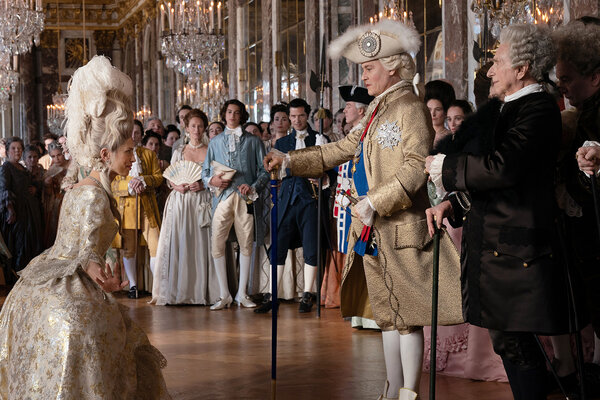 So I shot entirely in natural light, and then lit the interior with LEDs... when it was dark. The work schedule was very short : we only had one day to shoot with 120 extras, 10 actors and 25 shots. I had to start at 5,000K and finish at 1,700K, and I had no problem with colour grading. Even today, celluloid film, – although limited by the scan — , is still the best medium to handle variations. For this film, I can say I used all the different ranges film offers, from bass to treble...
Did you shoot the whole film with both cameras ?
LD : No, but after two weeks of shooting, and after this sequence in the Hall of Mirrors, I wanted to shoot more regularly with a second camera. The dialogue scenes were in fact not meant to be as shots/reverse shots.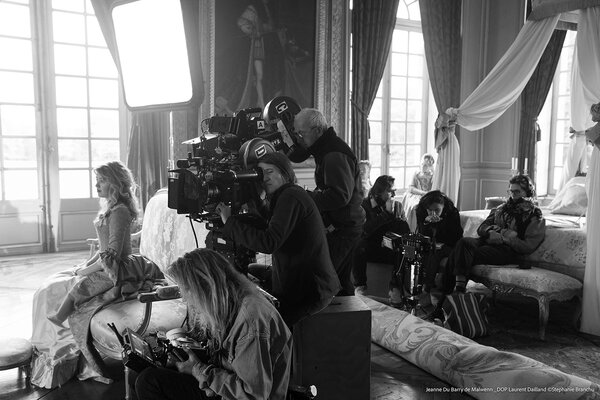 We made most of them with two cameras, without shooting the close-ups simultaneously, so as to not hinder on the lighting. Indeed, when shooting with film, you can't see what you're doing, so it's more perilous to shoot shots/reverse shots with two cameras.
Although these days, I think that the quality of acting has changed at the same time as the rules of cinema have.
I have to admit that we shot certain scenes which had such intensity that I was keen to make some compromises. I knew that at the end of the day, the acting was the top priority.
Was depth of field an issue for you, as there are many night scenes with candles ?
LD : There is a shot in Barry Lyndon that I would remember every time I had to light a scene with a candle. We were not at all in the same conditions because they used a Carl Zeiss lens, opening at F0.7, designed at the request of NASA, without any depth of field. With today's direction, that of Maïwenn, it would have been impossible to use them. And with Pierre Richard, who is a very energetic person, the depth of field could not be zero !
However, the depth of field was still quite reduced, and it was a difficult shoot for the focus puller, because Maïwenn was worried that something in the scene or the actors's game, would be lost if we rehearsed. So we had very few rehearsals, or rather, they were filmed... [Laughs] !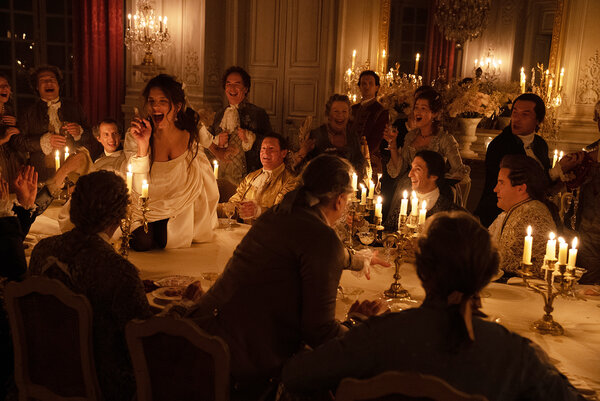 How did you light them ?
LD : With the director, we wanted a change from the classic 'warm light' candlelight scenes. We shot six or seven big sequences with candles, with variations in colour. One of them was in total darkness, barely golden. Maïwenn was wearing a big white dress, and Johnny Depp was in a blue suit. You can guess their presence more than you can see them, and I intentionally left parts of their faces completely in the dark.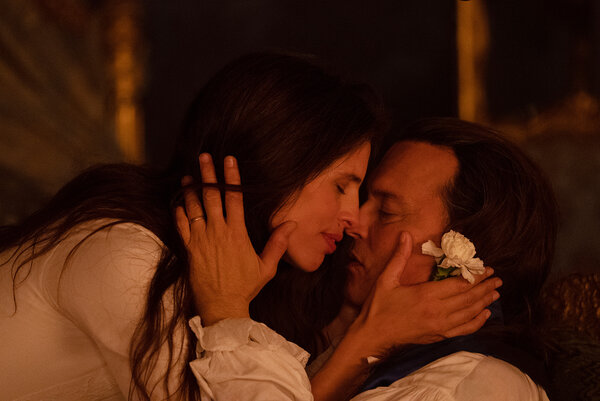 The lighting of this sequence where Jeanne meets the king in private illustrates what I explained at the beginning of our interview. Maïwenn really encouraged me to go towards what I thought was a somewhat risky lighting. This scene where she touches the king for the first time had to express their desire, and she believed that desire could only be expressed in the dark. So I had to turn off the few candlelight sources I wanted to use. I was a bit worried because I knew that in the end, if she didn't like it, there was nothing I could do. But at the same time I was enthusiastic. I think that in the end, it was the best light setting, in order to show that the King had just fallen in love with Jeanne. For that, I thank Maïwenn for pushing me out of my comfort zone !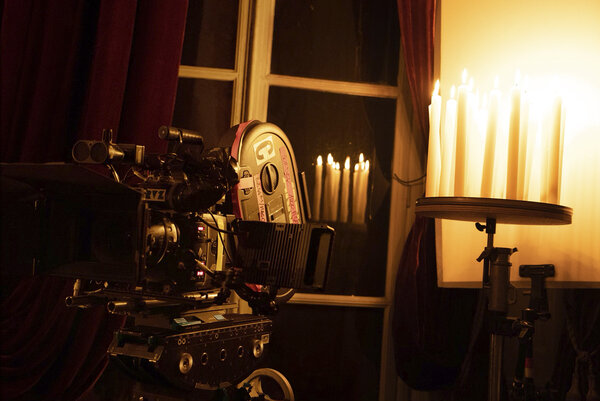 (Interview conducted by Brigitte Barbier and translated from French by Chloé Finch, for the AFC.)