No one can imagine that, mere months later, on the holy day of Yom Kippur and right in the middle of Ramadan, the country will be the target of a blitz attack by its immemorial enemy, Egypt.
And yet, on October 6, when sirens blare throughout Israel, Michel Abramowicz must return to his paratrooper unit. Immediately.
Encircled in Port Said by the Egyptian army, he is freed by Ariel Sharon's troops. During the armistice, he is stuck sixty miles inside Egypt's Jebel Attaca — at Kilometer 101, to be specific - and will stay stuck in the desert for over five months.
Fortunately, he had the reflex to slip a small camera in his pack, a Leica M1 that would allow him, by photographing the hostile yet ever-changing desert around, to hold out through those interminable months.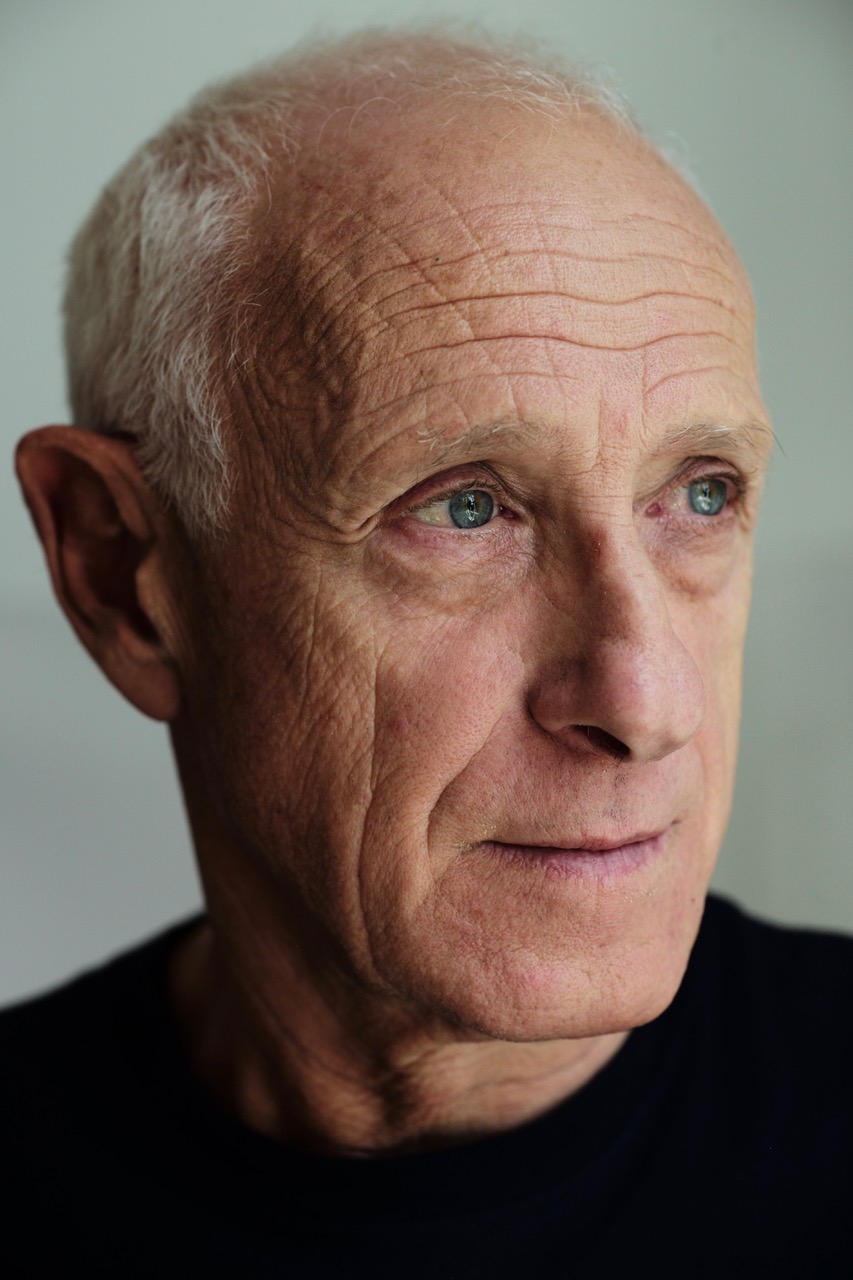 In Paris, Michel Abramowicz's father worked as a tailor, and he sometimes traded suits for watches or still cameras.
Fate can turn one's destiny on a dime. When Abramowicz Sr. offered Michel that Leica M1 for his 16th birthday, he could not imagine that still camera would help his son hold on through those bouts of anxiety or simply boredom...and would eventually determine his professional choice.
Michel Abramowicz never knew his grandfather Aaron, a religious man who lived with his wife Zlata and their twelve children in Zelechov, a tiny Polish village right on the Belarusian border.
At the beginning of the 20th century, the Russian revolution throws thousands of Jews on the roads and pogroms multiply. Among Aaron's and Zlata's twelve children, some sense the tragedies to come and decide to flee Poland in the early 1930s.
Michel Abramowicz' father is nineteen when he and his brother reach Le Havre, France, to board a ship to Venezuela.
During a stopover in Caracas, Venezuelan customs officers who wear no shoes control them. A detail ominous enough for them to immediately return to Le Havre. By comparison, France, which they just went through, looks beyond beautiful and prosperous.
They will never see six of their twelve brothers and sisters again (they will end up and die at the Treblinka extermination camp), nor their relatives executed in Zelechov.
As a child, Michel Abramowicz knows little of the painful family history. He only remembers the mixture of sadness and joy at the family reunions. Later, he will understand how important an attentive observation of society's movements is, and always listen to his own instinct.
Sometimes, leaving is just the right thing to do.
Driven by his adolescent passion and eagerness to discover the Promised Land, he convinces his parents to emancipate him at the age of sixteen so he can join his elder brother in Israel — unwittingly re-enacting the scene that, forty years before, allowed his father and his uncle to flee Poland, thereby saving their lives.
But after the Yom Kippur War, Michel Abramowicz decides to return to France.
"I had been bombarded by so much anxiety, so many fears, and had had so many nightmares, it was total chaos."
In France, he will never speak of this past, thus following the example of his uncles and aunts who survived the Shoah. A new start is a new start.
Yet, when he is interviewed prior to a potential admission to the Louis Lumière Film School night courses, he is asked point blank to retrace his itinerary up to this point. However reluctantly, he does, unaware of the fact that the benevolent man listening to him, headteacher Pierre Auffret, is a former commander whose fascination for the Tsahal officers' courage is boundless. The two men take an instant liking to each other — a friendship is born.
"Had I not met Pierre Auffret, I wouldn't have taken up this profession."
Michel Abramowicz is welcomed to the Louis Lumière Film School with open arms. "A kind of family," says the man who, upon arriving in Israel, happily enjoyed "communal life," first in a kibbutz, then with people his age in the army. "I like collective life."
Instantly, almost evidently, he feels at home on film sets and upon graduating from the Louis Lumière Film School, he lands an internship (camera) in cinematographer Jean Boffety's crew on Claude Sautet's Une histoire simple (A Simple Story - 1978).
Next come Un mauvais fils (A Bad Son) and Garçon, both directed by Claude Sautet. Life on those sets has such an impact on him that he could claim as his own Nathalie Baye's famous line in François Truffaut's Day For Night (La Nuit américaine):
"For a movie I'll leave a man, but for a man, I won't leave a movie."
Working on a scale model plane commercial - a serendipitous nod, perhaps, to the paratrooper he once was - Abramowicz meets the great cinematographer Pasqualino de Santis whose work with director Luchino Visconti on The Damned and Death in Venice is beyond legendary.
One must imagine that great era of Italian cinema — make that ''just cinema'' - when the cinematographer was a semi-god descended straight from Mount Olympus and as such, commanded absolute confidence from everyone around - producers, directors, actors and crew.
"I was lightning-struck with admiration in Pasqualino de Santis' presence, despite the fact - or all the more since - the working conditions at that time were staggering."
Abramowicz learns Italian and soon finds "his" place - first assistant camera - in what he might term "a dream team."
In Italy, he works on major films by such major directors as Francesco Rosi and Ettore Scola as well as, in France, with Robert Bresson.
But after eight years, it is time for him to stand on his own. And so, regretfully, he leaves that Italian family he loves so much - actually urged to do so by Pasqualino de Santis himself, as sorrowful as a father would be when, for their own good, he urges his brood to fly away from home.
"He saw me as the son he never had."
Thanks to his friend, cinematographer Thierry Arbogast, Michel Abramowicz designs the light scheme first for a comedy, then for a 17th Century piece, Pierre Henry Salfati's Tolérance; for Robin Davies' La Fille des collines (The Girl From the Hills) which takes place in the 1950s; then finally, some years later, for Jean-François Richet's Inner City (Etat des lieux) which, focusing on Paris blue-collar suburbs in the 1990s, foretells the nascent violence that will define society for decades to come.
What strikes most, perhaps, in those early films is their absolute diversity and one can only deduct that Abramowicz has an unusual talent and malleability instinctively to slip into wildly different worlds. Is there anything in common between the hard, taut and grainy Super 16mm Inner City and the colorful, sweet roundness of The Girl From the Hills?
The years 2000 usher in a string of successes, including that, planetary, of Pierre Morel's Taken which allows Abramowicz to consider an international career (read: American).
He appreciates the way they work over there and, above all, the importance they give to preparation, which then enables them approach the shooting itself with utter calm.
To wit: on Matthijs Van Heijningen's The Thing, he had fifteen weeks of preparation prior to a 25-week shoot!
But he also notices that the euphoria and joy of working as a team that characterises filmmaking on our Latin shores are far less present on the western side of the Atlantic.
And so, in 2005, as he is sitting in a producer's waiting room, when he hears someone speaking Hebrew, his heart starts pounding. All the more so, as the voice sounds vaguely familiar. It takes him a while to recognize Avi Nesher with whom he worked more than two decades ago and who has become a known director.
In Israel, when mature men meet, before even saying hello, they ask one another where they were during the Yom Kippur war and they exchange memories of that time. A form of brotherhood no outsider can fathom.
That brotherly link instantly re-established, the two men team up again on "missions" that, though artistic, present no less daunting (yet specific) challenges. After six films shot together, in 2017, Michel Abramowicz embarks on Avi Nesher's latest film, Another Story.
Over the years, the director has become more radical and wants a "no-frills" film, i.e. one that is shot with no lights and a hand-held camera that sticks very close to the actors.
Hence, their going for the Leitz Summicron-C series which "allows you to restore their softness to the skins and causes no distortion, no matter how close you get to the actors' faces. Not to mention being so compact it's easy to carry."
They also choose the various locations according to the light, that hard, zenithal light that is unique to Israel, a country the fate of which always seems to be on the edge.
Right now, a totally awed Michel Abramowicz is watching his younger daughter who has decided to learn Arabic. A bridge to the culture of the neighboring countries? An adolescent's desire to move away from her father, as he did from his own at her age?
The jury is still out.
His, hers, theirs. A family.
(Translated from Fench by Henry Behar)