C'est un premier film du très talentueux
Yoann Guillouzouic
(je lui ai dit de se trouver un pseudo moins compliqué...). Au cœur du récit nous suivons ce duo improbable et leurs péripéties.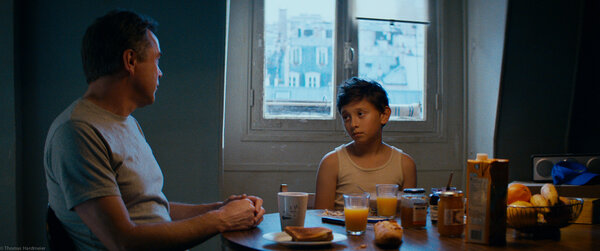 Yoann voulait faire un film à la fois touchant et cartoonesque.
A mes yeux, le résultat a aussi une dimension plus grave et sociale sur des exclus dans notre société. Il y a quelques scènes très chaplinesques, sans aucun dialogue. Je pense que ce sont ces séquences que je préfère.
Sources d'inspirations
Films :
- Biutiful et 21 Grams, d'Alejandro González Iñárritu, photographiés par Rodrigo Prieto, AMC, ASC
- Manchester by the Sea, de Kenneth Lonergan, photographié par Jody Lee Lipes
- City of God, de Fernando Meirelles, photographié par César Charlone
- Slumdog Millionaire, de Danny Boyle, photographié par Anthony Dod Mantle, DFF, ASC.
Photos :
- Joakim Eskildsen (The Roma Journey et American Realities)
- Christopher Anderson
- Alex Webb
- Gilles Coulon.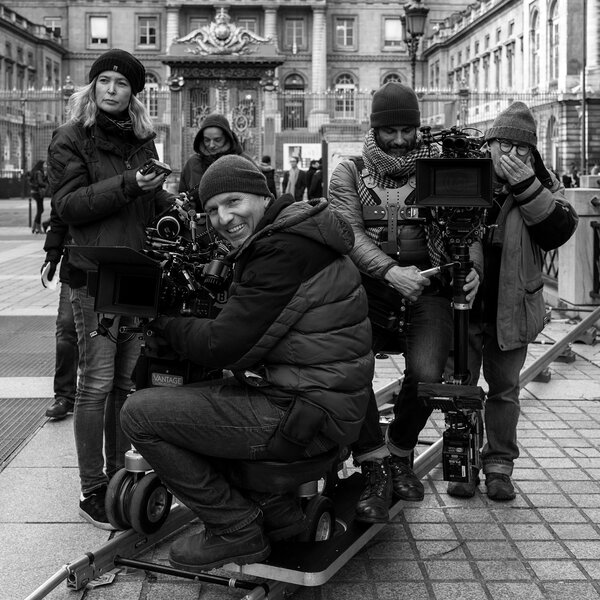 Le film a nécessité 34 jours de tournage.
Un merci particulier :
- aux deux productrices passionnées Ryme Wehbi et Magali Potier
- à Laurent Le Thiec pour avoir porté ce film depuis longtemps et jusqu'au bout
- à François Emmanuelli pour ses décors
- à mon équipe toute entière
- à Stéphane Chollet au stead+cadre pour la 2. caméra
- à Richard Deusy pour l'étalonnage final
- à Alexander Bscheidl de Vantage Paris
- à Didier Diaz de Transpalux+grip pour l'éclairage+la machinerie.
synopsis
Place des Victoires est l'histoire d'une rencontre improbable et salvatrice entre Bruno, quadragénaire marginalisé par des déboires professionnels et familiaux, et Gagic, petit garçon de la rue, espiègle et chapardeur. Bruno va peu à peu remonter à la surface, guidé par ce petit garçon solaire, plein de malice et de poésie.