The AFC "Micro Salon" 2008, a worthy success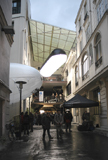 The 8th edition of the AFC "Micro Salon" ("micro trade show") was held on Thursday, March 13, 2008 at the Fémis film school in the 18th district in Paris between 10 AM and 10 PM.
The AFC Micro Salon has been supported by the
CNC
(National Cinema Center) and the Fémis since its inception. We wish to thank the school's director, Marc Nicolas, and his team for welcoming us so faithfully in this cinema landmark in the middle of Paris, on the site of the historic Francoeur sound stages.
This year Veronique Cayla, general director of the CNC, and
Thierry Frémaux
, General Delegate of the Cannes Film Festival, honored us with their presence.
Some 1800 visitors passed through the imposing gates of the Fémis, under a welcoming canopy of Airstar lighting balloons and a large Soulcam camera blimp. They then moved on to spaces on different floors dedicated to cameras, lighting, grip, labs and post-production. Some forty AFC associate members from the French film industry pitched in to meet and greet the day's visitors, who were ever curious to discover new tools, and a craft in constant evolution.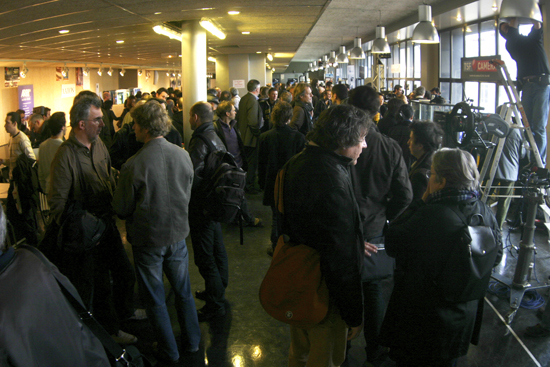 Detailed below are some of the novelties on display
Aaton ran their new Penelope camera with its 3Perf/2Perf claw in the 3Perf position, so that visiting sound engineers could appreciate the complete silence... without ascribing it to the slower-moving 2Perf.
The Cantar-X2 sound recorder was there too. It demonstrated the power of its "ADR in the field" function, which avoids having to re-record actors lacking verve "at great expense" during the final mix.
Airstar, wishing to "free" lighting balloons by providing speedy set-up and relocation times, presented their latest balloon innovations :
The Hybrid 16.80 Tube :
- 16.8 kW : 4.8 kW HMI (4 x 1200) Tungsten & 12 kW (12 x 1000)
- Helium (or air)
- Envelope with integrated reflector. Length : 7.80 m / diameter : 2.50 m
- Tube shaped
- Skirts
- For use in interiors & exteriors
In addition, the Gaffair range has grown with the Gaffair 400 :
- 400 W HMI
- Air balloon
- Envelope with 90 cm diameter integrated reflector
- Flexible and adjustable boom arm in 3 sections (150 to 350 cm)
- Other uses : mounted on a stand, suspended, with the boom arm fastened to a stand.
- 2 filters : 1/2 and full CTO
- Skirts (+ 20 cm below the ball)
- Set-up time : 10 min.
Broncolor-Kobold presented, under a "real shower" installed in the middle of a "tropical forest", one of its multifunctional and weather-proof products, in the IP 54 format.
Particularly popular in the world of TV and news, they are becoming ever more interesting to rental houses doing film or events.
Broncolor-Kobold, also presented its products for the future.
- An adapter that transforms the Source Four Junior into a 200 W HMI.
- A ceiling adapter for the DW200
- A new adapter for the Para Kobold with 4 200 W sources
- A multicolored 400 W LED
- The installation of a "focusable" light source inside a soft box for a DW800.
Fujifilm introduced a new intermediate film stock. The latest in the Eterna range, the new Eterna-RDI (Digital Recording Intermediate) offers optimized technical qualities : an exceptional image sharpness, a reduction of cross-color, greater latitude and more linearity, as well as more stable photographic characteristics.
K5600 Lighting introduced the new version of Alpha 4K. With its quartz composite mirror, Alpha 4K V2 becomes even more compact (less than 10 cm in spot) and lighter (less than 3kg) without making any concession to frame width. The design is the same as the Alpha 18K.
Similarly, K5600 introduced a new system with a ballast with 30 V 30 A battery and charger which finally allows the use of a Joker-Bug 800 with a battery. The battery life is 45 minutes with a Joker-Bug 800-Bug or 90 minutes with a Joker-Bug 400.
Kodak took the opportunity to present its brand-new film negative Vision3 500T 5219/7219.
The film is the first in a new family of film stocks – with important technical advances increasing both the workflow efficiency and creative possibilities offered to directors and cinematographers. Kodak's Vision3 brings even more exposure latitude and color precision, with a significant reduction of grain – especially in the brightest highlights and the darkest shadows – making it an optimal tool in situations of extreme lighting.
A new Kodak patent, DLT (Dye-Layering Technology), refines the grain in the images in the under-exposed areas while maximizing the accuracy of film to digital transfers in post-production. This new film emulsion also provides more efficient processing of luminance, and records more detail in the highlights – a valuable asset in digital post.
Vision3 500T is available in 35 mm and Super 16, and is designed to preserve the imaging characteristics of Vision2 5218/7218 500T. Under normal exposure conditions the new Vision3 negative blends in seamlessly with the present range of Kodak Vision2 negatives.
There were two screening sessions during the AFC Micro Salon show, with 2K digital projection provided by a Christie projector and a Kodak CineServer JMN3000. This server provides excellent image quality thanks to Kodak Color Science, also used in many other production and post-production applications. _ The JMN3000 is already present in many theaters in France and throughout the world, and can play both MPEG2 or JPEG2000 files, in 2D or 3D, automatically sensing the compression format used. The Kodak CineServer meets SMPTE standards and complies with the DCI recommended specifications.
Kodak is presently developing a range of content management services especially adapted for digital network distribution or standalone projection : the Kodak Theater Management System. Kodak provides a solution for managing all content in a film theater, namely, trailers, advertisements, shorts and feature films.
For film projection, Kodak offers a full range of positive print stocks (Kodak Vision 2383 Color Print Film and Kodak Vision Premier Color Print Film 2393).
Loumasystems presented the Louma 2, its new computerized telescopic crane (see article in the October 2007 AFC Newsletter). Visitors were able to test it on the Grip floor, below street level.
Loumasystems also presented the latest developments of the Revolver system, notably a motorized dolly version.
Maluna Lighting introduced its new Luciole Mega : more wattage, more options, allowing subtle adjustments of soft but strong lighting ...
- Technical details : 6 x 1000 W
- Option : 2 x Bug Lite 800 W at K5600
- Honeycomb Louver
- Set of diffusion
- Set of black/white bounce
- Socapex or 16 A plugs
- Weight : 15 kg
- Dimensions : 90 x 90 cm x 66 cm
Transvideo presented their latest versions of CineMonitorHD. These monitors accept HD and SD signals : Composite, RGB, SDI and YPrPb. The range now consists of 6" inch, 8" inch and a 15" inch screens.
These products have been developed for directors of photography working in digital, while retaining the functions required for film.
Noteworthy technical features include a latency of less than one frame (1 frame in progressive scan), constant synchronization to the input signal, and very low power consumption with a galvanic isolation of the power supply. The image quality is exceptional. Available options include : a frameline generator, a horizon indicator and an Advanced Measurement tool with RGBY waveform, vectorscope and histogram. A special 6" inch version allows the collimation of a pair of synchronized cameras used in shooting 3D.
The CineMonitorHD is available from the best rental houses, (TSF, Panavision Woodland Hills, etc.).
In brief, other new items include
ACS France : Giron Stab C Compact
Bogard SA : Sony F23, 780, new Arri products
Bogen Imaging : Portable LED lighting with color temperature correction
Cininter : Dedolight 400 W HMI and a new lamp for the 5K Mole PAR
Dimatec : LED Z, a new range of LED headlamps of the Micro Brute variety
Emit : Various equipment, accessories and lenses : Panther, Chrosziel, Cooke, Zeiss
Fujinon : Range of fixed lenses and Cine Style HD zooms
Key Lite : Lablight for shooting high speed, Kino Flo Vistabeam, Parabeam, Barfly
Panavision Alga Techno : Genesis SSR, V20 Phantom HD, Millennium, XL2
Panavision Cinecam : Sony F23, 790, Panasonic HPX3000, Aaton Xtèra
Propulsion : Porsche 928 for fast camera moves with a Pro-Lift elevator, Flight Head and dedicated accessories
Soft Lights : Accessories for monotubes, Wi-Fi remote control dimming by DMX
Screenings and presentations during the AFC Micro Salon
The CST : Color chart for digital cameras and analytical software developed by the CST (Superior Technical Commission – French equivalent to SMPTE).
Digimage Cinéma : Excerpts with commentary of Oceans, Paris 36 and The Maiden and the Wolves
Duran Duboi : Excerpts with commentary of Asterix, The Second Wind, Hitman, His Majesty Minor
Éclair Lab : Restored excerpt from Orpheus by Jean Cocteau (1950) – Overview of workflows for creating a JPEG 2000 file for projection according to DCI specifications
Fujifilm : Features and benefits of the Eterna RDI (Digital Recording Intermediate)
Kodak : Innovative technology of the Kodak Vision3 500T negative
L'EST : "The dark side of digital" by Christian Guillon
Mikros Image : Excerpts with commentary of Asterix and The Fox and the Child
Panavision Alga Techno : Images of the V20 Phantom HD.
Special thanks to :
Pascal Gervais, general manager for Christie France, Kodak and Bogard SA who enabled us, with the advice of the CST, to provide digital projections of excellent quality.
Thanks once again to the teams of our associate members for their invaluable help : Agfa, Airstar Distribution, Ciné Lumières de Paris, Lumex, Maluna Lighting, Soft Lights and TSF.
Off the cuff reaction :
"The Micro Salon of the AFC is always a moment of happiness, conviviality and refreshing simplicity. Jon Fauer, ASC, who gave us the pleasure of a friendly visit this year, shared his excitement, saying that he had not seen a similar event anywhere else in the world.
Congratulations to the entire team who enable this miracle to happen every year ; don't change a thing !"
Jacques Delacoux, CEO of Transvideo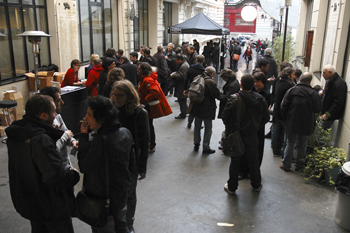 _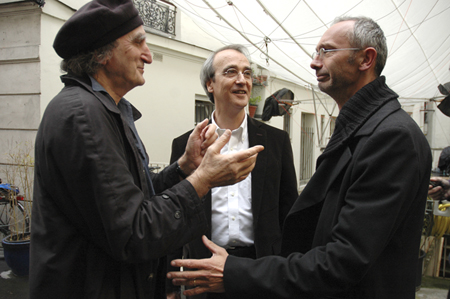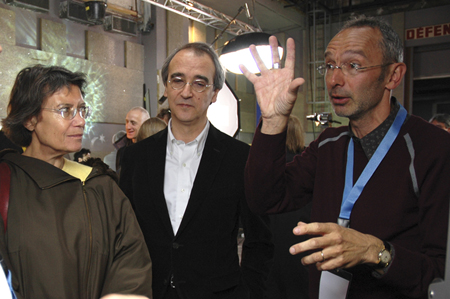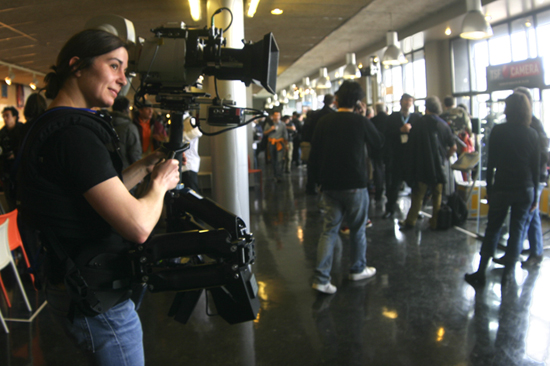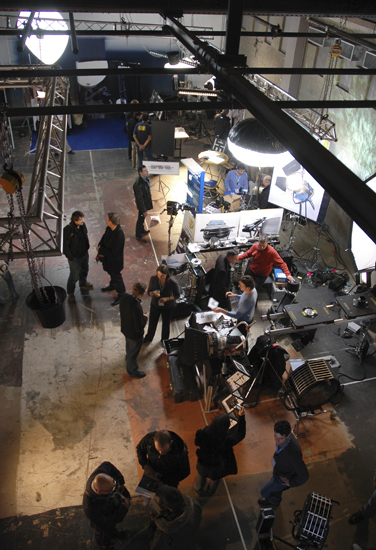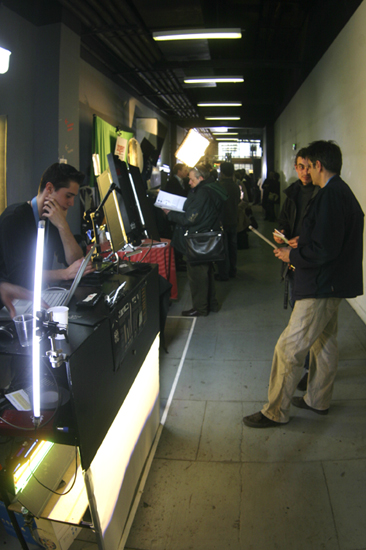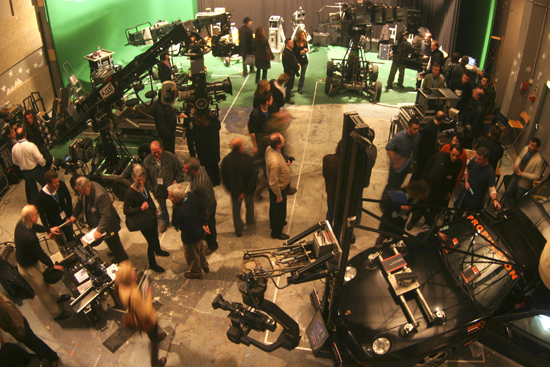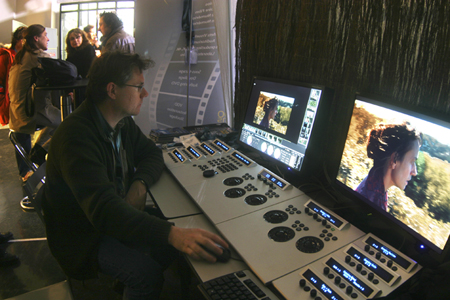 The photographs that illustrate this article were taken by Nelly Flores. They are part of a larger series of the Micro Salon 2008 and Micro Salon 2007.
Nelly also "fired off" some portraits of AFC members during Micro Salon 2008 and Micro Salon 2007.
Translated by Benjamin & Kim B