Une vieille maîtresse (The Last Mistress)

directed by Catherine Breillat, cinematography by Yorgos Arvanitis, AFC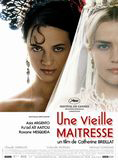 Adapted from a Barbey d'Aurevilly novel,
Une vieille maîtresse
takes place in 1835. It is a story of passion, love, betrayal, bodies mingling and killing each other ; a story of fire, blood and flesh…
Yorgos Arvanitis
, AFC, speaks of his collaboration with
Catherine Breillat
.
Yorgos, what do you think of your own work on this film ?
First of all, I want to say that I am never happy with my own work. I always have the feeling I can do better and it is my belief that it is better to let well alone.
Eventually I can be satisfied if the director is. Remember that the director turns to us to translate visually what is in his imagination, to capture onscreen the images he has in his head.
Director and director of photography often diverge when it comes to the picture. Which is fortunate, since this is how you can move forward : these differences make it possible for the photographic creation to exist on film.
Can you give an example ?
For one of the love scenes I wanted to have a light that would reproduce the effect of the flames in the chimney, with a rather contrasted, darkish atmosphere. Catherine however wanted to see the bodies, so I had to go for a flatter, slicker light, with less warmth and less effect. In a similar way, for a sequence starting at dawn with the camera inside, I wanted a blueish light from outside while she wanted everything to be white…
There were other constraints as well, regarding sets, external lightings…
Shooting on the isle of Bréhat meant we could not take vehicles with us. Therefore I did everything with reflectors. We juggled with the weather ; since the action takes place in wintertime, we needed grey skies while we mostly had sunshine and a perfectly blue sea… We shot at the Archives Nationales, too, where we were not allowed to touch anything. We had to make up an aluminium set with chinese balls which we fasted onto the ceiling lights.
And how did you go round those constraints for the scene with the characters reflecting in the mirror ?
Since I couldn't attach anything nor touch the walls and considering everything would show in the mirror, I used some kind of small crane devoid of any counterweight, with a staff onto which we would fasten four or six chinese balls. We would use doublewicked candles. I had set a pair of small, Kino Flo-like tubes on the table – the kind that are used in kitchens and have the same colour temperature as candles. I added magenta gelatine to cut through the green.
Did you frame the film yourself ?
Yes, I always do. I am used to framing through the lens. I would rehearse, then light. I don't need to rehearse the movement, even when it's difficult. I'm a framing maniac, so it's easier when I am in control of it !
Are there any further technical precisions you would like to disclose ?
We used an Arri 535 camera and Ultra Prime lenses (a material which we got from abroad). In terms of film we used Kodak 200T 5274 for daytime and Fuji Eterna 500T for day- and nighttime location shots.
I would like to thank the camera and electricity department (among them gaffer Emmanuel Thiery and key grip Laurent Bourlier) for standing by me day and night and showing much care and solidarity.
(Inteviewed by Brigitte Barbier for the AFC and translated from French by Mathilde Bouhon)