Vittorio Storaro (AIC, ASC) Retrospective at the Cinémathèque Française
The Cinémathèque Française, in partnership with the AFC, is honoring cinematographer
Vittorio Storaro
, AIC, ASC, by hosting a retrospective of thirteen of his films from 28 February to 5March. He will personally introduce two of these films, and a third will be followed by a Cinema Lesson.
About the Retrospective — by Paolo Mereghetti (excerpt)
In Pursuit of Light
He has been one of the masters of cinematographic imagery for almost five decades. From Dario Argento (The Bird with the Crystal Plumage) to Francis Coppola (Apocalypse Now, One From the Heart, Tucker), from Bertolucci (Last Tango in Paris, 1900, Little Buddha), to Carlos Saura (Flamenco, Goya) and even Woody Allen (Café Society, with more to follow), Vittorio Storaro has been recognized as one of the greatest "cinematografi" of his time. His style has subtly adapted itself to the sophisticated directing and operatic ambiences of the works he has filmed, displaying a constant refinement.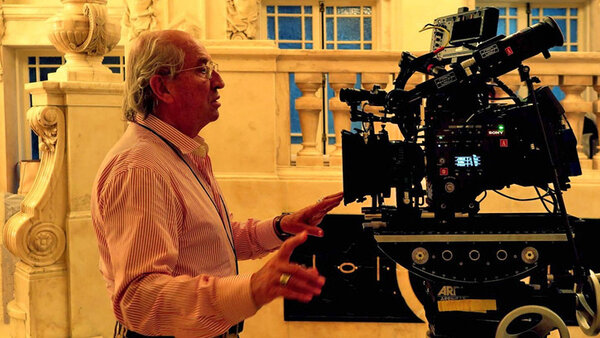 When he discusses his work, his words sound like a declaration of love, as though he were speaking to his fiancée : he explains how light gives "body" to his works, how to make an "emotional state" a reality in the viewer's heart, because light, shadow, and colour "are forms of energy that don't just reach the viewer's eyes, but also his heart." Vittorio Storaro isn't just in love with his work, he's also spent his whole life showing how crucial it is in a film's creative process. He has been key in causing the director of photography's crucial role to be recognized, alongside the other key figures of the director, the screenwriter, and the musician.
"Cinematografo"
The son of a Lux Film projectionist (Riccardo Gualino's production company which was central in promoting the renaissance of Italian film after the war), Vittorio Storaro remembers that when he was seated in the projectionist's booth at his father's side, "he couldn't hear the soundtrack so he had to learn to look at the images and try to understand the movie's plot." His passion was born there, and reinforced by his enrolment at the age of 16 (he was born in Rome on 24 June 1940) at the Centro italiano di addestramento cinematografico (CIAC), and then, at the age of 18, in the Centro sperimentale di cinematografia (CSC), from which he graduated. He began to be convinced that this profession was worthy of having its authorial dignity recognized, and that the traditional technical title of "direttore della fotografia" (director of photography) ought to be replaced by "cinematografo" (borrowed from the English term 'cinematographer'), in semantic opposition to 'fotografo' (photographer).
In 1961, aged 21, he was Italian cinema's youngest cameraman ; in 1969, he became director of photography on Franco Rossi's Giovinezza giovinezza ; and the following year on Dario Argento's film The Bird with the Crystal Plumage and on Bernardo Bertolucci's The Conformist (followed by The Spider's Strategem after working as an assistant cameraman on Before the Revolution). This was the beginning of a career during which he would earn three Oscars, an Emmy, and receive the American Society of Cinematographers' Lifetime Acheivement Award. [...]
Read the rest of this text (in French) on the website of La Cinémathèque Française.
Agenda
- Wednesday, 28 February 2018 - Salle Henri Langlois
Opening ceremony of the retrospective. Screening introduced by Vittorio Storaro.
The Conformist (Il conformista), by Bernardo Bertolucci.
- Saturday, 3 March 2018, 2:30 pm - Salle Henri Langlois
Tucker, by Francis Ford Coppola
Screening followed by "Storaro by Storaro : a lesson in cinema"
"I think that there exists a sort of grammar. The structure of light contains all possibilities within it (direct lighting, indirect lighting, or diffused lighting) and all nuances from dawn to dusk. Each moment has its meaning. Each moment corresponds to a different emotion." (Vittorio Storaro)
Session hosted by Frédéric Bonnaud and Pierre Filmon.
Frédéric Bonnaud is the general director of the Cinémathèque Française.
After directing four short films, Pierre Filmon directed a film tribute to a great cinematographer, Close Encounters with Vilmos Zsigmond, which was screened in Offical Selection at Cannes in 2016 and was released in cinemas in Hungary and in France. Whilst shooting that film, he began his friendship with Vittorio Storaro.
- Saturday, 3 March 2018, 6:30 pm - Salle Henri Langlois
Apocalypse Now, by Francis Ford Coppola
Screening introduced by Vittorio Storaro and screened from his personal 35mm copy.
Cinémathèque française
51, rue de Bercy - Paris 12th Arrondissement
(Translated from French by Alexander Baron-Raiffe)