Angenieux 30-72mm AS2 Anamorphic zoom on "Star Trek Beyond"
First production units of
Angenieux
30-72mm AS2 Anamorphic lens are making a splash on the set of
Star Trek Beyond
(2016) with Cinematographer
Stephen Windon
ACS, ASC.
The Angenieux anamorphic zoom line has now expanded with this second lens in the series of three planned. The first two 30-72 2S anamorphic zooms have been delivered to Otto Nemenz Int'l in July and are already hard at work on the set of Director Justin Lin's production of Star Trek Beyond due out in 2016, cinematography by Stephen Windon ACS, ASC.
"Stephen already had two 56-152 A2S zooms working on the production, so when we found out about the impending delivery of the 30-72 A2S lenses, he just had to have them", said Fritz Heinzle of Otto Nemenz. Shortly after taking delivery of the first two units, they were off on location in Vancouver where the movie is being shot. "They initially used one demo 30-72 A2S, but shortly after came back with a request for another lens to put on a second unit production, timing couldn't work out better", said Fritz.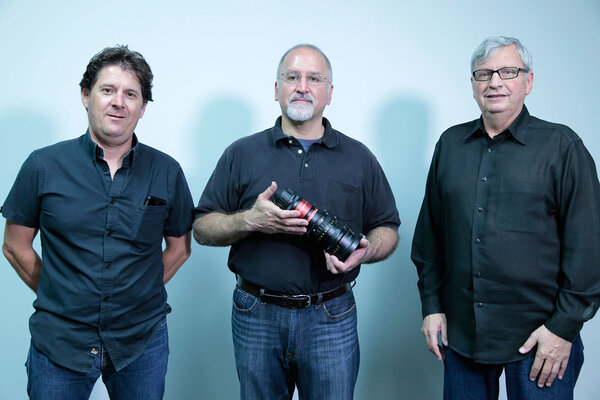 Cinematographer Stephen Windon, who is shooting Star Trek Beyond, said, "I'm owner of the fabulous 15-40mm Optimo, one of my favorite lenses in my kit. I knew the benefits of having a lightweight anamorphic zoom lens for remote head work and I love the energy of a hand held camera. With an anamorphic zoom such as the 30-72mm we can now achieve energetic shots with these remarkably light lenses".
The release of the 30-72 A2S represents Angenieux's ongoing industry leadership in designing new optical technologies that enhance technique and creativity for cinemascope production. With the success of the first anamorphic lens 56-152, the Angenieux anamorphic zoom line is further expanding production needs for cinematographers and DPs who want to give a dimensional character to their images for a multitude of productions.