Dans l'actualité de Skydrone
Dans l'actualité de Skydrone, retour sur les derniers mois, deux films actuellement sur les écrans, et six autres longs métrages bientôt en salles, tous photographiés par des membres de l'AFC, et deux productions étrangères.
Retour sur ces derniers mois d'une période particulière, encore marquée par le Covid-19 et l'interdiction des survols de drones au-dessus de Paris. Le Covid-19 a paradoxalement continué de générer une demande accrue de tournages, la cadence a été dure à suivre : dix longs métrages, six séries, des pubs, des documentaires et des évènements d'envergure, comme le teaser et la captation du défilé Louis Vuitton.
Dans le même temps, le préfet de Paris décidait de ne plus autoriser les tournages en drone dans Paris, privant les productions d'un outil désormais incontournable.
Le stock d'images de Paris que nous avions constitué lors du premier confinement a désormais d'autant plus d'intérêt…
Nous avons eu cependant la chance exceptionnelle de pouvoir tourner une dizaine de jours dans Paris pour le film de Jean-Jacques Annaud, Notre-Dame brûle, photographié par Jean-Marie Dreujou, AFC, pour lequel nous avons également de nouveau travaillé, pour les VFX, avec Laurens Ehrmann, à la tête de The Yard VFX. La réalisation de plans drone pour les VFX est une nouvelle réalité qui demande une très grande précision des trajectoires et des cadrages. Nous avons également dû faire évoluer nos drones en zone feu, avec toutes les protections de rigueur, contraignantes.
Pour le défilé Louis Vuitton, qui a eu lieu sur l'ensemble architectural de l'Axe majeur à Cergy, nous avons déployé pour le teaser tourné de nuit, trois drones lumière gros porteurs, un drone moyen porteur équipé d'un Sony Alpha 7SIII, deux Inspire 2 équipés de X7, et deux drones FPV gros porteurs avec RED Komodo.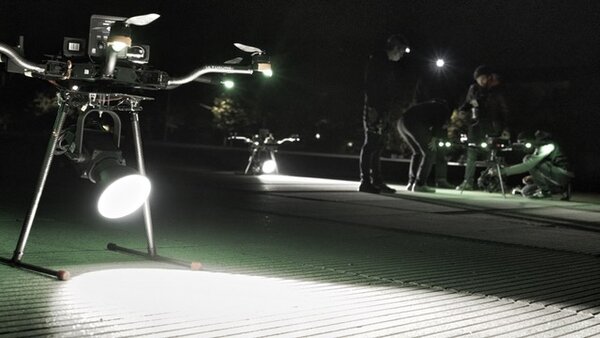 Toutes ces machines font partie de notre flotte de plus d'une trentaine de drones qui nous permet de répondre aux défis techniques que l'on nous soumet.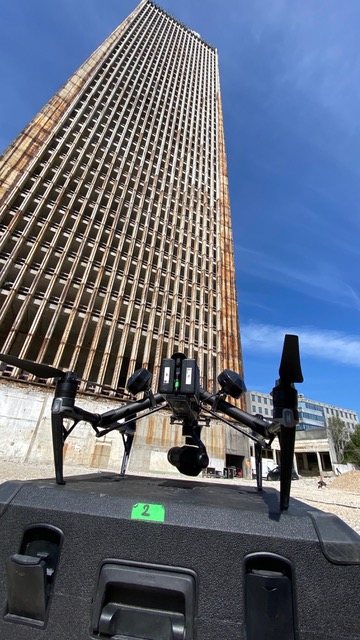 Cette rentrée semble prometteuse, nous venons de signer une dizaine de jours de tournage pour la série "Marie Antoinette", et des discussions sont en cours pour de prochains longs métrages et publicités.
Les films actuellement sur les écrans
- Envole-moi, de Christophe Barratier, photographié par Jérôme Alméras, AFC
- Les Deux Alfred, de Bruno Podalydès, photographié par Patrick Blossier, AFC.
Les prochaines sorties
- Les Olympiades, de Jacques Audiard, photographié par Paul Guilhaume, AFC, sortie le 3 novembre 2021
- Le Trésor du Petit Nicolas, de Julien Rappeneau, photographié par Vincent Mathias, AFC, sortie le 20 octobre 2021
- La Croisade, de Louis Garrel, photographié par Julien Poupard, AFC, sortie le 22 décembre 2021
- Kung Fu Zohra, de Mabrouk El Mechri, photographié par Pierre-Yves Bastard, AFC, sortie 9 mars 2022
- Notre-Dame brûle, de Jean-Jacques Annaud, photographié par Jean-Marie Dreujou, AFC, en postproduction
- Hawaii, de Melissa Drigeard, photographié par Myriam Vinocour, AFC, en postproduction.
A l'étranger
- Army of the Dead, réalisé et photographié par Zack Snyder
- "Friendzone".