25th Dinard British Film Festival
The Dinard British Film Festival has celebrated its 25th anniversary from 8-12 October 2014. This year, the jury was presided by
Catherine Deneuve
, and the festival has screened six feature-length films in competition for the "Golden Hitchcock" award and fifteen exclusive previews of upcoming films. This festival has also celebrated the centenary of
Technicolor
.
To celebrate 100 years of Technicolor, the Festival has organized a very special event for all movie lovers and will screen one of the first British films to have used this technology : A Matter of Life and Death, by Michael Powell and Emeric Pressburger, cinematography by Jack Cardiff.
The screening has been followed by a talk with François Ede, cinematographer and director, specialist of colour in the cinema.
Technicolor, an AFC associate member, was the official sponsor of the event and the CNC is one of its institutional partners.
A commemoration of Michael Radford, a "carte blanche" given to Stephen Wooley, and a number of exclusive previews of upcoming films had rounded off the 2014 vintage of this Festival.
Every year, during the period leading up to the British Film Festival, the City of Dinard provides the public with free cinema tickets via a program entitled "Dinard fait son cinéma !". Le Week-End, directed by Roger Michell and cinematography by Nathalie Durand, AFC, has been screened on 5 October.
A Matter of Life and Death - Glorious British Technicolor, by François Ede
A Matter of Life and Death marked an important date in the history of British cinema in the aftermath of WW II. Michael Powell, then at the peak of his artistic expression, thought British cinema well able to compete with the Hollywood majors and felt he did not need to sacrifice his own personal creativity. Alexander Korda had paved the way in 1939 with his flamboyant style in his film The Four Feathers whose international success owes a lot to the use of colour. Powell, and Jack Cardiff, his director of photography, were determined to use colour to enhance the drama of their film and to use Technicolor in a new and original way. Together Cardiff and Powell defined the parameters of a colour aesthetic that was totally different from that which colour supervisor Natalie Kalmus was bent on imposing.
At the start of the film, the camera pans across the skies. Then the story opens with a dramatic scene in the cockpit of a plane with David Niven as RAF pilot Peter Carter establishing radio contact with a young American ground controller, June – played by Kim Hunter. Carter immediately falls in love with the young WAC who manages to keep calm throughout their short conversation. He tells her he loves her immediately before baling out of his plane into the Channel without a parachute. Carter miraculously survives the ordeal but suffers a concussion which causes him to have bouts of delirium. In his fantasies, he receives the visit of an emissary from heaven assigned to escort him to the afterlife.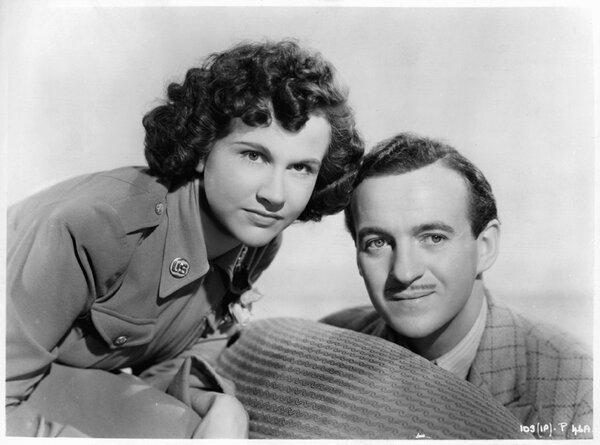 In 1998, Jack Cardiff told me about his first meeting with Powell during the preparations for the film :
"Michael wanted to mix black and white and colour in this film to create a contrast between the real world and heaven. So I asked him the one thing I was dying to find out. You picture heaven in colour, don't you, Michael ? No, he replied. I see heaven in black and white because everybody expects to see it in colour !"
Powell explains in his autobiography that Cardiff then suggested they shoot not in black and white but rather in Technicolor Dye-Monochrome to give the film a "pearly hue" , or so said Jack with a vague expression. Powell shows heaven as a world without passion, ruled by a rather totalitarian organisation and a fussy bureaucracy, shot in a splendid pearly tint.
That is why the heavenly emissary is thrilled with his excursions into the world of the living. When smelling a rose, he mentions with obvious regret that up there, one is deprived of Technicolor just as the picture fades out from black and white to colour with great subtlety.
The film contains a lot of visual creativity and humour. Powell and his co-writer, Emeric Pressburger, happily mixed genres, from the realistic to fantasy, a true celebration of life and love.
Heaven can wait !
François Ede is both a director of photography and a maker of documentaries. He is a member of the scientific committee of the Conservatoire des Techniques de la Cinémathèque Française (Conservatory of techniques at the French film library). He has directed or consulted for several colour film restorations such as Jour de Fête, Playtime and Lola Montès. He has studied and done a lot of research on various colour processes. He is very vocal in his defense of a scientific approach to film restoration.
(Translated from French by Jocelyne Bourbonnière)
In the portfolio below, some pictures of A Matter of Life and Death's restored version - © 1946 Carlton Film Distributors Limited. All rights reserved. Under licence of ITV Studios Global Entertainment Limited and distributed by Park Circus Limited.