DwarfConnection produces rock-solid, high-quality wireless video transmission systems designed for filmmakers and cinematographers who require a stable solution.
At DwarfConnection, we all work in the film and video industry ourselves and are therefore very aware of the problems and challenges that can surface during a complex production.
That is why we set out to minimise such challenges with our DC-LINK long-range wireless systems.
We decided not to implement the Dynamic Frequency Selection (DFS) system with its limiting pairing process and settled on Manual Frequency Management (MFM) instead. This allows a more stable connection in difficult conditions and crowded environments. Setting up the connection between transmitter and receiver is quick and easy – almost as easy as Plug and Play. Our DC-LINK systems permit the use of as many receivers as required, allowing maximum flexibility in a studio, on a set or in a live production environment.

DwarfConnection systems are simple to use, built to withstand even the toughest conditions and provide the most stable wireless video transmission currently available.
We do not want to offer "additional" technical features for a higher price. The main difference between the various models is the transmission range. The DC-LINK.CLR2 we wanted to keep as compact as possible. Therefore, it has no external antennas on the receiver and does not come with a battery plate. Attaching an additional plate (optional accessory) is an easy procedure.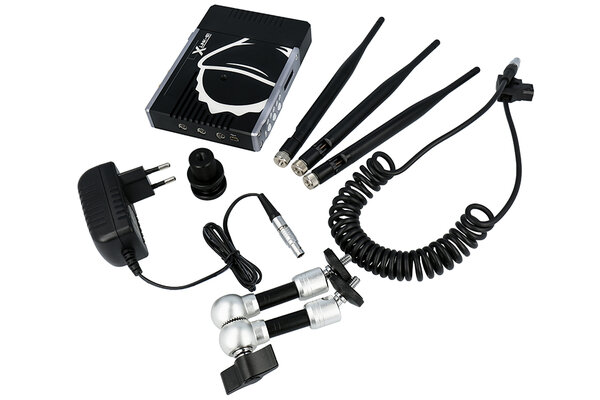 All of our systems transmit uncompressed video up to 1080p60 in 8bit and 10bit 4:2:2 on HDMI with no latency (<0,001s).
They have both HDMI and SDI connectors on transmitter and receiver and are cross convertible.
The built-in frequency scanner helps with choosing a free channel.
Controllable fans make sure your devices stay chilly and can also operate on automatic mode to prevent audio issues (Smart Fan Control).
The input voltage range of 9-18V ensures the greatest possible flexibility at the smallest possible size.
DwarfConnection USPs
DwarfConnection provides high quality wireless video transmission systems that are
- reliable - also at high transmission ranges up to 4000ft (with additional equipment and
correct alignment even more !)
- easy to use
- rock solid
- well thought-out and designed by Austrian filmmakers.
DC.LINK wireless Systems bring along a bunch of features that make life on set a lot easier :
- NO interruptions caused by automatic frequency changes
- NO complex pairing of transmitter and receivers
- NO limitation concerning the amount of receivers.
- NO heat : active cooling keeps your devices chilly
- NO unwanted noise : smart fan control
- NO compatibility hassel : mix and match your DC-LINKs of all models and generations,
today and in the future
- NO unauthorized radio reception thanks encryption mode
- NO regrets : reliable after sales service
- FULL metadata support for most cameras and industry standard video assist solutions (such as QTAKE).