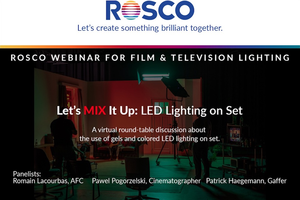 You're invited to a virtual round-table discussion about the use of gels and colored LED lighting on set. Moderated by
Rosco
's
Nils de Montgrand
and Nicolas Goerg, a panel of three notable filmmakers will discuss how they navigate their way through the choices they've got in the marketplace and describe the different techniques they've used in their projects.
Join Us!
May 21, 2020, 7:00pm (GMT +1 - Paris) – 1:00pm EST – 10:00am PST
The Panel
Romain Lacourbas, AFC, cinematographer
Pawel Pogorzelski, cinematographer
Patrick Haegemann, gaffer.