Paris Images Online 2022, case study "Notre Dame On Fire"

Replay available online, with the participation of Jean-Marie Dreujou, AFC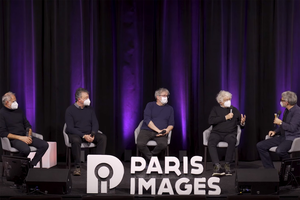 As part of the 2022 Paris Images AFC Events, a case study of
Jean-Jacques Annaud
's film N
otre Dame On Fire
, shot by
Jean-Marie Dreujou
, AFC, is available to watch with English subtitles on Paris Images Online's YouTube channel.
Other participants besides Jean-Jacques Annaud and Jean-Marie Dreujou include moderator François Reumont on behalf of the AFC, set designer Jean Rabasse, ADC, and executive producer Jean-Yves Asselin.
Also watch a discussion with Jean-Marie Dreujou, AFC, about filming Notre Dame On Fire and his work with Jean-Jacques Annaud.
Other case studies and round-table discussions available to watch from Paris Images Online 2022:
And also…
Conferences from Paris Images L'industrie du rêve 2022 available online
The thumbnail image above is a screenshot from the case study "Notre Dame On Fire".