At the last Cannes Film Festival we started a series of interviews with directors of photography who were not members of the AFC.
I had the pleasure of meeting Lubomir Bakchev at the special screening, organized jointly with the CST, of A Secret by Claude Miller, photographed by Gérard de Battista.
I knew that the release of The Secret of the Grain (La Graine et le mulet) by Abdellatif Kechiche was imminent and I asked Lubomir to see a preview. I then suggested to Lubomir that we extend our conversation with the present interview.
If I had one wish to make for the AFC, it is that interviews, like the one of Gérard de Battista by Wilfrid Sempé, become a means of strengthening relationships and kinship between members, and of reinforcing that most important subject for the future of our association: the image of a film.
Enjoy the interview. Eric Guichard
Synopsis
The small Mediterranean port of Sète.
Mr. Beiji is a tired sixty-year old, toiling in a shipyard at a job that has become increasingly demanding over the years. A divorced father, he seeks to remain close to his family despite a history of break-ups and tensions that we feel could spark up at any moment. He is at a sensitive period of his life where everything seems to make him feel a sense of futility, while facing mounting financial difficulties. This impression of failure has been weighing on him for some time and he feels his only hope for escape is to create his own business: a restaurant.
But the restaurant is no sure thing; his modest, irregular salary is far from providing the means necessary for his ambition. But this does not stop him from dreaming, or talking about his dream, especially with his family, who will gradually be welded around the project, which becomes a symbol of the quest for a better life. Thanks to their resourcefulness and efforts, the dream will soon see the light of day… Or will it?
Released December 12, 2007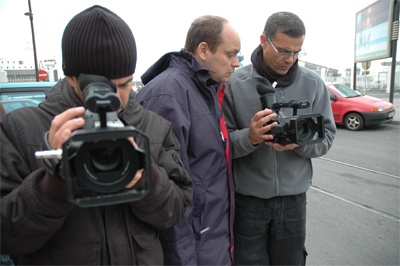 Eric Guichard: Can you tell us about yourself in a few words?
Lubomir Bakchev: I am a self-taught director of photography, I did not attend a school. Therefore I have to be constantly learning.
I am of Bulgarian origin, and now I am French. I arrived from Bulgaria in 1990 after the fall of the Wall. I was granted political refugee status, which enabled me to live and work in France, and eventually to make films. I learned photography in Bulgaria and I got my hands on my first camera at the age of eleven or twelve. It soon became a passion that I brought with me to France.
I quickly found work in a laboratory in Toulouse, Pictaphot. I worked for three months on the production line, while learning the language because I had not yet mastered it. I was able to convince the lab that I had more knowledge than they thought I had and so they tested me, and as a result I ended up working for a year as a color timer.
I really enjoyed lab work, but I was a little more ambitious, so I left and started studying French at the language school in Toulouse. I started making films: industrials, and lots of shorts. Fiction always interested me, and after a few years I became known in Toulouse as a short filmmaker. I spent fifteen years in Toulouse.
EG: When you say "color timing", was it photochemical or digital?
LB: It was photochemical, digital was beginning but was done by specialists, on very complicated machines. We had a relatively simple machine, like all photochemical color timing machines, with RGB and density controls. All the negatives were assembled on a roll, like film, except that we worked on individual frames. The result had to be immediate, you're weren't allowed to have more than two or three points difference with a neutral photo; for the general public, you can have a difference of five points. But the job represented what we do photochemically with films.
EG: How did you begin shooting films?
LB: I began with shorts. I was very happy to be able to make movies. In Bulgaria I had seen the shooting of animated films, and I belonged to the photography club. But I knew that film was very, very expensive, and that very few people made movies, except for well-known artists, or people with political connections. Cinema was reserved for very few people. When I arrived in France, cinema became accessible.
EG: When did you start thinking of leaving Toulouse?
LB: Gradually. Short filmmakers began making films, and I began to meet others. I made my first feature in 1998, a film that was never released: that's how you begin… In 2000 I shot Lokarri, Jean-Pierre Grasset's last film. He died shortly afterwards. His film was great, shot in 35mm in the Basque country. It was shot quickly, in four weeks.
Since Jean-Pierre Grasset was involved in the production and he left us suddenly, the distribution was badly done. It was sold in Spain, and two or three prints were distributed in the Basque Country, in Biarritz, Saint-Jean-de-Luz, Bayonne…
EG: He had time to finish editing?
LB: Yes. The editing, color timing and mixing were done. The first prints arrived, and then he died.
EG: How did you meet Abdellatif Kechiche?
LB: I met him after I did the film in the Basque country. I was introduced to him by the production manager, Benoit Pilot, who knew about me because of a short, which won a prize at the Clermont-Ferrand festival. I had seen Abdel Kechiche's first film, Blame it on Voltaire (La Faute à Voltaire), in the theater. It delighted me! We met, I showed him some shorts and Lokarri, then we started the feature, I never knew why he chose me, it's a mystery…
EG: Especially as Blame it on Voltaire was shot in Super 16. You shot in DVCAM?
LB: It was Abdel's obsession, he wanted a small camera and a minimal technical team, so that he could devote himself to his "mise en scène" and working with the actors. I think his desire was to be unencumbered and not to be held back by technology. I was inexperienced in digital. I was ready to experiment, but only if we did tests output to film, and see them on the big screen, to be sure of what we were doing.
EG: It must have also been interesting for him to see the images himself?
LB: Absolutely! For the tests, if I recall, we took two cameras, a PD150 and PDX10 that had just come out replacing the PD100, with a 16 by 9 sensor. We also included a camera which we could pull focus on, a DSR570, because it was after all a fiction film. When we saw the output to film we quickly realized that with the PD cameras, even if we had the impression that we had focus on the color timing screen, it wasn't there on the print on the big screen. It was very complicated, the compression was very bad, when the characters entered from afar, instead of heads they had floating squares… We couldn't shoot with a tiny camera, so I went with the DSR570, and I think that was the correct choice.
EG: Games of Love and Chance (L'Esquive) was shot with one camera?
LB: With two cameras. The Secret of the Grain was shot with the same operators, Sofian El Fani and myself.
EG: Was it a choice that was made from the start?
LB: No, in the beginning only the B operator was chosen. Sofian was there, they were looking for a DP for the A camera. The difficulty was that there was no gaffer or grip. We were going to start with nothing, but I told them that this was impossible. As I remember we took two 575W and three 60 cm Kino Flo 4 tubes, to avoid disaster.
EG: The success of Games of Love and Chance allowed Abdel to prepare another film that was obviously dear to his heart, the project was written well before. Did you know of it?
LB: No, I found out when he called us all to make the film. But the title of The Secret of the Grain had already appeared in Blame it on Voltaire, it had existed for some time.
EG: The Secret of the Grain was very different from Games of Love and Chance, it required more resources, because of the choice of locations, and the story itself, none the less you decided to continue to shoot in digital…
LB: Yes, but the choice of cameras was made with difficulty. Abdel was keen to have the same kind of lightness that he had on Games of Love and Chance but with more quality than DVCAM, since at the time outputting to film was still in its experimental stage: no two labs yielded the same images, it was quite complicated. We had no choice, we had to shoot in video, for me it had to be HD, I spoke with the producer, and for him, there was a clear need to make a film that could be distributed, without any technical difficulties.
After an HD course at Sony, I began to know the 750 and the 900 a bit. The 900 I enjoyed, but it was too heavy for what we wanted to do, even the 750 scared Abdel. He told us: "it's too heavy, you won't be able to operate for the duration of the scenes".
We went to Panavision with Abdel, to see the different lenses. There was no question of using a prime lens, changing the lens takes time. We chose an HD zoom lens, but even the Sony 750 seemed very heavy. We weighed the camera and lens and unscrewed the handles in order to try and lighten things. I remember that Philippe Valognes at Panavision didn't understand our obsession with weight.
We almost returned to the idea of shooting with small cameras, in a different format. The HDV format was introduced, but nobody knew how to edit it, so we had to give it up, it was too unmanageable, then we even went back to considering DVCAM.
For me DVCAM was out of the question, the format was no good for film distribution, we had to stay with HD. Fabien Pisano from Sony and I looked for a solution, we started with an HD stick camera with a 1/4 inch sensor, and tried to see how to put a viewfinder on the thing, to end up with a 3 kilo camera. We decided in the end that it was too hard, there were cables with the VTR behind, making it too cumbersome to use. We realized that the Sony 750 was the best compromise, and we didn't regret it. We managed to apply its capabilities to the difficulties of our shoot.
EG: You often shoot with two cameras, which is very important to the film. How did you check the quality of your image, while respecting the director's desire for a freewheeling approach?
LB: We used two 17-inch LCD monitors, the 24-inch monitor would have sunk us. The 2 monitors were mounted on a base on wheels, and were positioned for Abdel, not far from the cameras on the set. We checked the image on the 17-inch monitors, I also used an Astro waveform monitor, which I checked at the beginning of each shot, on the widest angle. I would point out to Abdel whenever a part of the image was burnt out, and therefore irretrievable.
EG: Did you use any particular gamma curves on the 750 camera?
LB: We didn't have version 2, which includes both the 105 and 110 curves, which are close to the Hyper gamma curves for the 900. At that time there were five curves made by Sony, we chose one of them. I remember that one of the curves was corrected in the reds for sodium lighting at night, and I realized during tests that we shouldn't use it, because these are corrections that are easily done in post-production. Indeed, once the correction is made in production, when you want to undo it later, it leaves flat grey splotches on the faces. So it's best not to change the basic colorimetry.
These curves flatten the image as much as possible to gain latitude. The image is slightly milky, and it should not be relied upon; you can quickly add contrast in post-production. This did give me a few problems in post…
EG: Abdel wants to shoot light, but is he interested in the technical aspects?
LB: He is very picky about the technical aspects, but during the staging it was something which hindered him. He must have complete freedom for his "mise en scène". The actors are free, within the limits of his direction of course. We never worked with marks, we never placed a camera on a tripod and never told the actor, "You have to return to this spot for the camera" and so on.
In fact, Sofian and I would go fishing for shots, to pinpoint the moment of interest for Abdel within the sequence. It's a method that I learned with him and that I find interesting, because there's a real life for the actors. The scene is played from beginning to end, with moments of life that are fragments of pure drama.
EG: How do you work at the outset? Do you do a reading, is the script very precise?
LB: We all have a script to work with. During the casting, Abdel is already beginning to work his "mise en scène", long before we start filming. We went to see the locations with him, he had already started rehearsing in Paris. I attended some of the rehearsals, to get a sense of the characters and their reactions. Even though the scenes are not played on location you still have an idea, most importantly it opens up your ear.
I am observant, and I know the text more or less. During filming we're very close to a "reportage", so we really seek out events, an actor about to speak or an off-camera action. But we get the reaction at the right time, whereas, in a real "reportage", you get there late.
EG: When you frame, there are many times when you go and seek out characters, even when you're doing angle reverse-angle shots. Do you decide this, or does Abdel? Or is it a form of unspoken understanding because you know the structure of the dialogue?
LB: I can't say who decides in fact. There are discussions, proposals and ultimately, it happens naturally, we know what Abdel expects. When I am not getting something, he might tell me, "go get so and so over there", but it happens naturally.
EG: Do you shoot a lot of takes, or is it very rehearsed with few takes?
LB: It is the opposite: we start by filming the rehearsals, in wide shots. We'd put the cameras on tripods, if we had them. That way we have two wide shots to work from, where we can see the entire scene unfold; this allows us to go inside the scene to observe, get an understanding of the situation, the actors reactions, to listen to the text, and little by little we begin to tighten the shots, choosing movements, cutting up the scene more or less precisely, refining everything little by little. It makes for many, many, many takes.
EG: You didn't know Sofian initially?
LB: No, he is a friend of Abdel's. We met on Games of Love and Chance.
EG: But the B camera has to be, in a way, your accomplice. He must be aware of what you're shooting, and be mindful of your lighting, or at the very least not put you in a difficult situation. How does this work?
LB: The lighting is difficult because the sets are lit to be able to shoot 360 degrees, the two cameras are practically facing each other throughout the film, and in angle reverse-angle, we cover 360 degrees. In fact the electricians, Lucilio Pais Da Costa, Olivier Regent and Mathieu Szpiro, quickly realized that we couldn't see any lighting stands, (we had to return a lot of stands after the first week of shooting!). Everything was hidden, the light was suspended from above. When Abdel came to the set, the whole scene was lit ready to shoot.
Sofian and I were able to quickly find our marks. While we were shooting I would tell him what aperture to set, asking him if he agreed, and if something was wrong, I would look at his framing and make any corrections. Little by little, we were in complete agreement. We both had color LCD viewfinders on our 750s, and we kept the zebra set at 100% to see which areas were burnt out. At the beginning of the day we made sure that the contrast on all the monitors was consistent. During the day we usually set the stop by eye with the viewfinder.
EG: I assume you each had an assistant.
LB: Yes, Cecile Ancelin and Frida Marzouk, who did very good work, because they had to manage without marks, and you have to be very alert to quickly bring in a face by eye.
EG: Because the story revolves around the construction of a restaurant on a boat, the film we see is very structured to the extent that there is an evolution of the set, as well as of the characters. You had an ally in Benoît Barouh, the art director. How did your collaboration go?
LB: Benoit came late to the project, we started with another designer who couldn't finish the film. Therefore Benoit arrived shortly before shooting began with a pretty huge design job, especially the boat, which needed adjustments to accommodate the restaurant above. Benoit was aware of the height of the frame, as well as the 360-degree coverage. The apartments were all locations, but nevertheless there is a little imprint of set decoration. These sets were evocative, but without too much detail.
EG: You told me that you were familiar with boats.
LB: I attended merchant marine school, so a project with a boat was heaven for me! I told myself that I would know all the nooks and crannies for hiding cameras… But the shoot is always more complicated than what you imagine at the start. In any case I was very happy to filming by the seaside, Sète is a beautiful city, there is a beautiful light… And, after three years in merchant marine school in Bulgaria, finding myself on a ship was familiar territory.
EG: In the film the women have a crucial, if not decisive, role to play. Was this immediately obvious from the first reading, or was it something that gained importance during the shoot? There is a perception that women take power…
LB: You could already feel it a bit at the readings I attended, but in Abdel's films women are always very strong. In Games of Love and Chance the boys are in the background, allowing the girls to blossom, and there also, the women take power. But I wonder if, when one enters the privacy of this North African culture, we might find that women actually do have the power.
EG: There is an actress who stands out in the film, Hafsia Herzi. Was this her first role?
LB: I am not very familiar with her career, but I think it was. She was astounding, she gave it her all. She is very photogenic, easy to shoot, at the same time there were major difficulties for the focus pullers because her is skin is so soft – she has skin like a baby – there's nothing to grab on to: "Are you sure it's in focus?" There were only her eyes and eyelashes to focus on. This is one of the difficulties with young women.
EG: We will not give away the entire movie, but there is a wonderful scene on the boat, where she throws herself into a dance with total abandon… Was it rehearsed?
LB: She took dance lessons for this scene, and we filmed several times, over two or three days. It was difficult for everyone, even for the musicians, they played a very long time and I shot for 50 minutes at a time, which is the length of a tape. We'd go again immediately, and even the tape change seemed long to Abdel. It was actually total abandon for everyone: for the crew, the actors and the musicians! At the same time there was a great vibe, and I think that you can sense it.
EG: Yes, it's not despair, but hope reborn… But we shouldn't give away too much, it's too close to the core of the film…
There is a major scene when the restaurant opens, where the light is pretty harsh. Was that choice on the part of Abdel? Because one could play it full of light, or one might do something intimate or dark, but you chose a rather cold light, not in the sense of color…
LB: It comes from the need to be able to shoot anywhere without having to change the lighting, and without moving the light fixtures. I knew I could tone down the scene a little in the color timing, and make it more intimate, while still lighting a big space.
EG: Was it Abdel's choice for example, to not use small sources, candles, which would have given a bit more intimacy to the atmosphere, was his choice to avoid this so as to not make the set too artificial?
LB: I discussed this with Abdel and Benoit Barouh, because it is a scene that could have warranted small candlelights, but that bore no resemblance to Habib's character. It isn't a chic restaurant, it's the creation of a laborer who made it to help his family make ends meet. He isn't creating a small Tunisian-style feel-good cafe…
EG: I think this gives strength to the set: it isn't a fake, intimate setting, but a place that resembles it.
LB: Yes, it's like their apartments, they aren't very chic…
EG: Since the boat is built in the film, how did you organize the shoot around its construction?
LB: At the very start of the shoot, we shot the scenes where they arrived on the boat and began breaking it, and then decide to rebuild it. This gave the set designers time to build the restaurant. They were very pressed for time. With Benoit we decided how to place the lights, so that we could arrive on the set, turn on the lights, shoot and stop, as though we were on a sound stage. The paintings on the ceiling provided hiding places for the lights. We shot the boat scene in three weeks, including everything.
Abdel wanted the cameras to move outside the boat without seeing anything. So we couldn't put any structures near the boat. There was just a little bit of light from two towers when people are arriving, and the boat's lights are off. Abdel is very committed to remaining realistic, the gear has to be camouflaged, everything has to seem real. The best for him would have been to hide all the cables and connectors and have the actors turn everything on with a light switch.
EG: You get the feeling that there is a continuous kind of urgency, as if things were filmed not in a hurry, but rather with a kind of permanent energy, as if there was a lack of time.
LB: This is due to Abdel's "mise en scène" because the cameras are attached to the actors. The main difficulty in creating the lighting is that the entire film is, in fact, made up of one-shot scenes. Characters enter the corridor, walk through the apartment, go on the balcony and we follow them. In a real location, you cannot light the interior with the same daylight that is on the balcony. So we open and close the aperture according to our movements and the changing light.
There are a few scenes on the balcony that are cut in several shots, and you say to yourself that it would have been easy to put two reflectors and a projector, to hide them a bit, and to have the same light level in the foreground as in the background… But this wasn't possible, because we had to go through three rooms with the actors before arriving on the balcony.
EG: Abdel knows that your image is bound to have very high contrast, with a burnt-out background. Does he accept this anyway?
LB: Yes, he accepts it completely, because it is more important for him to capture the emotion of actors. The scenes are played in their entirety, which allows the players to stay in character. The background will be burnt-out, but it doesn't matter because the emotion is there.
There was one day of indoor filming, where I prepared in advance with the electricians. We were shooting in front of the windows, which would have a very strong midday sun. They put a bit of ND gelatin on the windows, bringing them down two stops. When we arrived on the set, I told Abdel:
"If we go out onto balcony, we can cut, otherwise we'll see the gels.
- Oh really, there are gels? But I prefer them to be able to go out on the balcony…
- But are they going out on the balcony?
- We don't know, but it would be better that they have the option, let's lose the gels.
- But the image is going to be burnt-out
- It's doesn't matter."
So we removed the gels. My preparations were in vain! At the same time I asked the question: it is said that the quality of the image depends on the maximum amount of information it contains. But is this true? Does the quality of a film depend on reading an image with a maximum amount of information? I wonder about this as I meet different directors. For some it is very important, for others absolutely not, there are different elements in each "mise en scène" and in each film.
EG: Shooting in HD, with all the difficulties of which you speak, still allowed you to do a DI, which ultimately offers greater flexibility than traditional film color timing?
LB: DI is an essential step with HD, and it takes longer than traditional color timing with film. For a 1 1/2 hour film, it would take a week to ten days in film, whereas in digital, it takes at least two weeks. You haven't even seen the rushes, you're simply locked in a room trying to recover as much information as possible.
We knew that this would be an important step, during which many things could be redone. We worked for a long time, but just to keep an image that was very readable.
We didn't seek to create an "ambiance" that speaks for itself, or an expressive image. We remained with maximum readability, which I was not necessarily very attached to, contrary to Abdel. Perhaps this was because he spent a year editing very washed out images and he had them in mind, a film constructed with these raw images from the curves of the 750 camera.
At first I felt that the flat curves had played a trick on me, but then you get used to that kind of image. At the same time the image says something, it's a real choice.
EG: I find the film consistent from this point of view, it does not waver…
LB: In reading the film, you feel enveloped by the story, it is very accessible, very palpable, there is no filter to warn us "Attention, attention, this is fiction." The proximity of the image comes from the fact you are not using a filter, the lenses are bare, the scenes are shot in 360 degrees, and the color timing yields a maximum readability.
EG: The end scene happens late at night, how long did it take you to shoot?
LB: This was in the Thau housing project in Sète, which has the distinction of being a project in the middle of a pond. It was important that we feel the water, the boats, cars and buildings in the background.
I wondered if I should put lights on top of buildings, but I knew Abdel, and I knew that we would shoot all night, making the rounds of the neighborhood without changing the lights, and that we needed to light large areas. I scratched my head for a while, and finally adopted the solution of using the existing sodium streetlights, and adding some forty sodium lamps on the ground to illuminate the buildings, which were reflected in the water. Suddenly the city was visible, and we kept the same sodium light throughout. We corrected a little in the DI: the image remains warm and the skin tones are readable.
EG: I think this is very successful in the film. You are true to the geography of the setting as the action unfolds.
The hero has his scooter stolen by teenagers who play with him without realizing the consequences. We never lose our bearing in this space, despite the 360 coverage. Was this coherence revealed in the editing, or was it already present during the shooting?
LB: I think it came from the way we filmed. We had two cameras, and often there was a Steadicam for the chase scenes – it was the only piece of grip we had on the production. The chase scenes are real, they were shot in their entirety, so it was possible to retrieve this continuity in the editing.
EG: Abdel then goes to edit for a year…
LB: I didn't see the film for almost a year.
EG: Did he edit by himself?
LB: He edits with his wife, Ghalia Lacroix, and an assistant. They started the editing in Paris and then went to Tunisia, and they came back with the film.
EG: Weren't the producers worried?
LB: I'm sure it was done with their agreement. I saw an edited version, which was almost final, but much longer, which gave me an idea of the color timing needed, so I could prepare the way at Éclair lab.
EG: Did you choose Éclair?
LB: It was both the producers and the production manager's choice, but I agreed. I have had very good experiences with them.
I did the timing with Philippe Boutal, with whom I had done the tests. Since Abdel was happy with him, we tried to do the color timing when Philippe was available.
EG: When you come out of this kind of experience, what do you feel like doing next?
LB: It's strange. When I finished the film I felt like talking a break. After six months of preparation and more than four months of shooting, six days a week many of which were at night, all with the camera on the shoulder… you want to go on vacation.
But I had another project that I wanted to do with a director, David Oelhoffen, with whom I had made two shorts (including Sous le bleu which was nominated for a César award two years ago). His feature was being prepared and I absolutely wanted to do it. So after finishing The Grain, I shot In Your Wake (Nos retrouvailles). Then the producers of Julie Delpy's film called me, and I shot Two Days in Paris, so any break was postponed. I ended up shooting for a year and a half without stopping. Then, I took a break...
Transcribed by Helène de Roux
Translated by Benjamin B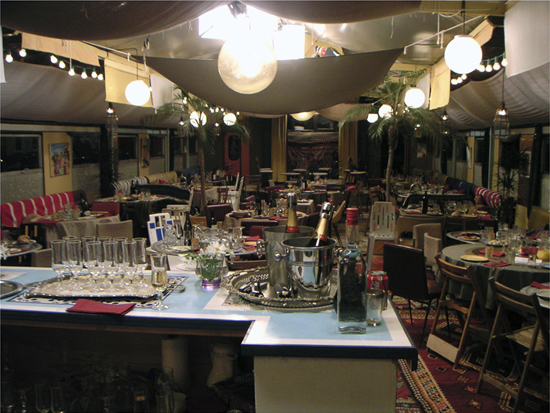 The Secret of the Grain by Abdellatif Kechiche (Special Jury Award, Venice Film Festival 2007, Marcello Mastroianni prize for best newcomer for Hafsia Herzi)