When Idrissa Ouedraogo's Dream Ended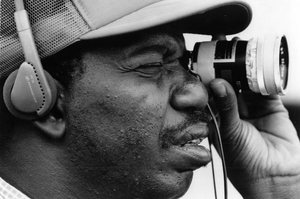 Idrissa Ouedraogo on the set of "Kini & Adams", in 1997
With the death of director and producer Idrissa Ouedraogo on Sunday, 18 February 2018, aged 64, Burkinabe and African cinema lost one of its most striking figures. During his long and rich career he directed over thirty films, including ten feature-length motion pictures, οf which
Tilaï
, awarded at Cannes in 1990 is especially memorable, as is the softness of
Matthias Kälin
's images on
Yaaba,
shot in 1988.
Jean-Paul Meurisse
, one of the cinematographers who worked with him, pays tribute below.
I don't remember how I came to work as cameraman on Le Cri du cœur in 1993, whose DoP was Jean Monsigny.
In his office in Montreuil, Idrissa immediately seemed kind and warm, extremely human.
That was his true nature.
We shot in Paris with a real hyena, which was pretty scary... also with the real Richard Bohringer (pretty scary, too), Alex Descas and Félicité Wouassi, a delight.
Then shooting in Burkina Faso took place in a very pleasant atmosphere.
Three years later, Idrissa called me again and offered me a job as DoP on Kini & Adams, shot in Zimbabwe with South African actors.
"What about Monsigny?" I called Jean: "No problem, do it!"
That film was also a joy to work on with Idrissa, the bon-vivant, who was always cheerful, a very good director of actors, happy to be shooting a film.
The film itself? A lovely African tale, the kind Idrissa was best at creating, that was selected at the Cannes Film Festival.
Idrissa had a big project in mind for many years, a film on Sankara.
His dream ended on 18 February.
Thank you for your movies, Idrissa.