Antoine Héberlé, AFC, discusses his technical choices on "Mediterranean Fever", by Maha Haj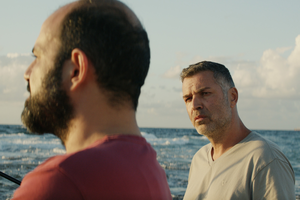 After her first film,
Personal Affairs
, selected for Un Certain Regard in 2016,
Maha Haj
returns to the Croisette this year with her second feature,
Mediterranean Fever
. In this chilling tragedy, the director, a Palestinian and Israeli citizen, very freely addresses the loss of identity of Palestinians who live in Israel. She entrusted the visuals of
Mediterranean Fever
to
Antoine Héberlé
, AFC, who has been the cinematographer for many foreign films. During his career, Antoine has acquired extensive filming experience in the Middle East and constantly adapts his skills to make these sometimes hazardous and often low-budget productions.
(BB)
Walid, 40, a Palestinian living in Haifa with his wife and two children, cultivates his depression and his literary inclinations. He meets his new neighbor, Jalal, a petty crook. The two men soon become inseparable: Jalal is persuaded to help the writer by showing him his tricks; Walid, meanwhile, sees in it the opportunity to carry out a secret project… 
Starring Amer Hlehel, Ashraf Farah, Shaden Kanboura, Anat Hadid, Samir Elias.
How did you meet the director?
Antoine Héberlé: I met Maha Haj when I made my first Palestinian film in 2004, Paradise Now, by Hany Abou-Hassad. The Palestinian camera assistant was Maha's husband. She wasn't making movies yet, she was writing and had just started to work on Elia Suleyman's films as a set designer. An Israeli producer financed Personal Affairs, her first film.
That film was blacklisted from Arab festivals because it was considered an Israeli film. Following this experience, Maha decided that she would no longer accept Israeli funds for filming but only Palestinian, Arab, or European funds, so that her films would not be forbidden to her target audience. But please understand that this is not an "against" but rather a "for" approach.
So, it's a co-production involving a lot of countries?
AH: Yes, this co-production brings together France, Germany, Palestine, Qatar, and Cyprus. Filming took place largely in Haifa and a little in Nicosia, entirely on location. 
For reasons relating to financing, we were required to shoot in some locations in Cyprus, including the apartment of Walid, the main character. Only his office, which overlooks the sea, was shot in Haifa in the same space as his neighbor Jalal's living room. This type of editing magic always makes me laugh: you push open a door – in this case, there is none – and you've crossed the sea…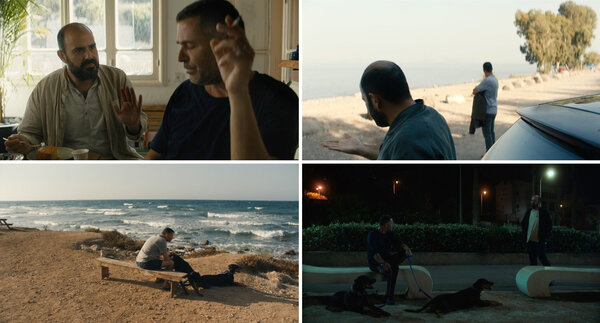 You had to make it seem the apartment in Cyprus was in Haifa, how did you manage that?
AH : The building where the two main characters live faces the sea, in Haifa, where we shot the exteriors. Walid lives with his depression, cloistered in his apartment, whose windows he keeps permanently shuttered. Only the balcony of his office where he tries to write allows him to keep an eye on the outside world. 
He flees facing the blank page by doing housework or watching TV. His confinement made my task easier, since I no longer had windows to manage. Through the shutters, or the curtains of the apartment on the ground floor, M18s reconstitute the intensity of the outside light.
For the rest, this apartment in Cyprus had a very low ceiling and I very much regretted our dear SL1 DMGs, which were unavailable in Israel and in Cyprus (!!!). It was also difficult to get a hold of more than two Bouladou bars. So, we simply screwed false moldings to the ceiling from which we could attach Aladin-type lights (not actually Aladins) to make the light entering a bit stronger.
The light in this apartment is soft and rather reflected, isn't it?
AH : Yes, apart from a few places where daylight hits the walls during the day or a few lampshades at night, there are no strong or jarring effects. My main regret about this location is the paint color. Maha Haj wanted to change the colors of the apartment and I wanted to take advantage of it to make it a little more lively, more inhabited, and to counterbalance the obsessional way Walid keeps the place neat and tidy. This fastidiousness was one of Maha's desires. I had therefore requested the location be repainted with satin pain in order to maintain sheen and have a more visible patina. Unfortunately, the set designer, who is very talented, didn't agree with me on this point and I discovered matte walls the day before shooting began. I couldn't do anything about it, and I think the rendering of the surfaces came out flat and somewhat artificial.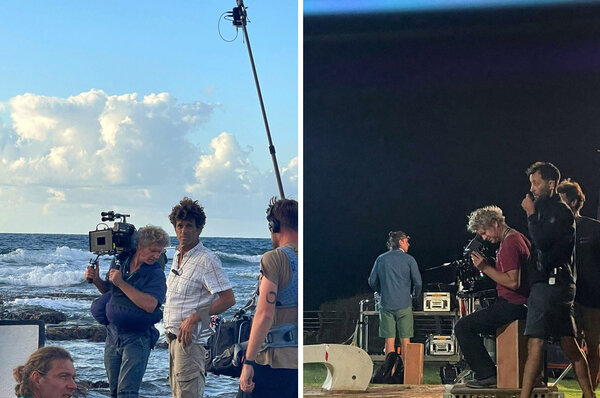 The protagonists' building looks at night like a timeless object, how did you light it?
AH : This building already has a rather rococo shape, with balconies like arabesques. By over-illuminating it a bit – essentially with Par 64s – I wanted people to perceive it like a ship emerging from the night, the exterior theater of all this interior turmoil that throbs when all the windows light up at night, one after the other. I might be telling myself a story, but the tale of Walid and Jalal is a "tragi-comedy" a sort of fable that happens before our eyes. Maha always scatters here and there hints of humor and fantasy which also have to be reflected in the visuals, but with discretion. A bit like the lady doctor's cyan consulting room, or the nights around the campfire, which are a bit artificial.
Speaking of night, what about the forest?
AH : Shooting lasted twenty-four days with very precarious funding. We had two days for all the night hunts in the forest, so the crew and I didn't have the time to light everything in real night. In addition, the locations were quite far from each other and moving the equipment would have taken too long. So, I mixed sequences shot in real night with others shot in day-for-night.

The camp with the fire is a real night?
AH : Yes, and it wasn't simple! We were shooting in a nature reserve where it was forbidden to make fires. So, we used fake logs that simulate an ember fire – the kind you sometimes see in restaurant fireplaces – and "Papier d'Arménie" for the smoke! But, in the take in the final cut, it didn't smoke a lot, unfortunately. We also had an M40 on a cherrypicker but, again, it was forbidden to enter the park with the cherrypicker! So, from a certain distance, we attempted a kind of basic moonlight that descends into the foliage.
A choice of lenses to optimize a short shooting schedule.
AH: During the first blind lens tests organized by the AFC, I really liked the rendering of the Mini Hawks, which reminded me of the Zeiss Standard T:2.1 or even the old High Speed ​ T: 1.3 series from Zeiss that we used a lot in film at the start of my career, and which I continued to use in digital. I liked the fake anamorphic bokeh and Maha wanted to make the actors stand out from the backgrounds as much as possible… the lenses could also help with that. But in the end, our very small interior locations didn't really allow me to play with it. Moreover, this Mini Hawk series is well-built and not too heavy, with good coverage of focal lengths and a quite respectable aperture (T:1.7).
Vantage provided invaluable support. They didn't have these lenses available in Paris, so they brought them from Berlin for me to try out, then sent them to Israel for the shoot.
And a choice of camera to adapt to the rigors of the shooting schedule.
AH: Initially, Maha Haj wanted to "abstract" the locations using a shallow depth of field. Except the city, the sea, and the exteriors in general, which were supposed to "encircle" us. This made me consider Large Format. There were also the blurs and the mystery of the backgrounds in the day-for-nights, and the close-ups shot on 40mm with a strong physical proximity to the actor but without distortion.
But, after location scouting, we decided to shoot a lot of still and rather wide shots at Walid's or even at Jalal's houses. The need for a very shallow depth of field lost its primary importance and the Large Format became a form of coquetry faced with our other priorities. It was necessary to better spread out our equipment budget. Especially since we needed a second camera body, to save time when using the Gimbal (Ronin II), and for security in Cyprus. Indeed, returning a camera for repair to Israel from Nicosia means at least three days wasted because of security checks, even though there are thirty minutes of flight time between the two.
So I went back to my first love, the Alexa Mini, which I know so well. With this camera, I don't waste time going to look at the monitor, I work on everything from the viewfinder. And you get interesting material when you stretch it out a bit.
Since you're now accustomed to filming in the Middle East, do you have a crew there?
AH: I often traveled there on my own, and yes, I could build a great team entirely on location with people I know there, some of whom have become my friends. The French coproducer offered to send a French assistant with me, but I preferred to bring a gaffer with me (Georges Harnack). This was our first project together, and we'd like to work together again in the future. You can always find a good assistant camera, but in order to best be able to delegate the lighting from the first day of shooting so you can focus on setting up with the director, you've got to have a very good technical and artistic understanding with your gaffer. The rest of the crew was Palestinian or German, except for my dear Gal Altschuler, my loveable Israeli key grip with whom I've already shot two films.
Shooting was not easy and it was a bit exhausting, but I had great affection for my crew and for Maha in particular. This sees you through! The great screenplay and the excellent actors make me feel very satisfied that I was able to participate in making this surprising and moving story.
(Interview by Brigitte Barbier, for the AFC, translated from French by A. Baron-Raiffe)