Au palmarès de la 78e Mostra de Venise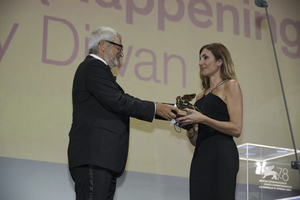 Le jury de la 78e édition de la Mostra de Venise, présidé par
Bong Joon-ho
, a décerné ses Prix, samedi 11 septembre. Trois membres de l'AFC figurent aux génériques des films récompensés, en Compétition officielle.
L'Evénement
, d'
Audrey Diwan
, photographié par
Laurent Tangy
, AFC, remporte le Lion d'Or du Meilleur film.
Parmi les récompenses de la Compétition officielle, on notera :
- le Prix du Meilleur scénario à Maggie Gyllenhaal, pour The Lost Daughter, photographié par Hélène Louvart, AFC
- le Prix spécial du jury à Il buco, de Michelangelo Frammartino, photographié par Renato Berta, AFC.
Mais aussi :
- le Lion d'Argent de la meilleure réalisatrice a été décerné à Jane Campion, pour The Power of the Dog, photographié par Ari Wegner, ACS
- la Coupe Volpi de la Meilleure actrice revient à Penelope Cruz pour son rôle dans Madres paralelas, de Pedro Almodóvar, photographié par José Luis Alcaine.
Dans la sélection Orizzonti :
- le Prix du Meilleur réalisateur revient à Eric Gravel, et le Prix de la Meilleure actrice à Laure Calamy, pour A plein temps, photographié par Victor Seguin.
(En vignette de cet article, la réalisatrice Audrey Diwan recevant son Lion d'Or des mains de Roberto Cicutto, président de la Biennale de Venise)