Editorial - December 2018 Newsletter

By Agnès Godard, AFC
Wednesday, 7 November 2018, 9
th
Arrondissement of Paris, 19:30
Ceremony Honoring
Jean-Pierre Beauviala
with a Special Award
 by the President of the ASC,
Kees van Oostrum
, with some AFC members in attendance.
Aaton
, Beauviala, these two names are inseparable from one another, a magic spell, a password on every continent and part of the vocabulary of all men and women who have chosen to make images their profession.
I accepted Gilles Porte' proposal to write the editorial for the December newsletter, a part of which is to be dedicated to Jean-Pierre, because I wanted to share my thoughts on the use of the Aaton.
It is not difficult to write that Jean-Pierre invented a unique camera.
Everything began with the wonderful idea of the quartz motor. Then he decided to create HIS camera. It was named Aaton.
The models came one after the next: 16mm, Super 16mm, 35mm, 3-perfs, 2-perfs… They all were light, easy-to-manoeuvre, and able to curl up and purr on one's shoulder.
When he built the Aaton, Jean-Pierre created more than just a camera.
The scope of his inventions proves this because later on, he got involved in time-code editing and sound with the Cantar. The special characteristics of the Aaton reflect an approach that was more ambitious than just building a camera. It was built according to a much broader vision.
It answers the question that might be expressed as follows: "What is needed in order not only film, but to make a film, other sorts of films in new ways?
How can a camera singlehandedly change the way we work?"
The invention of the Aaton is to be understood as something that goes far beyond simple recording of images: instead, it is a part of Cinema as a whole. It was made for directors and cinematographers alike.
Many directors understood how this tool could open new doors.
When Jean-Pierre's Aaton arrived, it was revolutionary. This was first the case for documentary films, but soon after, it infiltrated and then became commonplace on fiction films.
It has been chosen for films of all registers, from the most intimate to the most spectacular: who does not remember the landing scene from Spielberg's Private Ryan, for example? It is said that he had a dozen of these cameras.
In 16mm or 35mm, the Aaton even became used as the main camera. I've shot a number of films using the Aaton as my only camera. I have such great memories from shooting Emmanuel Crialese's Golden Door – especially in the studio – taking the Aaton off of the crane and putting it on my shoulder to film the dormitories or the ship's deck with about a hundred actors and extras. We were using 35mm Scope 3-perfs, Crialese was overjoyed. We were going through magazine after magazine while he shouted, "It's amazing! We can make sentences!"
I remember how I insisted on filming Beau Travail in 35mm with the Penelope and my exaltation at filming the legionnaires training. It was 45°C and I had to run or instead improvise Bernardo Montet's choreography, which I encountered on set in Goubet in Djibouti.
That project was definitely the acme of my Aaton experience, which had begun many years prior: filming with curiosity and audacity, like a first look / filming like dancing, finding the actors' rythym and inventing the camera's rhythm to match it / filming and being accepted or being forgotten / mastering but also accepting to float in a disequilibrium that gives birth to the unexpected / forgetting the camera, the hard work and the constraints, and being nothing other than a gaze / daring to improvise when the occasion presents itself / finding a way of working and making it yours / taking position physically, mentally, and practicing one's faith through the images / having access to so many unexpected possibilities including and especially indefatigably looking for images that the viewer will receives as those of his or her own vision, and not those of a preordained vision, images that get noticed and cause their evidence to be noticed with no obstacles…
It is in the heart of these last lines that Jean-Pierre's exceptional presence, collaboration and contribution to our profession, to films, and to cinema most clearly emerge.
 During the discussions I've had with colleagues from here and elsewhere, I've only heard it said that this is a "living camera," a "participating camera," which is necessarily a reflection of its inventor.
There is no doubt that when he was designing his Aaton, he knew what was at stake when one films. There is no doubt that he considered the place that the camera must strive to fill. The foundational thought of an "observing and participating" engineer whose content is that of the lack that we must too often deal with today.
This visionary invented a camera that reconstituted cinema in a different way. By focusing on options that increased freedom and innovation, he gave his camera qualities that remain intact through the years.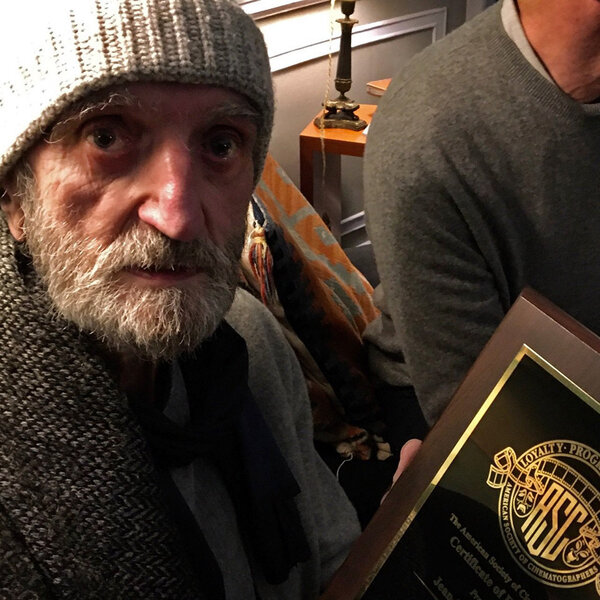 That is what the ASC celebrated by giving him a Special Award, which crowns the importance and success of his accomplishment. I was privileged to be present when it was awarded to him. I must say that I was slightly saddened that the award didn't come from here.
It would be unthinkable and unforgiveable that he not be honoured here, for his very profound understanding of cinema.
Agnès Godard, AFC
The cited text is borrowed from Luc de Heusch, director and anthropologist.
Translated from French by Alexander Baron-Raiffe.