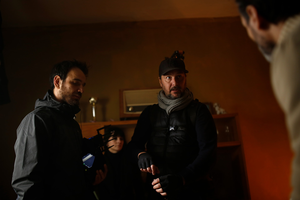 Guillaume Le Grontec, center, shooting "The Van", by Erenik Beqiri, left, in Tirana (Albania), in 2019
Photo by Edvina Meta
Cinematographer
Guillaume Le Grontec
, recently admitted as an active member of the AFC, is here introduced by his two sponsors,
Romain Lacourbas
, AFC, ASC, and
David Quesemand
, AFC, in the same terms they used to introduce his application for membership and support it.
Guillaume Le Grontec's personality and talent will enrich the AFC, by Romain Lacourbas, AFC, ASC
Guillaume Le Grontec and I have crossed paths regularly over the past several years at professional events. Each time, we have longer, more sincere and more passionate discussions, as it seemed to each of us that we had so much to learn from the other. Eventually, we grew closer and we began to have our discussions in a more friendly capacity.
I was immediately impressed by his cinephilia and his curiosity. Guillaume likes to ask the right questions when he begins working on a project, starting with what I think is the most difficult one: what image will serve the plot?
He has shot commercials and fictions, and he always allows himself to be guided by his sharp instincts. I recently had the opportunity to see one of his latest short films, The Van, which I sincerely found to be resonant and admirably well-filmed.
Guillaume's personality and talent seem to me to be the right ingredients for him to become part of the AFC. That is why, recently, I directly asked him whether he would be interested in joining us. With stars in his eyes, he immediately replied in the affirmative.
I am convinced that Guillaume's membership will enrich the AFC and that he will be delighted to take an active part in the life of our association.
Guillaume Le Grontec's membership is of obvious benefit to the AFC, by David Quesemand, AFC
I have crossed paths with Guillaume several times through common friends or by chance, and each time, I have always appreciated the simple and direct discussions we have had.
From afar, I was somewhat interested in the direction his career took, as I was interested by the eclecticism of his projects: an artistic film, a documentary, or a fiction, punctuated by music videos and commercials.
When Guillaume asked me to sponsor his membership, I took the time to look more in depth at his body of work and I was pleasantly surprised by its quality: framing, movements, lights, colors.
Moreover, the energy that I felt each time we had discussions related to technology or more human questions involving our profession have convinced me that his membership is of obvious benefit to us: Welcome Guillaume!
(Translated from French by A. Baron-Raiffe)