Jean-Pierre Beauviala
, is an inventor amongst whose many creations are the
Aaton
cameras and Cantar recorders. He is also a consulting member of the AFC. In Paris, on Wednesday, 7 December 2018, he received a "Special Award" presented by
Kees van Oostrum
, President of the ASC, which honoured his exceptional contribution to the field of cinema. Accompanied by a few friends from the association,
Gilles Porte
, President of the AFC, addressed Jean-Pierre with the words in the following text.
Hi Jean-Pierre,
There are schools that train engineers ; others that train cinematographers ; still others train actors, musicians, painters, but as far as I know, there are no schools for training presidents. So please don't hold it against me if my words don't come straight out of the National School of Administration, despite the fact that it is as President of the French Association of Cinematographers that I am speaking to you today, a day on which our American peers are giving you an Award that you so greatly deserve…
Aatonians are those men and women who decided one day to put a camera on their shoulder in order to dream on the roads less travelled, far away from the motorways of the Majors.
These paths were only made possible because a man - you, Jean-Pierre Beauviala - invented a camera one day that could be placed on the shoulder. You like cats, Jean-Pierre, especially when they climb up onto your shoulder with the delicateness that they are so well-known for. You like bicycles, when they're designed with lightness, finesse, efficiency and elegance in mind.
And that's also why, one after the next, all of your Aaton cameras had these characteristics. Characteristics that you even put forward in your advertising slogans, because you personally selected all of the communication around your inventions…
There are many of us who love you, Jean-Pierre, at the AFC. How could it be otherwise ? Nonetheless, everyone knows that there is no such thing as love ; there are only proofs of one's love. And how many proofs, Jean-Pierre, you offered the 7th Art, even though the cinematographic industry didn't give you any gifts in return ?
As I write these words, I am thinking about another of your Aaton advertising posters that I framed and hung up at home, and which my daughter Syrine, now 16, grew up with… One day, though, I'll admit that I had to take it down at the gentle insistence of Syrine's mother. That poster shows—and I speak in the present because the poster has returned to my apartment's hallway for over 13 years now - an Aaton camera, seen from the sky, with a slogan :
"Love is fickle, passion lasts forever."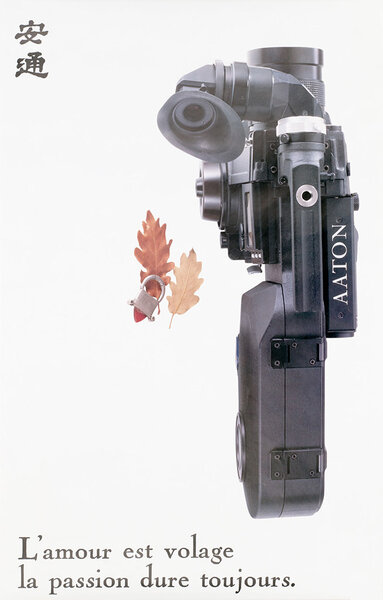 Even though today we often shoot with German or Japanese cameras that have a ton of cables coming out of every side, we cinematographers always think of your Aaton cameras and of you, Jean-Pierre, with your intelligence, your classiness, your humour, your elegance, your vista, your smile, and your ability to listen which is so beloved by all men and women who direct films and those who film them ?
Before hiring future technicians at Aaton, you always asked job candidates to draw a bicycle as though they were explaining it to Martians… You'd look over their drawings to find which piece was missing but without which the bicycle wouldn't work, and which pieces might be excessive and that could be removed in order to remove the weight for the person pedalling. That was also the Aaton spirit.
The American award might have come in the shape of a shoulder sculpted from walnut from the Isère valley, which is the wood you chose to sculpt the handles of your Aaton cameras. How many cameramen and women's shoulders you must have relieved with your invention !
Like sailors who decide to circumnavigate the globe in a sailboat and who lighten their vessels by cutting off the handle of their toothbrush to lessen excess weight, you hated the mudguards, headlamps, racks, and other accessories intended for city bikes and not for the type of bicycle that is intended to climb the Alpine peaks that you so often frequented, imagining your cameras at their feet.
When a cinematographer mentioned to you, during screen tests with the Penelope, that in the absence of a mechanical noise, only a red light signalled that the camera was recording, you answered :
"Yes, indeed, the LED might blink or instead the camera might emit a discreet sound, like the beating of a heart…"
You are not only a wonderful engineer, Jean-Pierre, but you are a profoundly human being that has left a mark on all those who have approached you.
As I finish scribbling down these words, my daughter's cat has appeared on my desk without my noticing it. He is rubbing himself against my Mac, purring…
His purring strangely reminds me of your Aaton camera when we used to have the film magazine pressed up against our right ear. When I stare into my cat's eyes, I see a dragonfly passing by. But what is this flying insect doing here as winter approaches ?
Thank you, Jean-Pierre, for existing and for having allowed so many images to be filmed in a slightly different way by many men and women who have served as models for me, even though today I'm kind of their President…
Gilles Porte, President of the AFC
Translated from French by Alexander Baron-Raiffe.