L'Ultimate Arm d'ACS France utilisé sur "A good Day to Die Hard"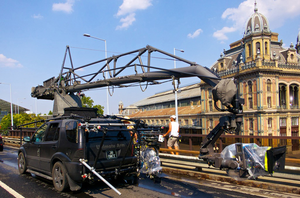 L'
Ultimate Arm
d'
ACS France
a été utilisé plusieurs semaines d'affilée en Hongrie durant l'été 2012. L'équipe de l'Ultimate Arm a pu participer à la réalisation des séquences de poursuites du cinquième volet de la saga " Die Hard ",
A good Day to Die Hard
, réalisé par John Moore.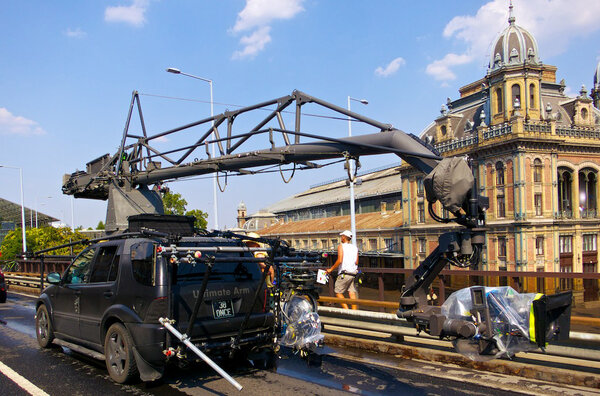 Sous la direction du réalisateur et directeur de la photographie de la deuxième équipe, Jonathan Taylor ASC, notre équipement a été la clef de voute d'un des dispositifs de prises de vues sur ce long métrage. Une séquence de poursuite, très spectaculaire, a été réalisée, avec trois véhicules dans les rues de Budapest. Celle-ci aura nécessité plus de 78 jours de tournage répartis entre l'équipe principale et la deuxième équipe.
Et une configuration unique mise en œuvre avec notre équipe sur place (Lutz Schleisner au volant, Jean-Baptiste Jay au cadre avec la LEV Head, Clayton Young aux joysticks de l'Ultimate Arm et Jean-Louis Delachaume/Basile Longchamp comme techniciens sur le matériel), et avec l'assistance du " focus puller " (Spencer Murray) et d'un deuxième cadreur (Tim Wooster). Car, en plus du bras gyro-stabilisé et de sa tête Lev Head, une seconde tête gyro-stabilisée était fixée, soit à l'avant, soit à l'arrière du véhicule.
Elle a été utilisée avec une caméra Arriflex 435, un Angénieux 25-250 mm équipée d'un prisme permettant de réaliser des plans au ras du sol et en longue focale. Cette tête était opérée à distance en HF à partir d'une voiture suiveuse équipée d'un monitoring/commandes en HF. De son côté, la Lev Head était équipée d'une caméra Arriflex 435 avec un 25-250 mm Angénieux et un " rain deflector " (fourni par ACS France). Parmi les options et les accessoires que nous proposons autour de l'Ultimate Arm, notre véhicule offre la possibilité d'installer des montages supplémentaires à l'avant et à l'arrière de la voiture pour associer d'autres moyens de prises de vues qui sont très appréciés sur les plateaux.
Ici ce choix a permis au réalisateur de placer ses caméras au cœur de l'action et de multiplier les axes de prises de vues au cours d'une même prise et avec le même véhicule travelling. Et nous remercions, Jonathan Taylor, de nous avoir à nouveau fait confiance après notre collaboration sur Captain America.