Rencontre avec David Ungaro, AFC, et Christophe Offenstein

Dans le cadre d'une rétrospective consacrée à Guillaume Nicloux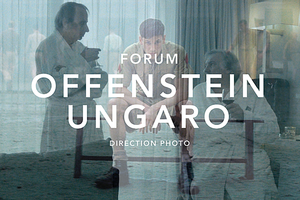 C'est à l'occasion d'une rétrospective consacrée à
Guillaume Nicloux
que "Horschamp - Rencontres de Cinéma" organise, le samedi 16 novembre 2019 à 13h45, une rencontre avec deux de ses directeurs de la photographie :
David Ungaro
, AFC et
Christophe Offenstein
.
« Parrainée par Thierry Fremaux, Horschamp – Rencontres de Cinéma est une association de loi 1901 imposant depuis cinq ans une vision engagée du cinéma, avec ce souhait éclatant de faire vivre et revivre les films qui laissent aujourd'hui et laisseront encore une trace indélébile, une archive, le souvenir d'un monde en mutation. La mémoire d'un temps, immortalisée par ces rencontres. »
Les 15-16-17 novembre, Horschamp - Rencontres de Cinéma organise donc une grande rétrospective sélective des films de Guillaume Nicloux au Gaumont les Fauvettes. Trois jours de projections et de rencontres autour d'une sélection de ses films.
À cette occasion, nombreux de ses collaborateurs vont être conviés à s'exprimer sur son travail et ses méthodes, dans l'idée de constituer un portrait de l'artiste à travers la parole de ceux qui ont traversé sa filmographie.
On notera la rencontre avec deux directeurs de la photographie de Guillaume Nicloux, Christophe Offenstein (La Clef, 2007, L'Enlèvement de Michel Houellebecq, 2014, Valley of Love, 2015, The End, 2016, Thalasso 2019) et David Ungaro, AFC (Les Confins du monde, 2018).
Une rencontre organisée en partenariat avec l'AFC.
Pour assister à cette rencontre, une accréditation est nécessaire (cliquer ici).
Plus d'informations sur cette rétrospective et les différentes rencontres sur le site Internet de Horschamp - Rencontres de cinéma.