Barry Ackroyd, BSC, pays tribute to the Aaton and to Jean-Pierre Beauviala at the Toute la mémoire du monde Festival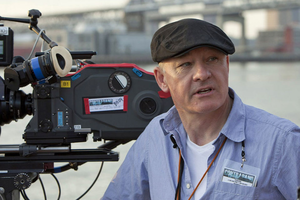 The 2020 Toute la mémoire du monde Festival (4-8 March) paid tribute to
Jean-Pierre Beauviala
by screening
Holy Motors
, by
Leos Carax
, and
The Hurt Locker
, by Kathryn Bigelow, both of which were shot with
Aaton
cameras. Although
Barry Ackroyd
, BSC was unable to be present at the festival with
Caroline Champetier
, AFC to introduce
The Hurt Locker
, he sent her a speech that she read aloud before the screening.
Thanks for the opportunity to say a few words about this great Oscar and Bafta winning film. The first film, and as yet the only film directed by a woman to win best director Oscar.
Firstly, let me say what a great privilege it was to work with such an enlightened director, who immediately understood that using Super 16 mm Aaton cameras was the best way to capture a sense of realism, a verite.
From my point of view, the Aaton has always been my go to camera. A good friend and companion on hundreds of documentaries, a weapon to fight reaction, a tool for enlightening the word. For me, a camera isn't just a machine, it's the means to capture humanity and Jean-Pierre Beauviala, genius, made the best film camera ever.
I never got to meet with him but all my thanks and love to this creator.
Enjoy the film. Watch as the combination of brilliance and poetic skills are captured by 4, sometimes 5, Aaton cameras and of course recorded on the equally brilliant Aaton recorder / mixer.
Please enjoy the film.
Wish I was there.
Barry
The thumbnail image above shows Barry Ackroyd by the side of an Aaton Penelope 35 mm camera on the set of Baltasar Kormákur's Contreband.