Director of photography Andrew Droz Palermo explains the shooting of "Good Luck", music video of Broken Bells band

Laser Beams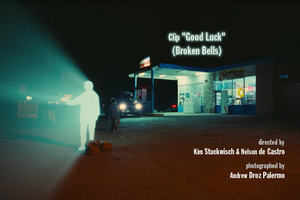 Among the music videos in competition this year at Camerimage, one of them definitely gives light a leading role. "Good Luck", from the group Broken Bells tells the run away of a young boy who gets bored at home and starts meeting people who seem a bit like him, shining from inside.
Andrew Droz Palermo
tells us how this original music video was made.
(FR)
What did you like about this project?
Andrew Droz Palermo: I knew Kim, the co-director of the project. We're both from rural America [Missouri for Andrew, and Indiana for Kim – Editor's note] and we thought it would be good to work together. When she told me about this project with very little money, but with a lot of potential, and a cool treatment, I thought it was the perfect opportunity. Naturally, the concept of light coming out of the characters interested me, since the duo of directors had presented me in pre-production some self made tests proving their method, an original mix of special effects on set, and compositing in post-production – but still extremely artisanal and seductive. In addition, the production granted me that the shooting would be in 35mm film, which was also a strong argument for me. It's the kind of opportunity that we have less and less as a DP. With music videos, often everyone can be super excited about the idea of shooting on film. But when quotes are received, most of the time, film is abandoned.
What is a good clip for you?
ADP: I would say a clip that doesn't distract me too much from the song. I like to feel it, and that the music and the images coincide in a certain way. Not necessarily in narrative synchronism with the lyrics... I like for example the clip giving the viewer another dimension to the song. And you know, music videos are often open to experimentation. I like it because it's an opportunity to discover new techniques, little crazy ideas that are difficult to implement in a narrative film. The short duration, the fact of escaping many rules... so many attractive parameters. Having made a few clips myself for musician friends in the past, I realize that most of the questions were: how do I underline this or that musical phrase?, how to underline this change in the song?, or to translate questions and feelings that the song may raise into images?
What about the clips with the artists on screen?
ADP: Not really my thing. But I must admit that through the resurgence we experienced in the early 2000's of performance videos done in one take, it was kind of refreshing to see. In any case, I'm not too interested in filming a band playing instruments... it doesn't deepen anything to me.
Tell me about the shooting...
ADP: We chose the area around Bakersfield as the main location; it's about an hour's drive from Los Angeles. The shooting took place on a long day in February, just before the start of the pandemic. Since there were a lot of different places to cover, it was a bit of a race to get the shots. Of course at the end, we regret not shooting more... but it is sometimes the rule when you film with no money. The film then took a considerable amount of time in post-production, Nelson de Castro mainly taking care of it, in a confinement context.
So it's a winter movie...
ADP: I must admit that filming in Los Angeles in the middle of summer is really hard for the director of photography. Unless you have some serious grip gear to control the light, diffuse it and reshape it with spotlights, the sun is so brutal and vertical... It's a universe that does not forgive anything on the camera. On the opposite, in winter conditions, everything becomes much more pleasant. Working with images can be done with a minimum of things. Just by thinking about what, where, and when to shoot such and such a sequence, depending on the look you want to achieve.
What a bout the interior of the house?
ADP: In the house, the daytime atmosphere was mainly natural light. The light kit was anyway so reduced on this shoot that I had to rely mainly on practical lights and daylight. Besides, I find that I am often on a set trying to remove light more than to add one. Working with the natural light that comes from a window, while blocking the one that comes from the opposite axis... just to give a direction, and not to fill up the set. This is basically what I did for the day shots, maybe adding a little flicker effect on a source to cheat the TV set.
As we could not wait for the real night in this location, we shot at night in broad daylight. To do this, my gaffer, Justin Moore, covered the windows with orange sodium-style gel, and neutral densities to further reduce the amount of light coming from outside. As a counterpoint, I set a false fluorescent ceiling light in the kitchen. With an Astera Tube set in blue-green.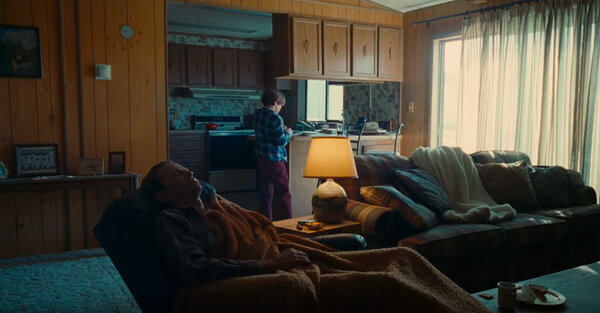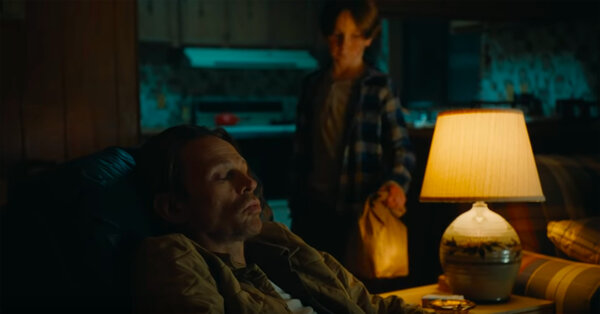 Were you satisfied with shooting 35mm?
ADP: I was really nicely surprised by everything we could see on the scan. Even shooting with the Kodak Vision 500T right out of the can. And using Arri Master Primes spherical optics just above full aperture, there was really a lot of information and color in the image. The rendering of skin tones looks more pleasant than digital, as, for instance, the shot of our young actor sitting in the back of the pickup. For this sequence, I simply installed four SkyPanels on high stands, along the road. The pickup driving through them... and still there was enough light to get us a fairly decent level of exposure.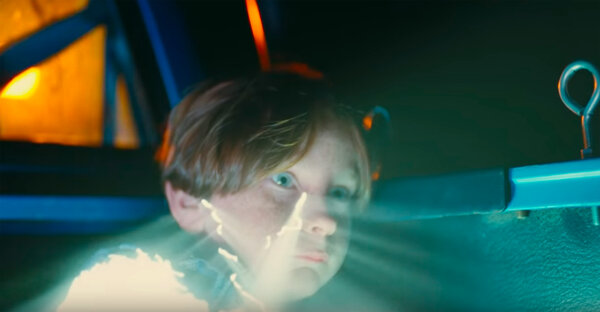 Why the Master Primes?
ADP: When I know that I will find myself in a situation with very few lights I prefer to rely on a more modern series of optics. This allows me to use them almost fully open without something falling into exaggerated softness…
You evoked a mixture of effect in the shooting and post-production for the rays of light coming out of the characters...
ADP: Yes indeed. The idea was to give this light a fairly strong effect on set. For example, on the bathtub shot with the young boy, we simply installed a small drop of four or five LEDs from a ribbon stuck on his costume. Connected to a small battery hidden in the bathtub, the gaffer was in charge of gradually dimming it on cue. You can see in this shot how much these little LEDs illuminate the bathroom and his face. I think it would have been impossible to achieve this effect just in post-production.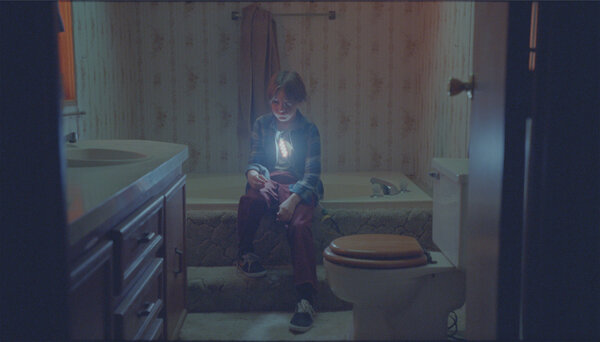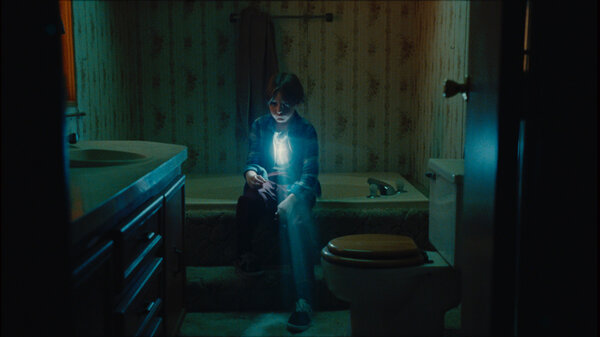 What about the rest of the effect?
ADP : Hats off to Nelson who went on after shooting and did an amazing job. Even though I photographed this music video, most of its visual success is related to his work. That said, let me explain the process: After editing the film, he and the VFX team isolated each shot that had to be treated, and started rotoscoping. Frame by frame, they isolated the shapes of the luminous silhouettes to come.
These shapes were sent to a laser cutting machine, so as to make as many small caches in metal plates of 10 by 20cm. Nelson would then collect each laser cut - metal plate, and re-photograph them by passing light via a very bright fiber optic light I provided him, and some haze in the room. The optical fiber allowed him to precisely position the source behind each metal plate and obtain the desired ray of light! All that photographed digitally with a DSLR. This insane number of still images of light beams then being integrated into the shots we did in Bakersfield.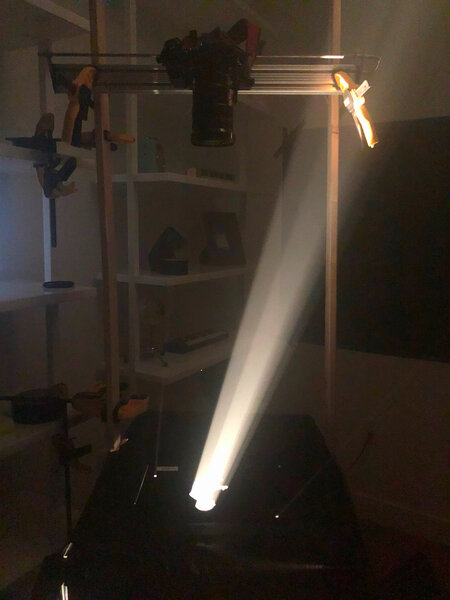 It may seem like crazy work to you, but it's true. At the end, the way in which the rays of light come out of the characters is truly unique and organic. The technique was so original that they also decided to shoot the credits with the same type of plates, lit from behind. A bit like a nod to what happened during those long weeks of post-production confined with a smoke machine!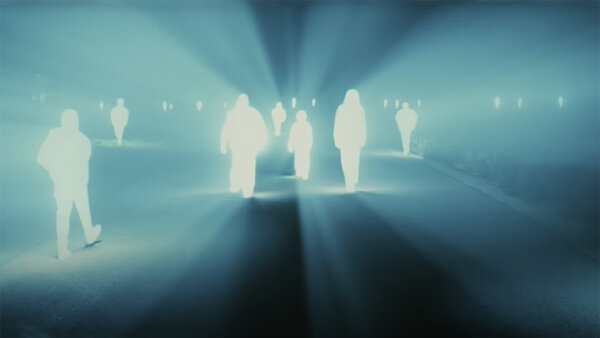 (Interview conducted by François Reumont for the AFC.)
Broken Bells "Good Luck"
Directors: Kim Stuckwisch & Nelson de Castro
Director of Photography: Andrew Droz Palermo.