Michael Ballhaus, ASC (1935-2017)

By Marc Salomon, AFC consulting member
With the death of
Michael Ballhaus
, ASC, which occurred in Berlin on Tuesday, 11 April 2017 at the age of 81, cinematography has lost one of its most talented artisans. Director of Photography for Rainer Werner Fassbinder,
Martin Scorsese
,
Francis Ford Coppola
, and Mike Nichols, amongst others, he constantly experimented during his forty-year-long career, filming each of his movies in a style that was often highly innovative. Whoever has seen
The Marriage of Maria Braun
will have been impressed by his impressive risk-taking, which was one of the great cinematographer's hallmarks.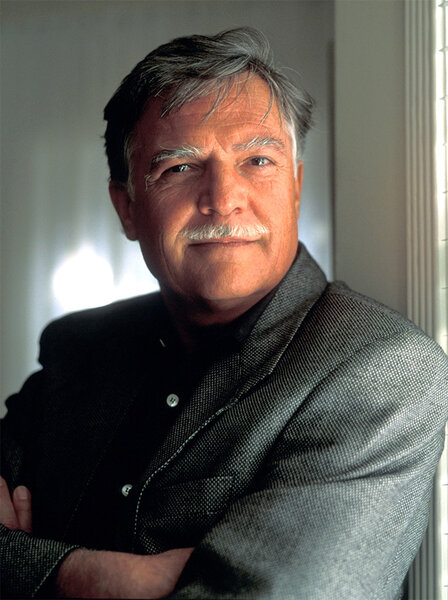 From Rainer Werner Fassbinder to Martin Scorsese, one observes two distinct periods in Michael Ballhaus' career, German cinema of the 1970s on one hand, and American cinema from 1983 onwards. Michael Ballhaus, who began his career in television, belongs to that new generation of cinematographers that emerged within the movement of the Oberhausen Manifesto (1962) and helped renew German cinema, alongside his colleagues Robby Müller (films by W. Wenders), Thomas Mauch (films by A. Kluge, W. Herzog, and H. Sanders), Jorg Schmit-Reitwein (films by W. Herzog), Igor Luther (films by U. Schamoni and V. Schlöndorff), Jürgen Jürges (films by R. W. Fassbinder and H. Sanders), dietrich Lohmann (films by R. W. Fassbinder and H. J. Syberberg), Franz Rath (films by V. Schlöndorff and M. von Trotta).
Born on 5 August 1935 in Berlin to actor parents (Oskar Ballhaus and Lena Hutte) who also owned a theatre, he was also the nephew of Carl Balhous, who appears in M (1931) and The Blue Angel. Immersed in the world of the theatre, he wanted to become an actor himself, and also began practicing photography at the age of 15 with a Rolleiflex that was a gift from his parents.
His family connections allowed him to contact Max Ophüls and to watch the shooting of Lola Montès in the Bamberg Studios and at the Geiselgasteig (south of Munich) where the circus scenes were filmed, inter alia. This theatrical world that was made more dynamic by the movements of the camera fascinated him and helped him make up his mind as to his vocation : he will become a cinematographer and he will remain fixated on camera movement, which will become his hallmark via the famous and often-commented circular travelling shots. The dual influence of theatre (and therefore his relationship to the actors) and movement had a lasting influence on his work, and was perfectly summarized by Tom Tykwer, who said : "He is always eager to experiment with new things in the language of cinema, but never forgets that at the heart of a good film there is the human being and his existential conflicts. Ballhaus had a fascinating way of reconciling technical complexity and an empathic gaze on the characters, from whom he was never distant." (from the preface of Das fliegende Auge", cited by Bruno Payen during the homage to Michael Ballhaus at the CInémathèque Française in February 2010.)
After studying photography for two years (there wasn't yet a cinema school in Germany), Ballhaus began working as an assistant at a television station (SWF) in Baden-Baden and soon thereafter began filming television movies as a cameraman during the 1960s, which were directed by the likes of Peter Lilienthal, Herbert Vesely, Johannes Schaaf, and Tom Toelle. Like many cameramen of his generation, he was influenced by Raoul Coutard's work : "My master was Raoul Coutard, I remember going to see Le mépris (Contempt) twenty-three times."
His beginnings in cinema date from 1968 with Ralf Gregan's Mehrmals täglich, and at the same time (1967-1969) he was teaching at the Berlin Cinema and Television Academy which had just opened. His German career alternated between the little and the big screen during the 1970s.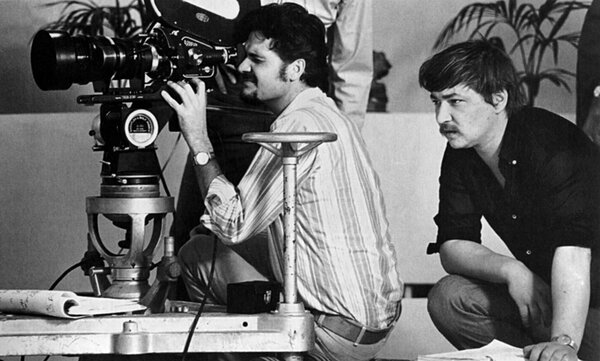 His first project with Fassbinder was on Whity and happened thanks to Ulli Loommel, who was a friend of Ballhaus and who had acted in the director's prior film (Love is colder than death), a meeting that Ballhaus remembered in the following terms : he received a phone call from Lommel who was preparing for the shooting of Whity in Spain : "Ulli asked me : 'Do you like Fassbinder ?' I answered : 'Yes, why ?' And he answered : 'Do you want to shoot a film with him ?' I said : 'Yes, of course, when does shooting start ?' Lommel answered : 'You have to be here in two days.' I arrived in Almeria to meet Mr. Fassbinder two days later."
He received a cold welcome because the director would rather have worked with Jost Vacano and considered Ballhaus to be a "television guy". Ulli Lommel recalls that Fassbinder would take a cruel pleasure in asking Ballhaus to film the most complex possible scenes, hoping he would fail. But when he saw the dailies, he turned around to Lommel and said : "This guy is a f…ing genius."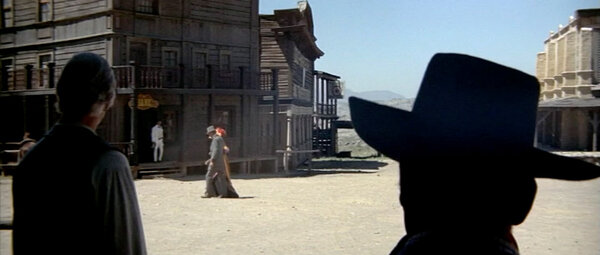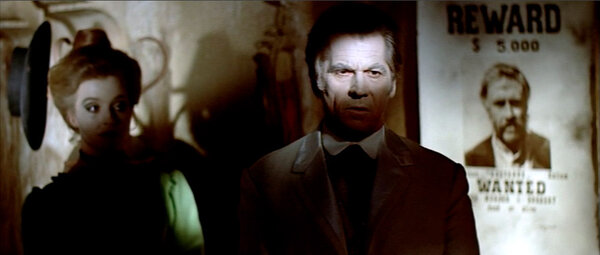 With its fluid camera movements and zooms, and a certain stylization in the choice of framing, its colours and its contrasted lighting, Whity, a strange anti-Western with highly-Fassbinderian themes, prefigures everything that Fassbinder and Ballhaus perfected in the next fifteen movies (including television movies) they filmed together, culminating in the coherency and artistic beauty of Despair and The Marriage of Maria Braun, which were their last two films together.
Fassbinder's directing style plays in a virtuoso style with mirrors, glass, and doorframes that narrow the frame, but everything is linked together in an elegant fluidity of camera movements (travelling shots, zooms, and changes in focus) without ever sacrificing lighting, which is usually directional in order to enhance depth and contrast. Relations between the director and his director of photography were not always smooth. Ballhaus remembers that during the filming of The Bitter Tears of Petra Von Kant (a film entirely shot in ten days) : "There wasn't that much tension between us. We had an argument one day because he was telling me exactly where I was supposed to film. I obeyed but I didn't frame the shot exactly the way he wanted me to. He asked me whether I had, and when I admitted I hadn't, he went crazy and said, "If I tell you to frame it like that, you will frame it like that !" I answered : "Listen, if you don't need my individual rhythm and feeling, we're going to stop right here." Then I left.
They came after me and we had a discussion, but I wanted him to understand that I have my own rhythm and that I wasn't just an employee who would take orders. "If you can't accept that, I'm not going to work with you anymore." It was useful because afterwards, he treated me like a human being, at least most of the time… I learned to work quickly from him, and to be prepared to work quickly and well, and I also learned from him the importance of the point where images meet one another, the moment where one frame becomes another. These are basics that every director of photography should keep in mind. This is the most eloquent part : it's the place where people meet one another, of course, but especially the place where the images come together." Ballhaus added that Fassbinder had taught him to think like a director, and not like a cameraman focused on technical problems.
It was in Martha, a 16mm television movie filmed in 1973, that the first 360° tracking shot appears. In the scene of the first meeting between the two protagonists (Margit Carstensten and Karlheinz Böhm), Fassbinder asked Ballhaus how to make the scene stick in the viewers' minds. Ballhaus suggested a 180° travelling shot around them. "Why not go all the way round ?" asked Fassbinder. That is how a hallmark of Ballhaus' style was born, and one he would repeat throughout his career.
Video clip :


(Note that Karlheinz Böhm steps over the travelling rails when he backs away)
It is also worth mentioning the impressive effort on colour (we know how much Fassbinder admired Douglas Sirk's movies) and the range of subtle tonalities that Ballhaus was able to squeeze out of the Agfacolor negatives (The Bitter Tears of Petra Von Kant), Gevacolor (Chinese Roulette, Satan's Brew) and the more realistic colours with Eastmancolor film (Beware of a Holy Whore) or Fujifilm (The Marriage of Maria Braun).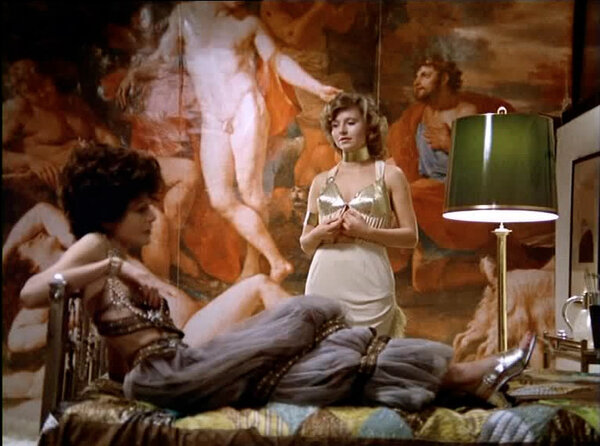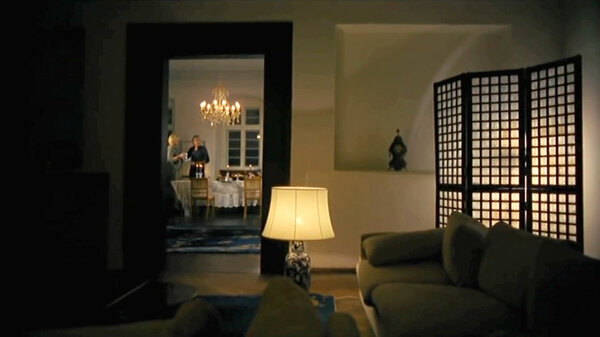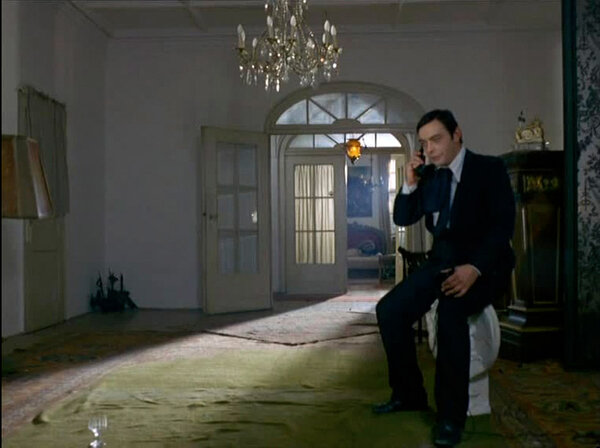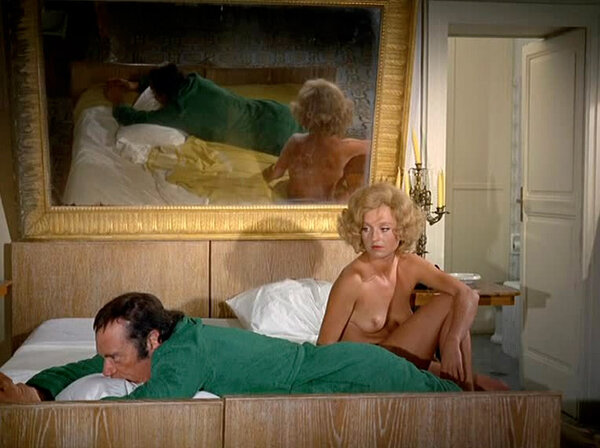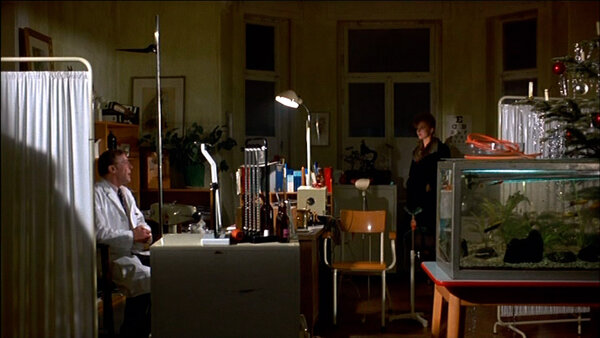 In 1978, Ballhaus completed work on Douglas Sirk's film Bourbon Street Blues, a 25-minute short film, which was an adaptation of a one-act play by Tennessee Williams (The Lady of Larkspur Lotion), a shadow-drenched play in a closed environment that is reminiscent of Harry Stradling's work on A Tramway Named Desire.
In 1981, Ballhaus took over the cinematography on The Magic Mountain, directed by H. W. Geissendorfer, from Robby Müller and Walter Lassaly, who had been dismissed by the producers… Then he went to the United States to work with Peter Lilienthal on Dear Mr. Wonderful, a project that opened the doors of American cinema to him thanks to the set designer who introduced Ballhaus to John Sayles (Baby, It's You). After seeing the dailies on James Foley's 1983 film Reckless, Martin Scorsese hired Ballhaus for a movie that was pushed back a few years (The Last Temptation of Christ), but in the meantime, they filmed After Hours and The Color of Money together.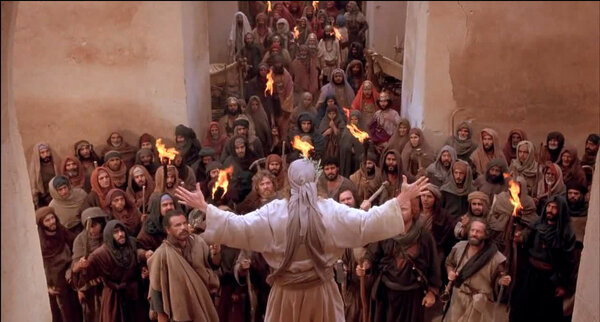 Once he became an expatriate in the United States, Michael Ballhaus became one of America's most in vogue cinematographers, and worked on various projects with many different directors : Prince (Under the Cherrymoon), Paul Newman (The Glass Menagerie), Peter Yates (The House on Carroll Street), Mike Nichols (Send a Woman When the Devil Fails ; Postcards from the Edge ; Primary Colors ; etc.), Steve Kloves (The Fabulous Baker Boys), Irwin Winkler (The Blacklist), F. F. Coppola (Dracula), Robert Redford (Quiz Show ; The Legend of Bagger Vance), Barry Lewinson (Sleepers), Nancy Meyers (Something's Gotta Give), amongst others. Nonetheless, he always remained the faithful companion of Scorsese (Goodfellas ; The Age of Innocence ; Gangs of New York ; The Departed), who, upon learning of his death, said : "His rapidity, his talent for lighting, his innate sense of rhythm with camera movements, like a master of ballet with his dance partners. I immediately understood that Michael was a master and that I was very lucky to be able to work with him."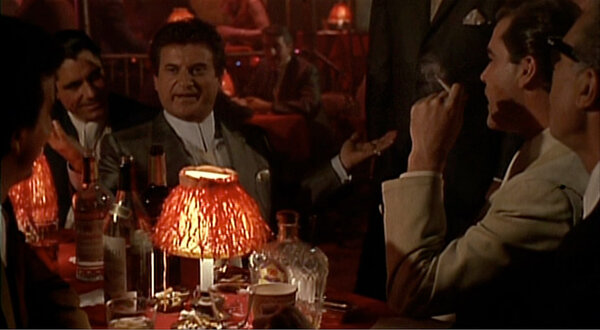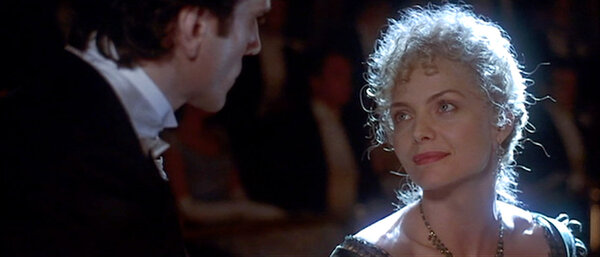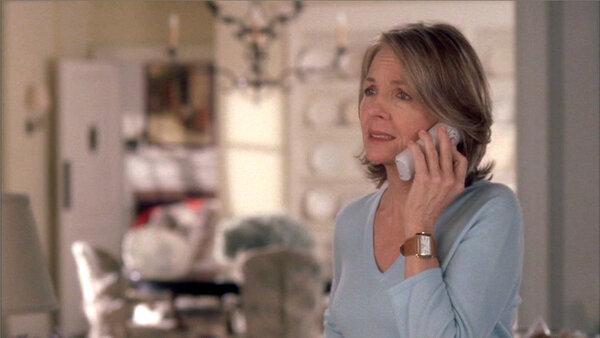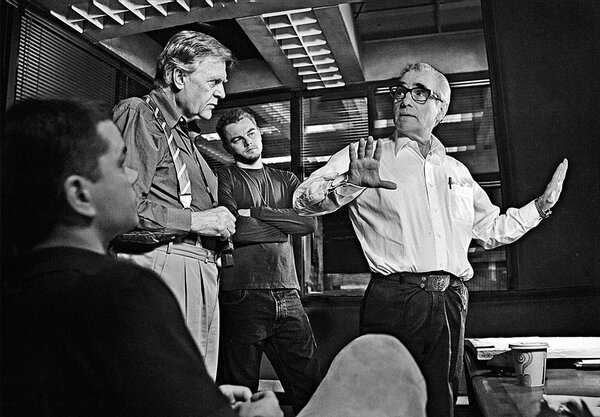 During his American period, Michael Ballhaus received three Oscar nominations for Broadcast News in 1987, The Fabulous Baker Boys in 1989, and Gangs of New York in 2002. He also received a Golden Bear at the 2016 Berlinale.
He took his retirement in Germany and only returned behind the camera in 2013 for 3096 Days, directed by his wife, Sherry Homann. This film was shot with a digital camera (Arri Alexa) and was inspired by the story of Natascha Kampusch, who was kept in captivity for eight years.
His son, Florian Ballhaus, ASC, is also a cinematographer. He was trained by his father at the age of 18 (starting with The Fabulous Baker Boys in 1989).
Please find here below some photos of Michael Ballhaus, of some shootings, and screenshots of films he photographed.
English translation by Alexander Baron-Raiffe