Rosco / DMG at Camerimage 2021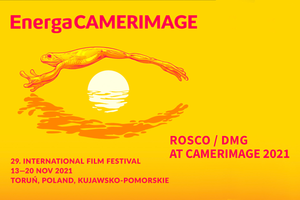 Our
Rosco
/ DMG team will be present in numbers, from Novembre 15 to 19, 2021, at the EnergaCamerimage 29
th
edition, and will lead two conferences: one about the
Rosco SoftDrop
backgrounds, and the other on LEDs and workflow.
The events
- Monday, November 15, at 1 p.m.: Conference "Rosco SoftDrop", led by Phil Greenstreet, Rosco, and director of photography Markus Förderer, BVK, ASC
- Tuesday, November 16 at 5:30 p.m.: Conference "LED and workflow", led by Nils de Montgrand, Rosco / DMG, director of photography Léo Hinstin, AFC, gaffer Jonny Frankly and two other guests.
Will be present, from Monday, Novembre 15 to Friday 19
Cristian Aroyo, Rosco Vice President
Nils de Montgrand, LED Lighting Products Manager
Charlie Verne, Junior Product Manager
Thomas Servelle, Account Manager
Phil Greenstreet, Rosco West Coast
Steve Ramos, Sales Manager EMEA
Sarah Horton, Senior Digital Imaging Specialist EMEA
Mathieu de Montgrand.
Rosco / DMG will not hold a stand, but our products, the DASH among others, will be presented at DoPchoice's booth.