The 63rd San Sebastián Film Festival announces its winners
During the closing ceremony of the 63rd annual San Sebastián Film Festival, which took place on Saturday, 26 September 2015, the jury, presided by Scandinavian actress Paprika Steen, awarded the Golden Conch award for Best Film to
Sparrows
, directed by Rúnar Rúnarsson, cinematography by
Sophia Olsson
. The Silver Conch award for Best Director was awarded to
Joachim Lafosse
for his film
Les Chevaliers blancs (The White Knights)
, cinematography by
Jean-François Hensgens
, AFC, SBC. The Jury's Prize for Best Cinematography went to
Manuel Dacosse
, SBC, for his work on
Evolution
, by Lucile Harzihalilovich.
Amongst the other awards presented :
- Silver Conch for Best Actress : Yordanka Ariosa, for El Rey de la Habana, cinematography by Josep M. Civit, AEC.
- Special Jury's Prize : Lucile Harzihalilovic, for Evolution, cinematography by Manuel Dacosse SBC.
- First prize in the Student Film section : Kiro Russo, for Nueva Vida.
- Prize for Best Screenplay : Arnaud Larrieu and Jean-Marie Larrieu for 21 nuits avec Pattie, cinematography by Yannick Ressigeac.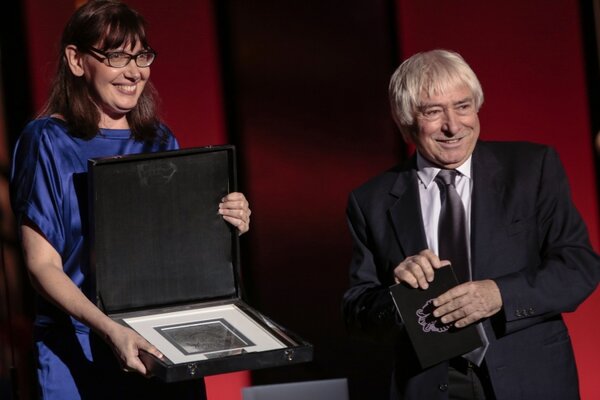 Before the announcement of the winners of the 14th annual International Film Students Meeting of the San Sebastián Film Festival, Gérard de Battista, AFC, read the following text out in Spanish :
"The AFC, the French Association of Cinematographers, and the San Sebastián International Film Festival, began a partnership last year between the "San Sebastián International Film Students Meeting" and the Caméflex Meetings in Paris. Caméflex is an event that is intended to recognize the best cinematographers for their work, and which helps ensure that they are able to transmit their knowledge to film students who are preparing to work in the same profession.
Rémy Chevrin, Dominique Gentil, and myself, Gerard de Battista, members of the AFC, have selected the following five short films amongst those screened during the 14th annual International Film Students Meeting to be presented at the 4th annual Caméflex event, which will take place in Paris from 6-10 February 2016 :
- Strach/Fear (28 min.), by Michael Blasko, cinematography by Adam Mach (Academy of Performing Arts – Bratislava),
- Group B (25 min.), by Nick Rowland, cinematography by Sverre Sordal (National Film and Television School – United Kingdom),
- Wada (28 min.), by Khaled Mzher, cinematography by Alexander Hasskerl (Deutsch Film Academy – Berlin)
- Los Parajos miran hacia el norte (13 min.), directed and filmed by Pepe Gutiérrez (Centro Universitario – Mexico),
- Francesca (22 min.), by Sebastian Palominos, cinematography by David Carrera Paiva (Escuela Cine y Audiovisual Arcos – Santiago de Chile).
These films will be competing for the AFC-Caméflex Short Film Award which will be presented in Paris on 10 February 2016."