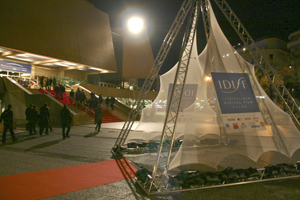 No need, for once, to rush up the steps of the Cannes Festival Palais, dressed like a penguin and adjusting one's bow tie, in order to attend the 3rd edition of the IDIFF (International Digital Film Forum) which took place from the 2d to the 4th of February, 2005. All that was needed was an interest, however small, in anything that borders on what has come to be known as « digital cinema ». For this is what IDIFF is about.
In addition to a large equipment show and various seminars, the 2005 edition highlighted recent developments in high definition image capture and post-production (with and without compression). A high quality digital projection allowed us to see, or see again, Ingmar Bergman's film Saraband, shot in interlaced HD, in the big Théâtre Lumière auditorium.
The IDIFF directors Jean-Paul Gillet and Etienne Traisnel, assisted by AFC consultant member Philippe Ros, had gathered the cream of the crop of new tools, to allow us to familiarize ourselves with them, if we had not yet done so. A shooting stage and two grading suites were accessible to visitors, allowing them to discover the latest generation of available (or soon-to-be available) cameras and grading consoles "at work".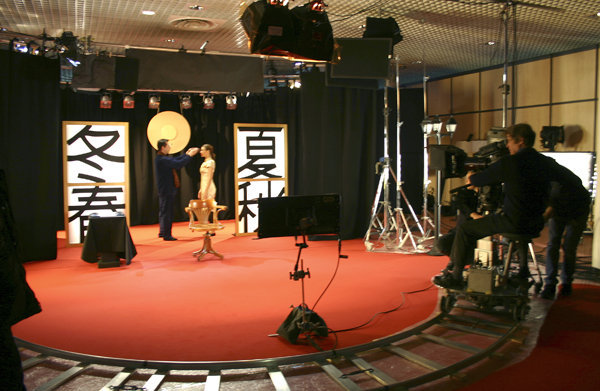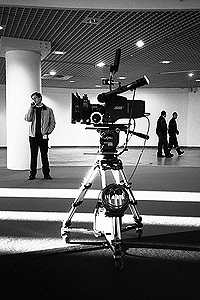 Director Philippe Coroyer staged two numbers of magic tricks to enable cinematographers, directors and producers to get an idea of the capabilities of these new tools and accessory equipment (lenses, viewfinders, monitors and recorders).
The cameras presented in the equipment show and on "set' were the Arri D-20, Panasonic Varicam, Panavision Genesis, Sony's 4:4:4 F-950 and Thomson Grass Valley's Viper. Grading was done on a 6-meter wide screen in two suites equipped with Post Logic Discreet's Lustre and da Vinci's 2K Plus.
AFC associate member companies Bogard, Digimage, Éclair, Emit, Kodak, Panavision-Alga, Transpalux, along with Arri UK and Panasonic, were present at IDIFF as exhibitor, partner or sponsor.
The CNC (National Center for Cinema), CST (Superior Technical Commission) and ARP (Association of Directors and Producers) were also represented at the event. Jean-René Failliot (Arane-Gulliver), Milan Krsljanin (Arri UK), Tommaso Vergallo (Digimage), Kris Kolodziejski (Digital Film Lab), Odile Béraud, Thierry Beaumel and Frédéric Moreau (Éclair), Bob Beitcher (Panavision) and Ruedi Schick (Swiss Effects) gave presentations during the various seminars on image capture and post-production.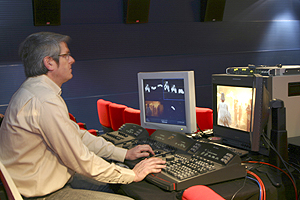 Laurent Desbruères, Digimage colorist, used the da Vinci to grade images shot earlier on stage or outside (Cannes' highlights sparkled that week). In the Lustre suite several grading tests were done with images shot with the D-20 and Genesis.
The AFC participated in IDIFF at the invitation of the organizers, and five cinematographers were present : Gérard de Battista, Jean-Noël Ferragut, Eric Gautier, Willy Kurant and Jean-Pierre Sauvaire. Gérard took part in a seminar entitled "The new generation of digital cinema cameras" and related his production experiences and his relationships with directors. Jean-Noël put together the studio and acted as operator for shoots there. During another seminar, "Director of photography and colorist, redefining roles", Eric attempted to widen the debate beyond purely technical and economical issues to address the work needed to research an image "style" that begins by using the tools outside the norms they were designed for. Jean-Pierre, an attentive visitor, shot several tests outside with the Genesis. Willy represented the AFC, in the absence of president Eric Guichard.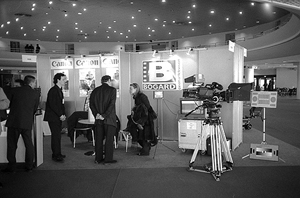 These three days passed with the ultimate in tools that will tomorrow be ours, proved that the main players (you can no longer call them) of "digital techniques" are capable of getting together under one roof to present their best savoir-faire.
Looking at the intricacy of the tools, we can safely assert that the métier of cinematographer is not doomed to extinction, which is reassuring. As long as we have a thorough knowledge of the entire digital workflow, the cinematographer will remain the key player. At the same time, the weighty economic stakes, which these markedly "top drawer" techniques imply, runs the risk, if we are not careful, of giving us a taste for luxury in the everyday reality of our jobs.
This implies, obviously, that we must be present, and listened to, in the cacophony of the evolution of tools which we will be the first to use. In consequence, this also means that we must establish a dialogue with the manufacturers, that we must approach them, or, to spell it out, that we cannot long avoid a debate amongst ourselves as to their joining us in the AFC.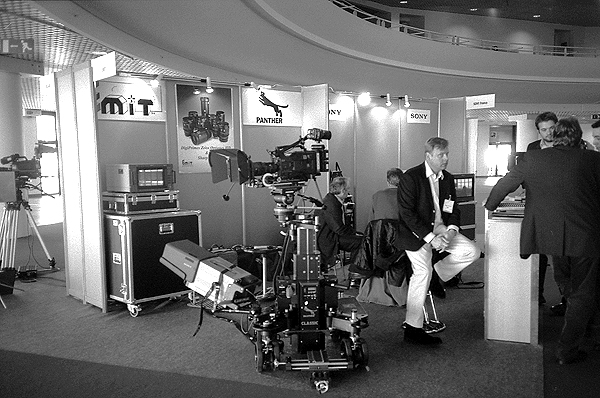 While there are still many potential improvements to today's different digital cameras (CCD areas that allows for "film" lenses for older models, the need for a bright optical viewfinder with room outside the frame for some cameras, the elimination of an umbilical cord, or a reliable recorder, for others) it appears that image capture for "digital cinema" is going from adolescence to adulthood.
In conclusion, while the digital projection of the 2005 edition lacked a little quality (in the two small rooms) - and we accept this youthful error - IDIFF was nevertheless a friendly show that was innovative in terms of the diversity of participants and equipment, and also in the way in which the gear was presented. It only remains for the next edition to not only promote digital, but, and this is its vocation, to celebrate cinema and those who make it, by inviting more cinematographers of course, but also directors and producers.
(Translated from French by Benjamin Bergery)