The closing ceremony of the 40th-annual Manaki Brothers Festival was held on Saturday, 21 September 2019 in Bitola (Republic of Northern Macedonia), in the Great Hall of the local Palace of Culture. The jury, which was presided over by
Ed Lachman
, ASC, presented the golden Camera 300 award to
Hélène Louvart
, AFC, for her work on
The Invisible Life of Eurídice Gusmão
, by
Karim Ainouz
. Due to her inability to be present in person, the award was accepted on her behalf by
Eric Gautier
, AFC.
Yorgos Arvanitis
, AFC, GSC, received the Golden Camera 300 for Life Achievement Award.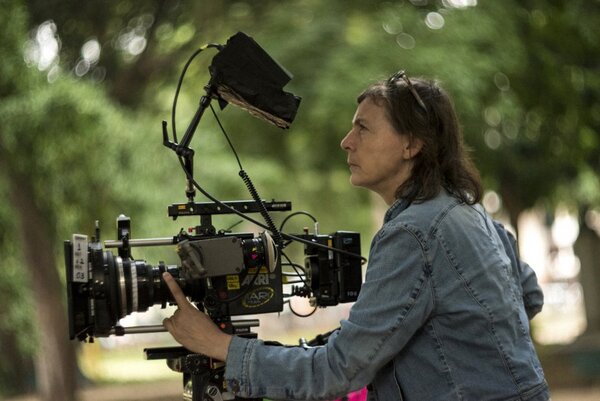 The jury chose The Invisible Life of Eurídice Gusmão "for the subtlety in use of colour and the strong compositions that reveal the characters' emotions and bring us closer to them. Hélène Louvart magisterially demonstrates the potential of cinematography and how it can be a psychological force used to tell the story."
"Of course, I am not Hélène Louvart !", joked Eric Gautier upon receiving the award. "She should have been here, and I tried to contact her by telephone but she isn't answering because she must be on a shoot right now. I am very happy for her. She is a brave woman, an exceptional and brave cinematographer who fights not only for the women who are her colleagues, but also for the arts as a whole. I know that she would be very happy. She does not know that I am here accepting the award in her name. I thank the jury, and in particular, my dear friend, Ed Lachman."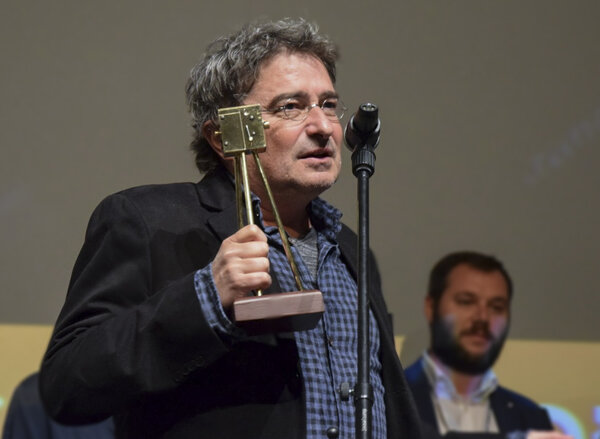 Read or reread the interview with Hélène Louvart following the selection of her film for Un certain regard at the 72nd annual Cannes Film Festival.
(As a reminder, this film already won the Award for Best Cinematography and the Audience Award at the Lima Cinema Festival in August 2019 in Peru, and the Award for Best "Look" at the Ostend Festival in September 2019).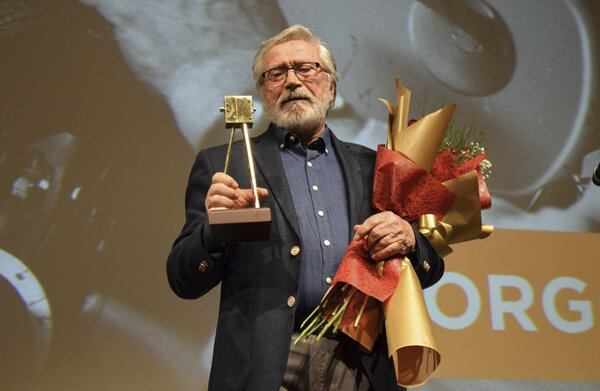 Yorgos Arvanitis, AFC, GSC, was also the recipient of a Golden Camera 300 For Life Achievement Award because "for nearly six decades, he has lit and crafted strikingly beautiful images in over one hundred European and Mediterranean-Region feature films. He has captured light with an unparallel elegance in the melancholy world of directors, and has brought texture and depth with his camera, even to ghostly and laconic characters. He worked with Theo Angelopoulos, Jean-Jacques Andrien, Dinos Katsouridis, Pantelis Voulgaris, Volker Schlöndorff, Michael Cacoyannis, Jean-Pierre and Luc Dardenne, Marco Bellocchio, Agnieszka Holland, Bruno Podalydès, Goran Paskaljevic, Marco Ferreri, and others."
"It is a honour to be at this festival and to be here with so many great cinematographers," he declared upon receiving his award from Gena Teodosievska, the director of the festival. "I am honoured to be present here at this festival which shows appreciation for image and cinematography, and I am particularly happy to be here, not far from my roots, since I am a Vlach."
The Other Awards Given
- Golden Camera 300 for Life Achievement Award given to Ed Lachman, ASC
- Silver Camera 300 Award to Chinese cinematographer Jinsong Dong for the film The Wild Goose Lake, by Yinan Diao
- Bronze Camera 300 Award to Italian cinematographer Daniele Cipri for Piranhas (La paranza dei bambini), by Claudio Giovannesi
- The Small Camera 300 Award went to the young Argentinian cinematographer Constanza Sandoval for Augustina San Martin's short film Monster God (Monstruos Dios)
- The jury granted a special mention to French cinematographer Guillaume Le Grontec for Erenik Beqiri's short film The Van, which was a French-Albanian coproduction.
[The thumbnail image is a still from The Invisible Life of Eurídice Gusmão, cinematography by Hélène Louvart, AFC]