AFC Blind Full Frame and Medium Format Film Lens Test

Wednesday 17 Nov - 14:30 & Friday 19 Nov - 11:00 – Cinema City, Screening Room No. 10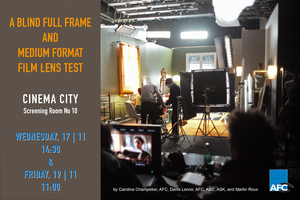 In 2019, the AFC hosted several screenings of a comparative test of lenses designed for standard 18 × 24 format. Presented in Paris at the Cercle Rouge and the Louis-Lumière school, in Poland at the Camerimage Festival and in Los Angeles at the E-Film laboratory, the test examined lenses currently available on the market for sale or rental and was, of course, presented without bias or preference of any kind, regardless of the manufacturers or partners participating in the project.
Presented by the four cinematographers* who had designed and filmed it, this lens test was received with great enthusiasm by invited audiences of cinematographers, camera assistants, film students, rental companies and manufacturers. Conducted "blind," withholding the identity of each lens during projection and only revealing it at the end, the test allowed attendees to consider the lenses free of any presuppositions, their impressions guided exclusively by what they saw on the screen.
During the screening, viewers noted several features of each lens on a questionnaire: general impression, contrast, sharpness, focus transition, color saturation, flare, bokeh and coverage. Only at the end of the screening were the identities of the thirty-three pairs of lenses revealed, allowing viewers to compare their notes with the now-identified lenses. They left with a more informed understanding of which lenses appealed to them most, in many cases curious to work with ones they hadn't considered before.
To continue and complete this project, the same team would now like to test a new category, the much-sought-after Full Frame and medium-format lenses. This test, like the previous test taking great care with décor, lighting, camera movement and actors, will be filmed in Paris in February 2021, and subsequently presented by the AFC in screenings to French and international audiences throughout the year.
Given the success of the previous screenings and the subsequent demand for more, the AFC wishes to bring both tests, standard and full-frame, to as many audiences as possible. To that end, the AFC would like to make all lens test screenings available on a dedicated website.
*Caroline Champetier, AFC, Pascal Lagriffoul, AFC, Denis Lenoir, AFC, ASC, ASK, Martin Roux
AFC Blind Full Frame and Medium Format Film Lens Test
By Carolione Champetier, AFC, Denis Lenoir, AFC, ASC, ASK, Martin Roux
Wednesday 17 November - 14:30
Friday 19 November - 11:00
Cinema City - Screening Room No. 10