Designed for professionals that push boundaries with the quality of their videos, this 7-inch screen elevates the image captured by any HDMI or SDI camera to new levels. With a 1,000,000:1 contrast ratio and a peak brightness of 3000nits, Shogun 7 is the ultimate all-in-one video production tool for creative storytelling.
Apple ProRes and ProRes RAW recording and playback
Shogun 7 embraces the high production values of RAW and 4K HDR to give you complete control of every aspect of your production, on-set and in post. Meticulously monitor every pixel of SDR or HDR as it's captured. Record up to 5.7K Apple ProRes RAW* or 4K Apple ProRes directly to affordable SSD drives avoiding the high costs and limitations of SD memory cards. You can even shoot RAW at high frame rates up to HDp240**.
Add to this asynchronous, multicamera switching and the ability to record in a range of other codecs, and you have more power to achieve your creative vision than ever before.
*Panasonic EVA1
**Sony FS Series and EVA1

Specifications
Screen : 7,2"
Contrast Ratio 1 000 000:1
Dynamic AtomHDR 360 Zones : 15+ Stops
High Bright : 3 000nits
Resolution : 1920x1200
Live Video Streams : 4xISO, 1xProgram
Multicamera touchscreen switching : live mix & record up to 5 streams
Take full advantage of 4x SDI inputs and let Shogun 7 step into the role of a portable, quadview live switcher and recorder on your multicamera shoots. Record up to four 1080p60 streams simultaneously as separate ISOs and then cue and switch in real-time with a simple touch of the screen. Display the resulting mixed output (via HDMI or SDI) live on set. You can even output the switched feed for live streaming. Switching is completely asynchronous, eliminating the need for expensive locked sources and allowing the use of more affordable cameras.
A quality camera needs a quality monitor
See how Shogun 7 allowed DP Alan Stockdale to get even more from the amazing images captured on the Sony FX9 on his latest music video shoot.


Perfect exposure and colour
Fine tune every detail, while you shoot.
A high-quality viewing experience gives you complete confidence to make educated on-set decisions.
With Shogun 7's dynamic zoned backlight, blacks are deeper, whites are brighter, and the details of highlights are crystal clear. See what the camera sensor is capturing with unparalleled precision and use the advanced HDR waveform tools from log or RAW to ensure perfect exposure, colour and white balance. Shogun 7 gives you the control to maximise HDR exposure, while feeling comfortable with SDR finishing in post.
Simple monitoring tools put every detail of the image within your control. From custom 3D LUTs, false color profiles, adjustable focus peaking and movable 1:1 and 2:1 pixel magnification. In addition, RGB parade and vectorscopes ensure perfect colors on your calibrated monitor.


Shogun 7 gives a low budget feature film a cinematic edge
How do you make a full-length feature film, with flawless, cinematic values when your camera budget only stretches to cameras already owned by the crew ? The team behind action comedy, School Fight, solved this by adding a Shogun 7 to their existing rigs.
The Shogun 7 is at home on practically any camera
With its ProRes RAW recording capabilities it works with powerhouses like the Canon C300 MKII, Panasonic EVA 1 and Sony FS5 II to create stunning images with maximum detail and latitude for post production. In addition it can transform older cameras like the Sony FS700R into cinematic RAW shooting machines with advanced features like 4Kp60 and 2Kp240 RAW capture.
Use with your DSLR or mirrorless camera via HDMI to get up to 4Kp60 Apple ProRes and AVID DNx codecs for easy editing and archival quality. Add it to a high-end Arri, RED or Sony Venice and you'll get accurate HDR monitoring and all the tools you need to get your job done.
View Supported Cameras.
Unlock the true potential of your camera
Preserve your sensor's pristine pixels in ProRes RAW at up to 5.7kp30, 4kp60 DCI/HD and 2kp240 DCI/HD.
Amplify the creative advantages of shooting RAW
Shogun 7 takes RAW data directly from the camera's sensor and preserves the unprocessed image. This gives you more freedom to adjust and finesse every aspect of your video in post-production finishing.
Applying ProRes compression technology to RAW image data adds another edge to your creative workflow. ProRes RAW files are smaller than most proprietary RAW formats so you can import, edit and grade faster and more efficiently. ProRes RAW is supported in Final Cut Pro X, Adobe Premiere and Avid Media Composer*.
Shogun 7 gives you a wide choice of codecs, making it compatible with all major editing software. In addition to ProRes RAW, Shogun 7 records Apple ProRes, Avid DNxHD and HR, as well as Adobe CinemaDNG.
Virtually any HDMI, SDI or Dual or Quad Link SDI source is supported, opening up any new or existing camera. Atomos is proud to support industry standard cameras from Nikon, Canon, Panasonic, Sony, RED, Arri and Z-CAM.
*Abode and Avid plan support Q2 2020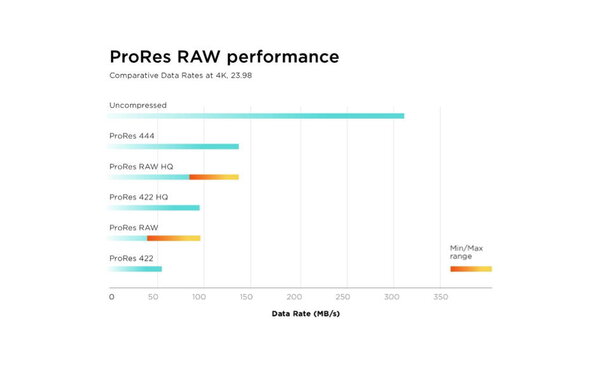 Dolby Vision : Give on-set HDR monitoring to your client and creatives
View what you're capturing through your audience's eyes before filming has even wrapped. Use Shogun 7 to deliver content via a Dolby Vision live HDMI out, in real-time, from any HDR camera to a compatible Dolby Vision HDR TV or monitor. Shogun 7 ensures you see an accurate representation of your video in maximum brightness and color detail. Use this accurate reference to adjust exposure and lighting accurately for modern TVs. This not only gives the crew more confidence in what they're capturing, but also speeds up the finishing process.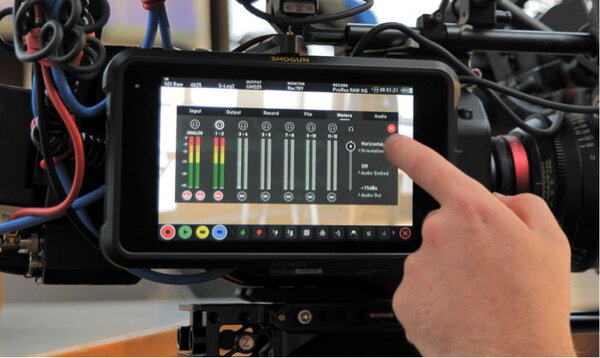 User-friendly AtomOS
One-touch operation gives you access to a complete suite of scopes, exposure, zoom, calibration and focus tools to ensure a great recording every time.


Instant playback & review
Playback rushes on-set, either on-screen or out to any Dolby Vision capable TV or monitor. Even watch it in slow motion for more detailed frame-by-frame analysis.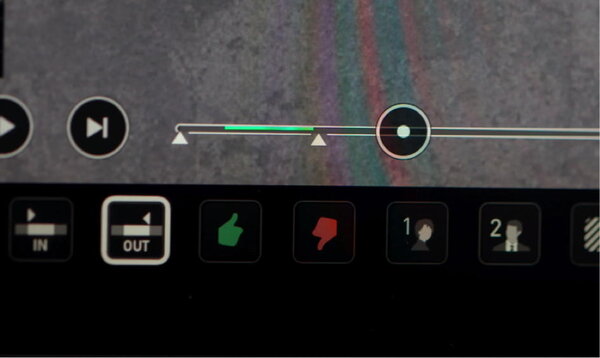 Shot tagging
Metadata tag footage as you go to mark favorites, rejects and more. When you bring your footage into your edit timeline, immediately filter your tags.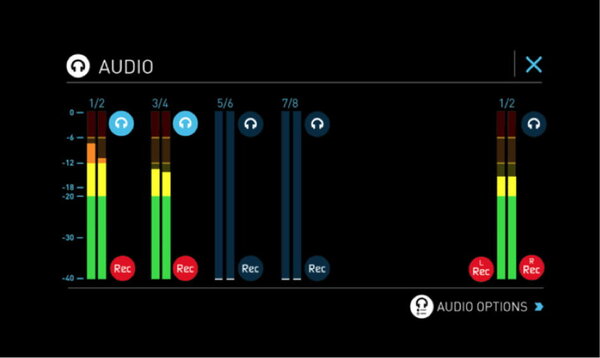 Balanced audio
Add 48V stereo mics via an XLR breakout cable. Select mic or line input levels, record up to 12 channels of digital audio from HDMI or SDI and monitor via the 3.5mm headphone jack.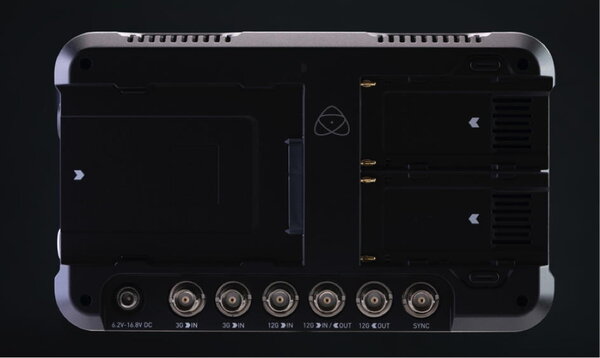 High-speed connections
Cross convert between HDMI 2.0 and 1.5G/3G/6G/12G single link SDI or Dual/Quad Link in almost any combination, eliminating the need for specialist converters.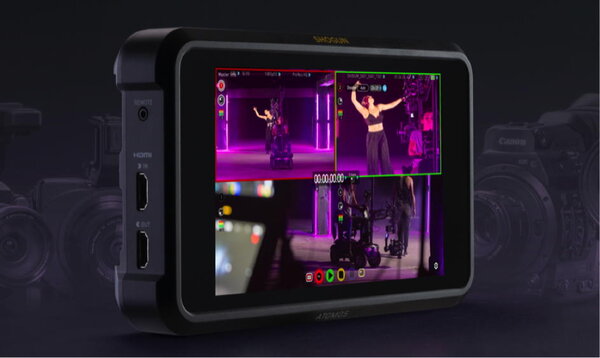 Quad SDI & HDMI 2.0 In/Out
Connect any SDI or HDMI device for monitoring and recording. Cross convert between HDMI 2.0 and 1.5G/3G/6G/12G/Quadlink SDI without specialist converters.