Camerimage, a great fraternity

By Richard Andry, AFC
At Poznan airport, I met
Pascal Lagriffoul
, AFC, who, like me, was left without luggage. The tricky Lufthansa must know that in less than 40 minutes of transit in Munich it cannot forward baggage from one plane to another because as a passenger, we have to walk kilometers of corridors, running like lunatics, hoping to "catch" the connecting flight. But at first, she pretends that there is no problem.
Poznan-Bydgoszcz : two hours by car spent very quickly as Pascal and I, we told together about two common passions : our job and rugby. (Well, the French rugby is not doing very well but sharing nostalgia is good to kill time).
At the hotel I found my old friend Guillermo Navarro, ASC, AMC, who was also waiting for his suitcase. He invited me for the next day to watch a movie he directed : Grand Mother Cocaine (a treat of salsa music).
So we appeared in jeans and down jacket at the opening ceremony. Although Camerimage is a rather laid-back festival and if this "look" could be considered as a "shooting" one, my colleagues at the Director's debut jury were still, at first sight, surprised by my outfit but quickly understood and condescended to my misfortune : Famous hungarian filmmaker Marta Meszaros (26 award-winning films in Cannes, Berlin, Venice), Andrzej Krakovski Polish-US producer and professor at the NY film school, and two colleagues Charles Minsky, ASC (Pretty Woman), Andrew Dunn, BSC (Bridget Jones Baby).
After the opening ceremony and the film screened in the wake - even if it allowed us to honor the duo : director / cinematographer : Kenneth Branagh / Haris Zambarloukos, BSC, GSC, who hugged each other warmly on stage, a cordial agreement that delighted us, and thanks to the festival for that - Murder on the Orient Express, in spite of great cinematograpy and SFX was rather average and quite boring. Fortunately after all these emotions, we attended the first "party" to get together with friends and pals, what revived us. I will not mention their names, there are too many.
At the Festival Camerimage, being a member of a jury is great. Every morning you take your breakfast in a great atmosphere with the other jurors (there are 11 juries) and you meet exceptional people. There is no show off. Renowned DoPs, directors, screenwriters, producers, writers, gaffers share the sweet / savory morning. And as projections start late, you can drag meetings and discussions. It's exciting, everyone talking about the movies he saw. A great fraternity.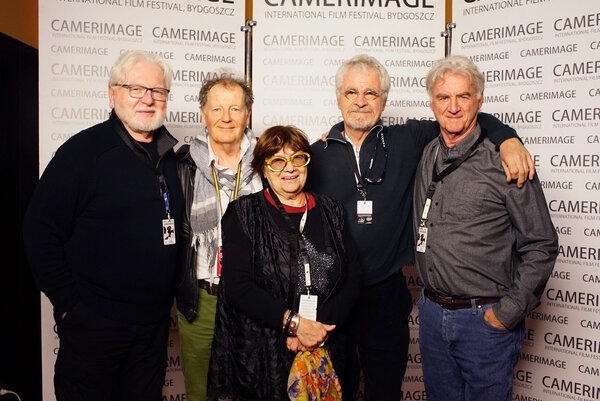 Within the day you see two movies, the screening rooms, located at the multiplex "MultiKino" is a quarter of an hour walk from the Opera Nova, the "heart" of the festival, that allows you to do a little exercise. There were ten films competing in the category, of all genres and all budgets. A mown Indian movie telling the misadventures of a schoolboy who had broken his chair at school competed with a big budget American film. At first you could well ask :is'nt it fair ?, then you answer : at least a whole range of movies from around the world which, may be, will not be screened anywhere else, have been watched here. There were several low-budget films, three of them were financed by the various funds that France, via the CNC (National Center for Cinematography), offer to the "cinemas of the South", to make them possible to produce three interesting films : a Tunisian,one a Chilean one, an Ecuadorian one, not counting co-productions. This is the tenth screened film that, by his mastery, was unanimously awarded : Borg / Mac Enroe.
I was also supposed to presenting a short Q&A about the career and the personality of the late Raoul Coutard, whose the festival honored the memory by programming four of his films this year. A few years ago, my friend Raoul offered me a DVD of a 50-minute biographic film Raoul Coutard, from Saigon to Hollywood, directed by Matthieu Serveau. I showed it to the festival via Vimeo and they decided to screen it. I looked for the master of the film and discovered that it was lost and that the only document that remained was this quite poor homemade DVD. Fortunately the "great wizard" Fred Savoir at Amazing Digital Studios in Paris up scaled it to a viewable DCP. Thanks again to Fred and Lucy. I tackled the English subtitles on Final Cut Pro. 520 subtitles, a long week of work. As a result, I also had to extract a file for the Polish translation. Lionel Gabet of The Fémis fixed the problem. Top notch.
The film was projected on the big screen after Out of Breath, it went well, with an Anglo-Saxon audience and Nathalie Durand, AFC, and my jury fellow members supporting me. Raoul deserved all these efforts.
Like every year, on Monday evening, Transvideo and K5600 organized, a dinner/ meeting with students from Louis-Lumière, Ciné Fabrique and Spanish film schools. These exchanges are refreshing. The students of the fémis were missing as they were invited by our friends of Angénieux. I hope that in the future all these young people will be able to gather with us around the same table.
I was unable to attend the AFC Master-class having a jury screening at the same time. I had good feedback from anglo-Saxon attendees that did not surprise me considering the seriousness of the prep and the quality of speakers/cinematographers and moderator. Congratulations to Caroline Champetier, Pierre-Hugues Galien, Pascal Lagriffoul and Benjamin B.
We were ten AFCs, sharing tasks there, all busy, so we crossed paths. Camerimage is great and magic. Thanks to Marek and Kazik. I hope we will increase our presence in years to come.
On the way back, I had to run thru Frankfurt airport to catch the connecting flight and at Paris CDG, guess, again they had lost my luggage. I picked them up two days later.
And yes, Camerimage, it is deserved.