In memoriam of Raoul Coutard : messages from AFC cinematographers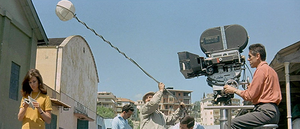 Cinematographers
Richard Andry
,
Jean-Jacques Bouhon
,
Céline Bozon
,
Jean-Noël Ferragut
,
Pierre-William Glenn
,
Pierre Lhomme
,
Baptiste Magnien
,
Gilles Porte
, and
Jean-François Robin
, all AFC members, share what the memory of
Raoul Coutard
and his personality brings to their minds.
- Read or re-read the statement published on our website during Camerimage and written by Richard Andry, AFC.
- My dear Raoul.
We are deeply sad.
You and your marvellous partner Monique hosted Priska Morrisey, six students from La fémis, and me in your house in Boucau last May 11-12, and we vividly remember your generosity and the warmth with which you welcomed us.
We had come to film an interview about your career, and your openness, loquacity, the joy with which you spoke to us about your work, and your humour won over and moved the students, who are devastated by the sad news. You very affectionately called them "the young ones".
Good bye, artist. Your images are immortal and we are going to the Cinémathèque to re-watch the superb introductory scene of Contempt that is being projected in a loop on the wide screen from 35mm film as part of the current exhibition on cinematic equipment. We see you operating the Mitchell using the gears in a cinematographic movement that will remain in everyone's memory. That's the image we want to keep of you.
Dear Monique, thanks to your kindness, we almost felt like we were part of your family during those two short days.
We are thinking of you and of Sylvie and we affectionately kiss you.
Jean-Jacques Bouhon, AFC, and the "young ones" : Maéva Bérol, Aurore Toulon, Clément Fourment, Emmanuel Fraisse, Till Leprêtre, and François Ray.
- For me, Coutard is Contempt. I was 15, I was at the Cinéma Opéra near my parents' house in Lyon. It was an immense shock. I don't know even now if I've yet recovered from it. Ulysses, the modern neurotic…all my life I've been mulling over the same question : to be Ulysses or Penelope, to flee or to stay…
The memory of Bardot's face at the moment of the "vexation", the moment where everything wavers, where you lose your footing, and you try to forget as quickly as possible.
And then the colours, the sun, the sensuality, the intelligence, and the vigour of those images. Thank you to him, for having been there.
Céline Bozon, AFC
- Seeing and analysing images from Jacques Demy's film Lola with young and enthusiastic Malagasy trainees in the cinema-like city of Antananarivo a few years ago was the most wonderful lesson in cinema you can imagine receiving. Hats off, dear Raoul, for having taken so many risks and for having succeeded so brilliantly : generations of practitioners, camera operators and directors of photography will be stunned into admiration, whether they are seventeen or seventy years old.
Thank you to you and, above all, rest in peace, may it be full of light !
Jean-Noël Ferragut, AFC
- I had the greatest respect for Raoul Coutard. He was my model in terms of creative openness, morality, and talent. He was as irreverent and funny as he was loyal, and symbolizes an entire generation of directors of photography, and I owe a lot to him. If only for having been able to use his equipment on my first short films, and for having been able to work with his gaffer, the great Fernand Coquet, and later with his son Franck. I am losing an eminent member of my chosen family who was a mentor and especially a friend.
Pierre-William Glenn, AFC
- I was graduating from Vaugirard while my friend Coutard was doing his military service in the sad Indochina War. We shared a love for the "flicks". We couldn't forget the earthquake that was Breathless that freed us from a number of conventions but also overwhelmed a number of little Godards that were adepts of a type of pseudo-cinema. Raoul and I were very fond of one another, a bit like cats and dogs.
If possible, bon voyage Raoul, and see you soon.
Pierre Lhomme, AFC
- I never had the pleasure of getting to know Raoul Coutard but I met him in uncommon circumstances that reveal his vision of the profession. I was shooting a Volkswagen advertisement at Motion Control in Surenes on their set equipped with a Fisher-light. Pascal Marti was at the camera and the director had to move on to another film right after that Pascal couldn't work on.
Raoul had been contacted and was supposed to come to the studio for a first meeting.
Because we knew he was going to come, we were all nervous and excited.
We saw a man in a beige raincoat holding a sheet of paper in his hand : his typewritten CV, like he was going to ask for an internship, with his filmography by year…
What a memory ! And what a lesson !
Baptiste Magnien, AFC
- Thank you, Monsieur Raoul Coutard, for having one day given me the desire to create movement with a camera or to imagine the fixity of a frame could help tell a story !
Gilles Porte, AFC
- I knew Raoul Coutard's work but never met the man. But I remember the very first meeting to discuss the possible creation of an AFC that took place years ago at the CNC. There were eight or nine of us, and Raoul Coutard, who had been invited, had sent a message to tell us that he didn't give a damn about an association of cinematographers. I liked how he affirmed his independence, and he never ceased doing so. I salute the memory of this man who revolutionized our profession and was never shy about displaying his desire to remain outside the harem. Happily, he has left "his films" behind, so let's watch them again with friendship and with respect.
Jean-François Robin, AFC
(Translated from French by Alexander Baron-Raiffe)