Palmarès de Camerimage 2020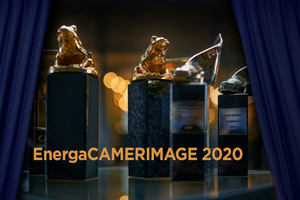 Lors de la cérémonie de clôture du festival Camerimage, virtuelle comme il l'a été lui-même, le palmarès de la 28e édition a été dévoilé ce samedi 21 novembre 2020. Le cinéaste Lech Majewski, président du jury de la Compétition principale, a décerné la Grenouille d'or au film
Nomadland
, de
Chloé Zhao
, photographié par
Joshua James Richards
, la Grenouille d'argent à
Helene
, d'Antti J. Jokinen, photographié par
Rauno Ronkainen
, FSC, et celle de bronze à
Pinocchio
, de
Matteo Garrone
, photographié par
Nicolaj Brüel
, DFF.
Au nombre des films primés à Camerimage...
Grenouille d'or
- Nomadland, de Chloé Zhao, photographié par Joshua James Richards
Grenouille de bronze
- Pinocchio, de Matteo Garrone, photographié par Nicolaj Brüel, DFF
Premiers films d'un directeur de la photographie
- Deux, de Filippo Meneghetti, photographié par Aurélien Marra
« The Jury of Cinematographer's Debuts Camerimage 2020 decided to give the
Tribute to a film with courageous, beautiful lighting and thoughtful framing, working on concert to create a great movie. We were moved by the sensitivity and cleverness that a young man brought the story of two women, not young, and both amazing actresses and humans beings, Two of us.
We know what means a price like this in the early days of a cinematographer's journey and we are happy to see it going to a cinematographer with eyes, mind and heart open. Aurélien Mara bravo! Waiting what is next!»*, selon les termes lus à l'annonce du prix par Caroline Champetier, AFC, membre du jury avec Máté Herbai et Amy Vincent, ASC.
Premier "Look" – Pilotes TV
- Hunters: In the Belly of the Whale, d'Alfonso Gomez-Rejon, photographié par Frederick Elmes, ASC
Long métrage documentaire, Grenouille d'or
- The Whale from Lorino, de Maciej Cuske, photographié par Piotr Bernaś
Prix Laszlo Kovacs - Film d'étudiant, Tétard d'or
- A Rodeo Film, de Darius D. Dawson, photographié par Erin G. Wesley, American Film Institute Conservatory
Meilleure photographie pour une vidéo musicale
- Aigel "You're born", réalisé par Andžejs Gavrišs et photographié par Andrey Nikolaev.
* « Le Jury décernant le trophée à la meilleure Cinématographie émergente a décidé de couronner un beau, fort et courageux travail de lumière et de cadre qui sert un film puissant. Nous avons été émus par l'intelligence et la sensibilité visuelles dont un jeune homme a su accompagner l'histoire de deux femmes avancées en âge et toutes deux actrices d'exception et d'humanité, Deux.
Nous savons ce qu'un prix comme celui ci signifie au début d'une carrière et sommes heureux de le remettre à un DoP ayant les yeux, l'esprit et le cœur ouvert. Aurélien Mara bravo ! Nous attendons la suite. »
Rappelons que Jean-Marie Dreujou, AFC, était membre du jury de la Compétition principale, et Caroline Champetier, AFC, présidente du jury de la compétition Premiers films d'un directeur de la photographie. Sans oublier le Prix décerné à Philippe Rousselot, AFC, ASC, pour l'ensemble de son œuvre.