Introducing cinematographer Aymerick Pilarski, AFC

By Thierry Arbogast and Gilles Porte, AFC members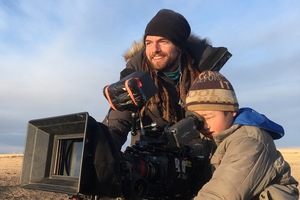 Recently admitted to the active membership of the AFC, cinematographer Aymerick Pilarksi is introduced in the following article by his two sponsors,
Thierry Arbogast
, AFC, and
Gilles Porte
, AFC, who both supported his application for admission to membership.
Aymerick Pilarski, a young cinematographer who deserves our support, by Thierry Arbogast, AFC
During my various cinematographic projects that brought me to Asia, I had the pleasure of meeting Aymerick and of working with him on various occasions. His understanding of the profession of cinematographer, his professionalism and his work ethic were of enormous help to me. His cultural and technical knowledge make him a first-rate co-worker. Moreover, the fact that he speaks French, English and Mandarin fluently makes him a French cinematographer who is able to adapt to the demands of international co-productions with France, while at the same time displaying a great deal of ease in communicating culturally and technically with the crews he works with.
Because he mainly works between France and Asia, I was also lucky to have him contribute on one of the last films I shot in Paris, Déflagrations. Because of his ability to shoot quickly and the fact that I could trust him to carry out the shots that were assigned to him made it possible to finish the film on time, without making technical or artistic sacrifices.
I also think that one of his latest films, currently in theaters in France, entitled Öndög, is a great visual success which shows off the talents of this young cinematographer, who deserves our support. His work has not gone unnoticed by the AFC, as it recently invited him to participate in an interview about his work on this film.
That is why I am pleased to support Aymerick Pilarski's application for membership of the AFC.
Aymerick Pilarski as part of the AFC, a very positive thing for him, but also for each of us, by Gilles Porte, AFC
I met Aymerick Pilarski last year at Camerimage. Aymerick was attending the AFC Master Class and also attended the screening of Celle que vous croyez. We spoke at great length about the film that I was presenting, but also about his experience in China, which was very different from what we are accustomed to in France or what I have personally experienced abroad.
Aymerick asked me a lot of questions about how the AFC worked, and about the possibility that we have of having such in-depth discussions about technique, politics, and art. As I listened to him, it brought home to me that the AFC's website really does cross borders, because Aymerick referenced many interviews he had read with our members.
Later, I discovered Quan'an Wang's film Öndög, on which he was DoP. I appreciated his feeling for the camera and some of the radical positions he adopted in agreement with the director.
Recently, I again had a long discussion with Aymerick because he joined me on the film I am currently shooting… We continued our discussion well after the workday had ended and I felt that Aymerick's membership in the AFC would be a very good thing both for him and for each of us.
(Translated from French by A. Baron-Raiffe, for the AFC.)
(The thumbnail image above shows Aymerick Pilarski on location in Mongolia for Öndög, by Quan'an Wang.)