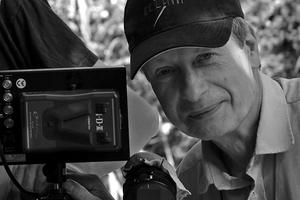 Jean-Jacques Bouhon on the set of Henry Colomer's "Nocturnes" in 2006
It is with deep sadness that the AFC cinematographers share the news of the passing away of their friend and colleague
Jean-Jacques Bouhon
, AFC, on Wednesday, 27 September 2017 following a serious illness, at the age of 70. Besides his cinematographic work – notable examples of which are
Coline Serreau
's
Three Men and a Cradle
,
Thomas Gilou
's
La Vérité si je mens
,
Patrick Bouchitey
's
Lune froide
, and Michel Sibra's
La Soule
–, and his great human qualities, Jean-Jacques was an active member of our association, of the Image department of
La fémis
film school, and of the Superior Technical Commission (
CST
).
Born in September 1947, and after first pursuing the field of economics, Jean-Jacques Bouhon enrolled at the Ecole de la rue de Vaugirard in 1968 to study cinematography. Once he'd obtained his diploma, he assisted cinematographer Roger Fellous for a few years while also beginning to photograph short or medium-length films by Bruno Decharme, Jean-Yves Carrée, Thomas Gilou, Olivier Esmein, and Gérard Frot-Coutaz.
In 1989, Jean-Noël Ferragut offered him a job as camera operator on Jean-Pierre Sentier's Le Jardinier, after which he was operator on five other films, the best-known of which was Coline Serreau's 1985 film Three Men and A Cradle, cinematography by Jean-Yves Escoffier. The following year, Beau temps mais orageux en fin de journée by Gérard Frot-Coutaz was the first feature-length he would make as a cinematographer.
This was followed by films such as Michel Sibra's La Soule in 1989, Patrick Bouchitey's Lune Froide – a 1988 short film that became a feature in 1991 (memorable for its highly-contrasted black-and-white images with lots of nuance in the greys), Charles Gassot's Méchant garçon in 1998, Souleymane Cissé's Waati, along with co-cinematographers Vincenzo Marano and Georgy Rerberg in 1995, Thomas Gilou's Raï in 1994 and La Vérité si je mens ! in 1996, Moussa Sene's L'Extraordinaire destin de Madame Brouette in 2002, and Henry Colomer's Nocturnes in 2006.
Besides his work on feature films, Jean-Jacques Bouhon filmed a dozen television fictions, such as Michel Sibra's Mafia Rouge in 1990, Serge Moati's Maison de famille in 1998, Christian Chaudet's 2005 adaptation of Igor Stravinsky's The Nightingale, as well as many commercials and about twenty documentaries since the early 2000s, such as Pierre Oscar Levy's documentaries on the Chauvet cave, and Alain Bergala's Pasolini, La passion de Rome in 2014. Given his particular interest in theatre and opera, he created the lighting for over thirty shows, including ones by Benno Besson at the Comédie de Genève, and others by Gilles Guillot, Jorge Lavelli, Pierre-Olivier Scotto, and Pierre Auffrey, to name but a few.
Jean-Jacques Bouhon at the AFC
As an active member since 1993 and a historical pillar of the association, Jean-Jacques was on the Board as Secretary in 1996 and 1997, and again from 2000 to 2002. He was General-Secretary from 2003-2005 and was elected President in 2006. Ever since he became a member of the AFC, and besides these administrative tasks, he was particularly active in a number of our activities. Some examples are the early days of our newsletter and website, very popular film negative tests, tests of the Thomson Viper, one of the first digital cinema cameras, the first issues of the Cahiers de l'AFC in the mid-1990s and their successors beginning in 2006.
His presence in the projection room during the Micro Salon is said to have greatly increased the quality of the images projected. His curiosity in his peers' work and the pleasure he had in discussing their work with them brought him to never miss our preview screenings.
Since he began working with Pierre-William Glenn at the Image department of La fémis, which took up most of his time, Jean-Jacques was less present amongst us, but was always available to lend an ear and to provide us with good advice whenever we needed it.
Feeling moved and sad, the men and women who met Jean-Jacques on his multiple paths will retain the memory of a human being who was friendly, unpretentious, available, kindly, refined, rigorous, toughing, honest, cheerful, and warm, to mention but a few of the terms that express his many qualities.
The AFC and its directors of photography send his family – Fukiko, Mathilde, and Chloé – as well as to all of his loved ones, their heartfelt thoughts.
(Translated from French by Alexander Baron-Raiffe)