Conversation with Stéphane Fontaine, AFC, about his work on "Paris Memories" by Alice Winocour
In
Paris Memories
,
Virginie Efira
plays Mia, a victim of the 13 November 2015 attacks, who returns to Paris three months after the attack and attempts to recover her memories of the event. With sincerity and humility, the film paints the portrait of a young woman and a city, both of whom are trying to rebuild after the trauma. After having been presented at the Directors' Fortnight at Cannes, the film was presented at Camerimage, in the Contemporary World selection. On that occasion, Margot Cavret met with
Stéphane Fontaine
, AFC, cinematographer on this film, to discuss his first project with director
Alice Winocour
.
Stéphane Fontaine : All directors have different ways of working, each one has her own method, a particular way of approaching the film. Some are literary ; others, visual. Discussions with Alice constantly brought us back to the character's emotions and thoughts. They were of primary importance in so far as Mia's character has lost her memory.
One might imagine any number of things before shooting begins, but there is an element that is unpredictable and absolutely welcome, which is the actor's performance. I think that during shooting, and in order to make the film that Alice was interested in, it was fundamental to observe what the actor is doing and be attentive to what the actor is proposing.
Paris is not only a character, it's also the subject of the film. Alice spoke about this throughout the shoot. It was important for her, given what the attacks represent in the city known as the City of Lights, to show a living and luminous city. That particularly comes through in Mia's character's quest throughout the city. We wanted to show that woman alive and in the city.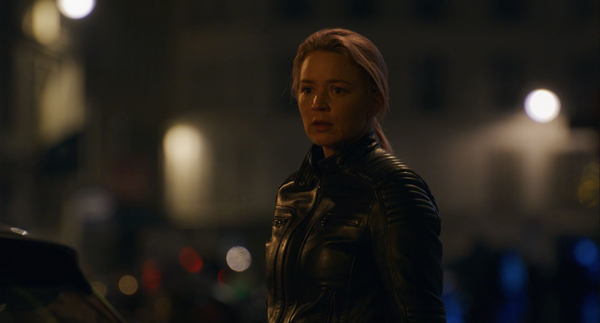 Margot Cavret : The film distinguishes itself through its sensitive and expressive image, which is softened here by flares, there by inserts that only partially reveal the scene. Carried by its frank and symbolistic colors, the film navigates between actual events and memory, real or invented. Mia's character first reconstructs the scene of her trauma by imagining what she has been told she lived through, before partially and gradually regaining her failing memory. On screen, the camera and the lighting change with these different levels of reality in order to remain as close as possible to the character's emotions.
SF : I really like to use a large-format sensor to film faces and I thought I'd shoot the film on a RED Monstro, but finally I benefited from the release of the RED Raptor less than a month before shooting began. I've been shooting essentially with a RED for a long time now, and I feel like nowadays, it's mainly the lenses that affect the image's style.
On this film, I used a full Canon K35 series, fleshed out with Canon FDs, all of which had been reset by TLS. We were looking to obtain the least clinical result possible, and these lenses have a particular softness, but still have contrast. They're pretty sensitive to flares and that lent itself well to what we wanted. Jodie Arnoux did remarkable work behind the camera, in often extremely complex situations.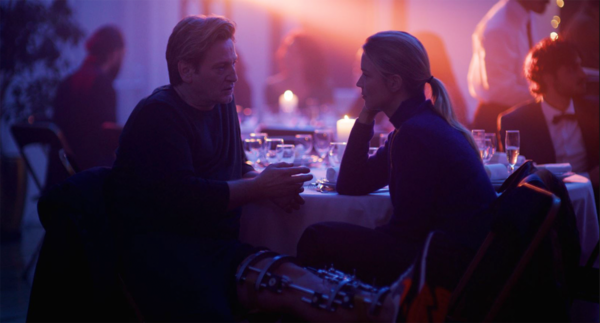 The moodboard had many references associating warm and cold lighting atmospheres, with chromatic oppositions. This desire for color provided us with a robust guideline for imagining the film. Alice had also done a great deal of preliminary location scouting, and noticed a café, whose lights were all red, a very strong, monochromatic red, and she was interested in beginning the film in that café with the two characters whose world is about to be changed forever. From that point on, we began to imagine what a trip into the land of color could look like.
I worked on color grading at Ike No Koi with Isabelle Julien. As is the case for all jobs combining technical expertise and sensitivity, color grading is a crucial step in which artistic qualities are of the utmost importance. I rarely go against the negative, and Isabelle's suggestions are always pertinent, both visually and dramatically.
MC : There are a number of key scenes in the film, one of which is an intimate scene between two characters, two victims that the tragedy brought together, and who discover the same scars on the other's body, painful memories indelibly written on their skin. The scene is particular in that it doesn't try to idealize bodies, but rather to highlight their singularities and the acceptance of their flaws both by oneself and by the other.
SF : My memories of shooting that scene are of great simplicity. We were lucky to benefit from both actors' strong shyness, especially Benoît Magimel. Neither of the two really wanted to undress, and that was good for the scene, because it was appropriate to the characters' own trajectories. We also successfully narrated that sequence using only pieces of bodies, never whole bodies. There is a hand, a knee, a scar, but the camera is never wider than that, and that's good because you see them rebuilding themselves, but piece by piece."
MC : Another remarkable scene from the film is the one where families and victims meet on Place de la République for their last vigil. First observing them through the window of her apartment, Mia ends up joining the crowd. For Paris, the next day, nothing will remain of the flowers, the portraits, or the candles whose flickering flames lit that cold night. For Mia, on the contrary, it is the start of a new step, of recovered memories, and it's time for her to accept reality and help other victims to advance in their mourning process. Despite on the surface seeming like a deathly vigil, the scene is full of a breath of optimism.
SF : That scene was lit with a lot of candles. There was a lot of road traffic, which was complicated for the sound, of course, but also for the image because the headlamps on the cars would create shadows and unpleasant lighting on the actors' faces. I liked the idea of having colors moving around, but the very punctual nature of those light sources made them artistically unappealing. So, we had to surround ourselves with a diffusion curtain to soften all those parasite lights.
The apartment that she lives in alone was really very small and had low ceiling clearance, because it was located just under the roof. We might have cheated by doing it in studio, and this question was brought up during preparation, but it was important to Alice that the location have a direct view onto the Place de la République. So, we used the windows a lot on that location, as well as prop lighting. One might say that this is realism, to use the lighting in the field, but it really wasn't because the choice of colors allowed us to give each room a different visual identity.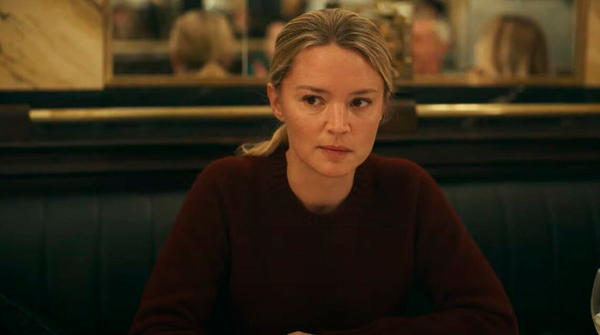 Other sets were build in studio. The brasserie set was born from the juxtaposition of a real Parisian brasserie and a backroom built in studio by our set designer Margaux Remaury. In both places, there are mirrors absolutely everywhere. The ones in the studio were designed to be able to pivot on their vertical axis, in order to avoid unwelcome reflections. This apparent constraint became a boon because it offered us a magnified space in constant change.
A last word to thank the technical and artistic contributions of Antonin Gendre and Thomas Garreau, respectively the key grip and the gaffer on this film.
(Interview conducted and written by Margot Cavret, for the AFC, and translated from French by Alexander B.-Raiffe)