Hélène Louvart, AFC, discusses shooting of "Murina" by Antoneta Alamat Kusijanovic
Cinematographer
Hélène Louvart
, AFC has worked with many French and foreign directors since the 1990s. With
Murina
, she has created the photography for Croatian director Antoneta Alamat Kusijanovic's first feature film. This film has been selected in the Directors' Fortnight at the 74th annual Cannes Film Festival.
(BB)
On an island off of the coast of Croatia, teenaged Julija lives an isolated life under the oppressive domination of her father, alongside her young mother. Things change when a family friend shows up, with whom Julija begins to feel an undeniable bond.
Featuring Gracija Filipovic, Leon Lucev, Danica Curcic, Cliff Curtis.
Land and Water
Hélène Louvart : Murina is set in two very different worlds : the water and the land. The land is the family home that the characters leave only to go on or under the water.
Filming underwater was a new experience for me, as was filming the surface of the water from a boat.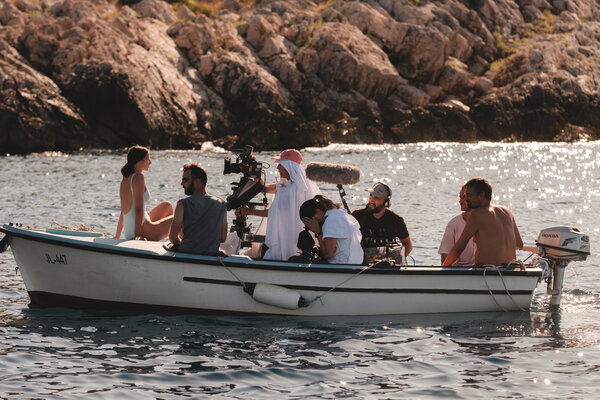 Location scouting, shooting script, and precision are necessary for underwater backgrounds
HL : The film was entirely shot in Croatia, and we spent a lot of time scouting locations underwater. This was very abstract for me at first, because I really had no experience shooting underwater. I worked closely with Zoran Mikincic, our Croatian specialist of underwater shooting.
Scouting was very precise, and we established a shooting script with the director, we planned the camera angles, the shot/countershots, the values of each shot… exactly as we would do on land…
Even though these scenes have no dialogue, our shooting script was crucial.
We identified the three areas we were expecting to shoot in : the underwater backgrounds (Dubrovnik), an area of deserted islands for the boat scenes (Kolocep), and Hvar for the house.
T Underwater shooting and lighting
HL : Besides Zoran, we also had frogmen trained in underwater shooting, grip work and lighting.
Underwater backgrounds are blue, cyan, and sometimes present a mix of colors because of walls or underwater vegetation that are brown, dark purple or orange. The lights were battery-powered LEDs, which could be adjusted to be cool or warm, and I added colored gels to compensate for or accentuate the natural tones. The underwater crew held the lights in hand or stood them up between rocks.
For some scenes, we had to cut the excess sunlight with large black fabric we put on top of the water's surface. The night scenes underwater are lit with spots from outside the water on rocks, which I could adjust remotely, to recreate the effect of Julia's flashlight.
To communicate with the crew, I could provide directions using underwater walkie-talkies. Zoran would answer with gestures.
Bridging shots and special effects
HL : Murina, which is the Croatian word for moray, is an aquatic snake hunted with harpoons. It hides in the depths between rocks. In one scene, the father of the young heroine is caught by a moray and an arrow, thrown by his daughter, strikes him in the chest (nightmare scene). We shot this scene in a pool, and then the moray was added in later in 3D.
Other bridging shots were shot in studio, such as when the young girl goes through a stone tunnel, and a scene where she had to go through a "rock hole" under water, at night, which we also shot in a pool for safety reasons.
But we also shot a lot of scenes from a boat, or on a dinghy.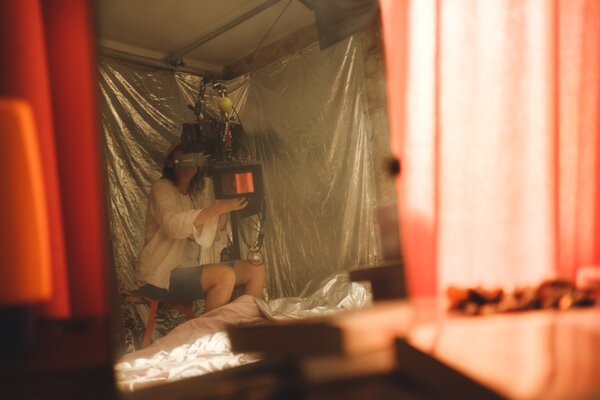 Only one location on land, the family home
HL : We had to accentuate the storytelling in all the indoor scenes inside the home by finding a different way of shooting them for each scene. Therefore, we alternated between classical shooting (on a stand, on a traveling, or on an Easy-Rig) and shooting from a Ronin.
A very good crew
HL : The entire Croatian crew was extraordinary and had a lot of experience shooting underwater. Murina was inspired by Antoneta's last short film, Into the Blue.
Interview by Brigitte Barbier, translated from French by A. Baron Raiffe, for the AFC